This time that we are spending at home has given me a chance to simplify our home. Being mindful about what we bring into our space means I spend less time shopping, organising, and tidying up.  Buying fewer things that are better quality also reduces clutter and waste (which equals less stress for me as well).  It has been a mind shift to really believe and act accordingly to the saying that "less is more" but I am enjoying the change in lifestyle so much.
After tackling my own wardrobe, it was time to get into my daughter's.
One of the greatest joys of having daughter is the fun in dressing her up and experimenting with different looks. But I have had situations where I would pick the same style of different kinds only by falling for great offers and discounts. And yet missing out on the essentials! As if this wasn't enough for us Parents to deal with, now you add another concern to this- Do you know- harmful effects of chemicals & dyes used in processing of fabric can have irreparable effects on babies & kids in the form of skin allergies, damage to brain development etc??? No wonder organic cotton has gained so much popularity in last few years. It is not only natural and soft but also eco-friendly which connects well to our "green parenting" beliefs.
Indeed, contrary to popular opinion, shopping for kids' clothes is not that easy….huffff…!!
So to make things simpler, I have consolidated Wardrobe Must Haves For Your Little Girl. Have a look.
Wardrobe Must Haves For Your Little Girl
1. Comfortable printed frock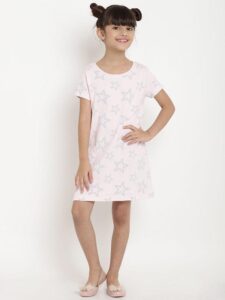 Every little girl needs a fun printed dress that can take her from the park to a party effortlessly! A frock with comfortable and gentle-on-skin fabric is a wardrobe must have for your little girl. It not only looks adorable but also helps keep your baby cool. Regular outings, daily wear or playdates- this outfit is certainly a must-have for your little girl.
I love the soft, gentle yet cool options available at Berrytree. The fabric is naturally anti-bacterial, organic & eco friendly. Moreover, being a brand that is eco-conscious, their offerings are five times more sustainable because they are made sans harmful chemicals, artificial colours & dyes. And cherry on the cake is the fact that it's a Made in India brand (#VocalForLocal).
2. Designer frock or party wear gown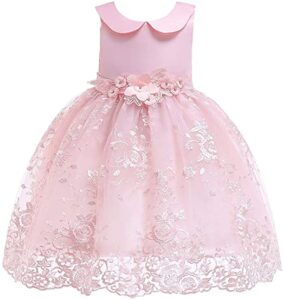 It wouldn't be a little girl's closet without a few dresses and party gowns.
Be playful with the styles and designs in the market.
A designer frock for kids can never go wrong when it comes to formal occasions like birthday parties, weddings etc. The trend of mini-me in designer frock segment is the next big thing in kids fashion and is here to stay. Designer frocks for kids are not just limited to twinning costumes with mommy but also come with variations in terms of personalisation.
Party wear gowns are equally gorgeous and give a graceful touch to the look and they help make brilliant photos! There are some trends that are here to stay in party wear gowns for kids. Click here to know more.
3. Quirky cotton tops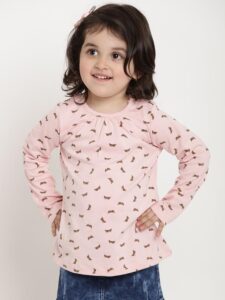 This beautiful piece of clothing can prove to be a great addition to your baby girls' wardrobe. Pair them up with jeans, shorts, overalls, or skirts; they will look nothing but great. It would be wise to get a combination of both long and short sleeve t-shirts that your little girl can wear in any weather.
Get your baby girl a range of tops that are playful and comfortable.
Also, consider taking your baby's advice while buying it because children are believed to have a keen eye for great prints and colors.
4. Evergreen basic Denims
Denim is a very versatile garment .Be it a toddler or an adult, basic denim piece is an indispensable clothing essential. Buy your princess a pair of funky denim shorts to go with all her tees and tops. Little girls look so pretty in skirts as well. There is a huge range of denim skirts with embellishments, beads, patch work, embroidery available these days. I personally like the combination of the two, popularly called "Skorts". It's a trend catching up soon and is ideal for a carefree childhood.
5. Fusion wear
A fusion dress or ethnic wear is again an essential considering the number of festivals we love celebrating. Buy just a couple of these and try to mix & match to change the look instead of buying too many of ethnic clothes.
6. Easy Pants or leggings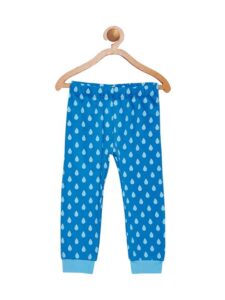 From joggers to jeans, every little girl needs several pairs of pants in their closets. A wardrobe staple, comfortable pants talk of comfort and grace. They are so versatile that you can use them to dress up or dress down your outfit. Consider different colors and materials. This is a must have for your baby girl because she can easily team it up with a stylish top to walk into any sphere depicting elite class and ease! Note that kids do not need tight jeans, get your little one trousers that they can comfortably play and move around in.
Another clothing essential for a baby girl is a pair of leggings as they can be worn with anything from t-shirts to dresses. They are great pieces of clothing for both hot and cold seasons.
7. Sweatshirt/ Hoodie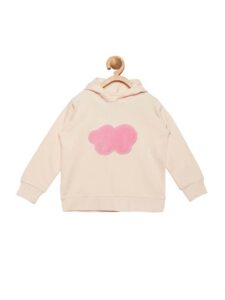 Another wardrobe essential is a soft and comfortable hoodie for days with a little breeze. It is a great layering piece for your little one to easily put over her outfit.
Other clothing essentials include Undergarmets, raincoats and jackets, pyjamas, socks, and woolies for cold days.
Experimenting with different outfits on your little girl can be really fun, but remember, when choosing kids' clothes, function over fashion is the way to go.This means that you do not have to go overboard when it comes to picking fashionable clothing pieces.
Comfort for babies & kids is the key, so as long as the fabric is breathable, soft and gentle you can't go wrong. Have fun!
Go Mommy!