Oh well, call me a cleanliness freak or a stickler for hygiene, I am okay with the label as long as I know that my kids are safe at least in their surroundings. With the moments of despair & anxiety that have been looming around us thanks to the Covid19 pandemic, my fear and distress has just grown double folds when it comes to children, hygiene and their safe health.
In reality, as much as kids are cuddly and huggable, they are also magnets of germs, because the first reaction for these curious heads is to touch or taste anything & everything! And frankly, we can't raise kids in a bubble. Exposure to bacteria & related infections is a part of growing up & building immunity. But with Covid19 on everyone's mind, I think we are all trying to do a better job when it comes to disinfecting items & surfaces that get a lot of contact. That goes for baby gear, too.
You may also like " 5 must have toys for infants"
Clean up- how often?
But the first question is, how often should baby gear be disinfected?
As much as it may sound obvious, but If something is visibly soiled or dirty, it needs to be cleaned! Secondly, the more often you use an item, the more often it should be cleaned and disinfected.
Clean up- what all?
Now, if you are a new mom, I can totally understand the perplexity arising out of zillion baby gear items that are commonly found in a household. So here's a list of things that you should particularly focus on –
Silicon & rubber Bath toys- As much as bath time is a playful fun time for the baby, bath toys are one of the most common carriers of germs. These must be washed post everyday bath.

Teethers & Pacifiers- This is one thing that is "meant" to go in the baby's mouth. Thus it goes unsaid that these must be disinfected post every use. And the 5 second rule doesn't apply when to comes to anything baby. Even if this falls on the floor and you pick it up within 5 seconds, please use the product only after disinfecting.

Sippy Cups- Also in and out of our child's mouth all day, sippy cups should be cleaned with care. Moisture is one notorious factor that clings on to a sippy cup, so fully disassemble it before washing.

Feeding Bottles – One of the most used baby item and something that evidently gets dirty over a period of time. You would notice milk film and odour that is so adamant that it won't leave even with

feeding bottle sterlizer

.

Other plastic toys- Plastic toys are a favorite with all babies. They come in many shapes and sizes, from a simple rattle to cars & the kinds. But again, a constant companion of babies and young children, these must be disinfected regularly to avoid passing on of any infections.
 You may also like "Newborn Checklist- what you need to buy before the baby arrives"
But do we really need a special cleanser for Baby gear?
The most common mistake that we all end up making is washing most of these items with regular dish wash soap!
You may also like " Best Natural Baby Lotion- Our Top Picks "
While we all know that babies and kids have a sensitive immune system, we often ignore the presence of harsh chemicals and harmful ingredients that conventional dish soaps are laden with. These damaging chemicals can leave traces in baby's feeding bottles, teethers etc and can even find its way into baby's tummy and pose a health hazard over time.
Even liquid dish soaps which come with attractive fragrance are often found to contain phthalates & other disrupters. Similarly presence of parabens & artificial colours pose another threat to babies and have a direct effect on their organs and development.
In short, there's a need to use baby-specific gentle & mild liquid cleanser that is free from harsh chemicals.
But if not this, then what? 
It's a hard question for a parent to then find what they should use??
When it comes to parenting, my instinct is to follow "green parenting" and opt for natural and organic alternatives for kids. Be it clothes or play time resources, I have always relied heavily on natural ingredients.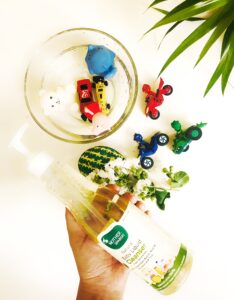 For regular cleaning and disinfecting of baby gear and kids accessories, I completely trust Mother Sparsh Plant Powered Natural Liquid Cleanser– the best baby liquid cleanser. This natural liquid cleanser gives an effective cleanse to baby's day to day essentials. 
Mother Sparsh has always held a special place in our life because of it being completely natural & organic. The special plant based formula removes up to 50% more milk film from baby bottles, sippers & tumblers. It eliminates the unpleasant odour from the milk residue and gives a gentle cleanse to the product.
The key ingredients in this cleanser are green apple & basil which are skin friendly & completely safe. These two act as effective natural cleansers for sanitizing baby products without any harmful chemicals because of their ani bacterial and anti microbial properties. It just leaves behind a delightful fruity smell!
The fact that this cleanser is free from harmful toxins, Paraben, sulphate, synthetic dyes and Other Potentially Hazardous Chemicals makes it completely safe, gentle & mild on babies' skin as well as body.
Moreover, this is a multi purpose cleanser that can be used not only for cleaning bottles and feeding accessories but also toys, decoratives etc.
How to use?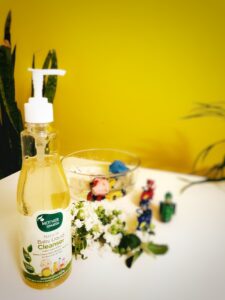 For cleaning, just pour the cleanser directly on to the washing sponge to clean toys, feeding bottles, nipples etc. Just 3-4 drops are enough to clean 3 bottles as the texture is foamy.
After cleaning, rinse the objects with running water for about 5 seconds. That's it!
Bottom line: With everything else you have to do when you have a young family, cleaning toys & accessories might drop under the radar. But if you're concerned about safeguarding your child from harmful chemicals, making sure that you have a good, natural cleanser is definitely the first step.
And If you are a mom on high alert (like me), constantly cleaning up, wiping down and doing whatever else they can to minimize their babies' chances of encountering infectious bacteria (or anything that's synonymous to covid19), you cannot miss on adding Mother Sparsh Plant Powered Natural Liquid Cleanser to your baby care essentials.
Go Mommy!