Read it- Make it- Write it – this is a quick 3-in-1 word building activity that is ideal for kids 4 years+.
I am always on a lookout for DIY activities that require least preparation & materials. Also, I try to use resources or toys that we already have around to ensure least wastage.
We spent some time this week working on revising sight words and CVC words through this easy-peasy DIY activity.
Read it-Make it-Write it | DIY Word Building Activity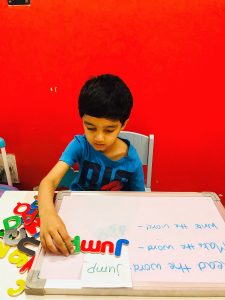 I made small DIY flashcards with a few sight words and simple 3-4 letter words.
So here are the steps the child would follow for this DIY Word Building Activity-
Step 1- Read the word aloud from the flashcard
Step 2- Choose corresponding letters from an Alphabet set. We used our Mellisa & Doug Magnetic alphabet set here.
Step 3- Build the word.
Step 4- Write the word using a sketch pen/Marker
I used a white board for this activity that made it easy to wipe off and get ready to work on the next word.
It's a very simple set up and becomes engaging for the child because it involves doing 3 things. So there's no monotony. The child gets to choose the letters from the magnetic set that adds to a kind of excitement. And then they pick up a sketch pen of their choice and write the word.

You can add different variants to this by adding bigger words or numbers or even patterns like XOXO, OXOX etc etc.
Let me know what you think about this easy peasy DIY activity.
Go Mommy!