This is not a usual or routine event that we are all witnessing. Corona Virus- a #pandemic is probably (and hopefully) a once in a lifetime kind-of experience that most of us are experiencing.
Amidst the fears and anxiousness of safety and well being of humanity, there's another daunting (yet essential) task that we all have been brought face to face- and that is to keep children , especially the younger lot, engaged and productively occupied for atleast some part of the day.
With schools being closed for a period still unknown to us, overnight a parent is expected to become a homeschooler.
But the challenge for a parent like you & me starts creeping in when the child needs something different from the usual. And that too from the vicinity and safety of home!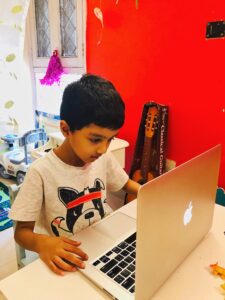 You know, it is said that Crises are good. Crisis is the driving force behind any significant change renewal. The main reason is that a crisis transforms organizations from a stable performance model into a more flexible learning mode.
Covid-19 is clearly doing the same in a deeper, more prolonged and more widespread way. There is no sector in which this is happening more than education.
And a key player in embracing this change has been Cuemath. Cuemath has been a pioneer in learning sector for 6 years, primarily Maths and has been very swift in adopting virtual learning to cater to a child's needs.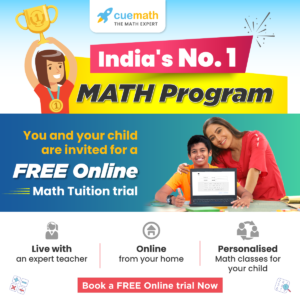 With Cuemath Online, your child's anxiousness can be kept at bay. Some of the highlights of this program which I find to be quite unique to only Cuemath are-
Live & Interactive classes – This is something that got me instantly sold for Cuemath online classes! Showing mere videos is a passive way of learning and definitely not meant for 21st century kids

Personalised learning experience- Cuemath doesn't believe in "one size fits all" theory. Each child has a unique learning curve, different queries and definitely a different way of being mentored

Small batch size- With virtual learning comes the dilemma of capturing a child's attention. And the best way to do so is by giving more attention to the child which is made possible by Cuemath through small batches

Conceptual learning- Cuemath has always been a brand that resonates with understanding of "whys" and not just "whats" related to subject matters. The focus is developing a child's logical reasoning skills- an essential Life skill for 21st century. The way forward is definitely interactive experiential learning as against the age old rote learning

Learn from the Pioneer- Cuemath has a proven expertise in the field of maths learning. CEOs of large corporates and IITians comprise the trainers here who bring along them unique and practical industry & real-life experiences. This blended with academics is an ideal mix for today's learning environment. So what better than learning directly from the experts!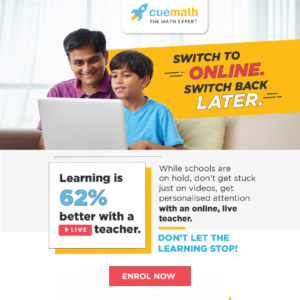 And not to forget all this is from the comfort and safety of one's home. 
You can learn more about Cuemath and their programs here.
Go Mommy!