So, while you have just accepted the fact that Parenting is NOT an easy role and several rounds of nappy changes, breastfeeding, howling and crying are taking a toll on your body & mind- take a deep breath and read on because there is one mom who is aware of this and has got a solution for all!
Yes, Mamaearth- the brand that resonates with natural, organic, safe and gentle approach- has come up with yet anther range- this time to help moms help themselves.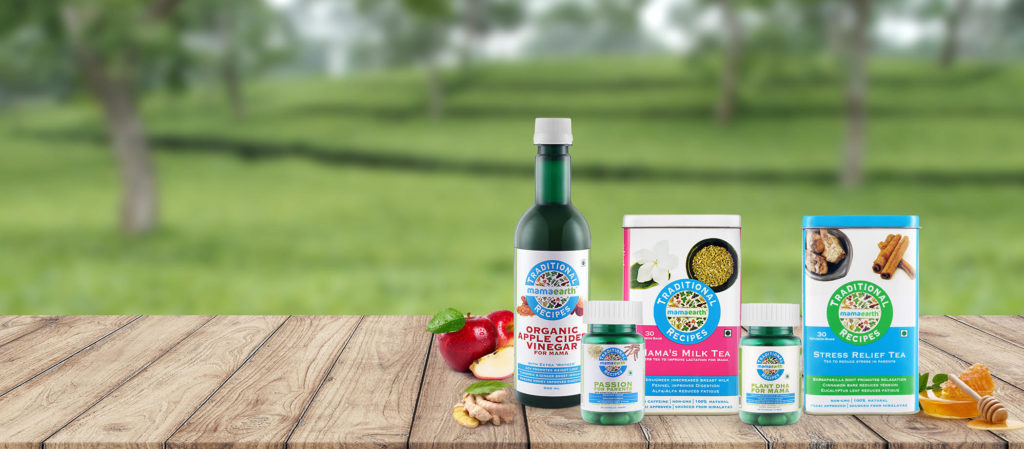 After making a mark in the industry with organic toxin-free products for babies and moms, the latest offering from Mamaearth is here to assist yet another tangent to Motherhood. Labelled as "Traditional Recipes", the 6 new products bring the old traditional recipes for the well-being of to-be moms and moms.
From Stress Relief tea to Lactation supporting Milk Tea to Apple Cider for weight loss & improved digestion, Mamaearth is coming up as a brand that's no less than a one-stop solution for anything & everything related to Parenting.
Click here to see the range.
Stress Relief Tea for Mama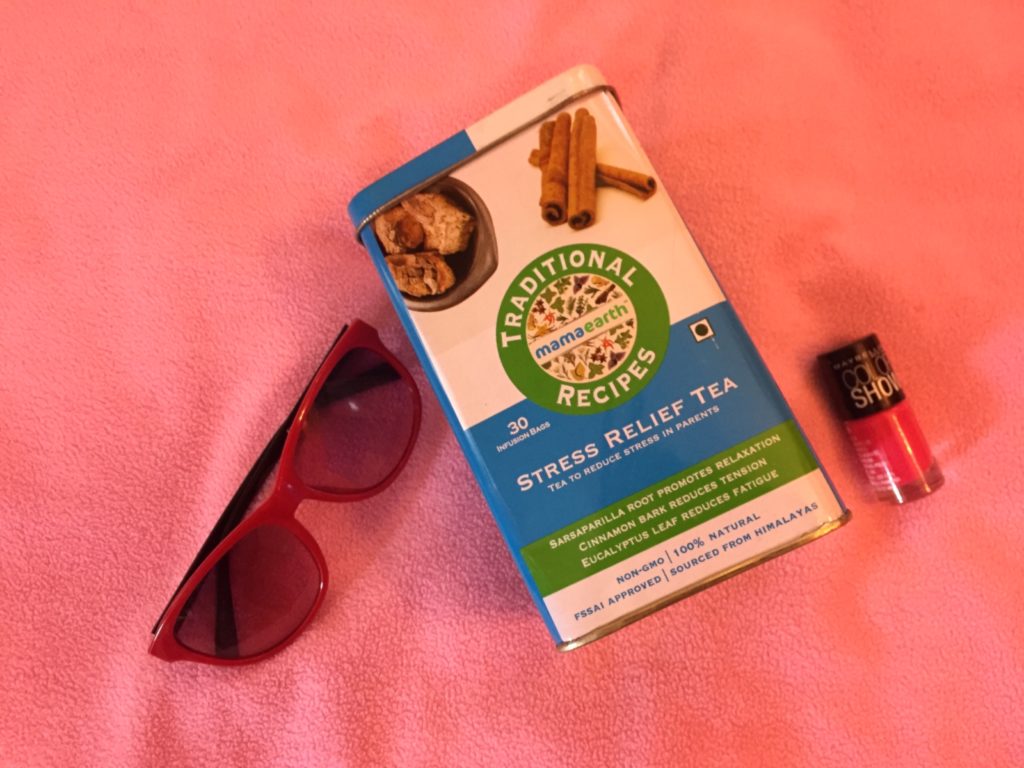 Tea…ahhh, there's something about a good cup of tea. For most of us it's synonymous to comfort and solace.
As a mom of twins, my day starts with running around my kids and ends with….well, running around kids again. By the end of the day (read 'just by noon') my stress levels and anxiety go through a rhythmic graph of ups and downs. Being a parent brings out a range of powerful emotions from exhilaration to despair. Your feelings of love, happiness and pride may quickly turn to anger, hate or guilt, depending on the situation and the degree of support available to you.
However, it is important to manage feelings like anger and frustration so that you can enjoy parenting and maintain a safe, happy home for your child.
So what do we do? Besides the age old tricks of taking out "me" time and asking for help, I find sipping a cup of tea to be extremely de-stressing. I like experimenting with different brands and kinds of Tea, so I was naturally curious about Mamaearth's Stress Relief Tea for Mama.
Basic Features
The claims the product to be made with herbs like Sarsaparilla root & Cinnamon bark which have been known for their soothing & calming effects for centuries.
With additonal ingredients like Ginger root and Eucalyptus leaf, this tea is full of anti-oxidants and immunity boosting elements.
Packaging
The packaging is smart and striking. The tin box with an air-tight lid is sturdy, durable and coated in soothing blue, green and white colours, in tandem with the natural & traditional image that the brand is conveying.
Ease of use/consumption
I followed the brewing instructions to the "T" – that's the best thing about such teas- no fuss with clearly stated instructions on the package itself.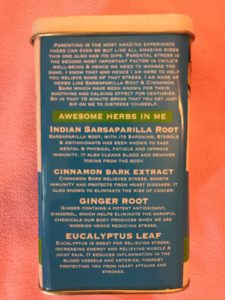 Just boil 200 ml water
Pour it over the tea bag in a ceramic cup
Cover it & let it brew for 10-15 minutes & voila! Your cup is ready!
Other Details
The box of 30 infusion bags is priced at Rs 599 with a shelf life of 18 months.
Main benefits
The first look might not impress you much- after all what's different in this light brownish-golden coloured tea which looks no different from several other organic teas available in the market.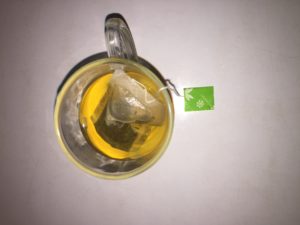 However one sip of this tea would make you feel relaxed and at ease. The ingredients present in the tea have wonderful effects on your mind and body.
Indian Sarsaparilla Root : It has been known to ease mental and physical fatigue and improve immunity. It cleans the blood and removes toxins from the body.

Cinnamon Bark Extract : This relieves stress , boosts immunity and protects from heart diseases. It is also known to eliminate risk of cancer.
Ginger Root : It helps eliminate the harmful chemicals our body produces when we are stressed. Hence, reduces stress.
Eucalyptus : It is a great ingredient of relieving stress , increasing energy and relieving muscle and joint pain. It reduces inflammation in the blood vessels and arteries, thus protects from heart attacks and strokes.
The tea is made with 100% natural ingredients that are also grown organically free from chemicals and pesticides.
Herb teas are a very good way of increasing your water intake apart from keeping you healthy.
The Taste
With a strong essence of eucalyptus leaf coated with beautiful flavour of cinnamon bark, the taste of this tea is quite nice. The smell of the tea itself soothes me down.
What not to expect from this product
I really didn't find anything that failed to meet my expectations from this product. However, I would recommend the following for sure:
Having it in a rush or just gulping it down would certainly not do much good. So, I would suggest you to sip on it when you are settled!
While brewing, temperature of water, covering of the cup and steeping time greatly influence the yield of beneficial components of the tea. So don't brew and forget about it (which is the usual occurrence with busy moms!)
My take/ Do I recommend it
With stress being a root cause to longterm devastating effects on your health and family, Mamaearth Stress relief tea is meant for that 10-minute break from your stressful schedule.
Why it's a winner for me
This tea is infused with non GMO 100% natural ingredients.
This Herbal tea is definitely a best and safe alternative to your daily sweet teas/coffees.
Infused with awesome ingredients like Eucalyptus leaf, Green tea, Indian Sarsaparilla root, Ginger, Cinnamon & Cardamom, the tea promotes good health and reduces stress level.
Organic Apple Cider Vinegar For Mama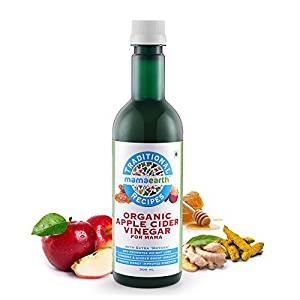 If you are a mom like me who likes to take things easy (even if it's about losing weight post pregnancy), then this product is worth your attention.
I have never resorted to weight-loss related products but I certainly look out for things that help in better digestion and basically de-toxification of the gut. So I didn't take a moment to think before trying this product for over a month. And what do I feel about it? Well, read on!
Basic Features
The product claims to be naturally fermented from Certified Organic Himalayan Apples. It's raw, unfiltered and unpasteurized, preserving live cultures known as the 'Mother' to keep enzymes and nutrients intact. The enzymes in this are the dark, cloudy substance found in the vinegar, formed from naturally occurring pectin and apple residues. With New Zealand's Manuka Honey, Turmeric, and Ginger, it naturally assists in healthy metabolism and weight loss. it's completely free of Artificial Colours and Preservatives.
I love the way they have mentioned "with extra Mother" as an ingredient on their packaging besides specifying that there is no added sugar and preservatives.
Is it meant for you?
Only a healthy mom can ensure a healthy family – I believe in this. If you are looking at incorporating another 'kick' in your regular weight-loss regime, then Mama Earth Organic Apple Cider Vinegar is the best bet. It helps rev up your metabolism, reduces waist circumference, improves your gut, boosts immunity and improves digestion.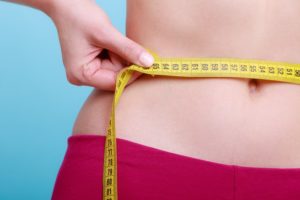 This product however must be avoided during first trimester of pregnancy. Better still, if you are pregnant or a nursing mom or taking any other medication, please consult your doctor before using any such product.
Ease of use
ACV should be used with utmost care and in moderation only (well, moderation is the key in everything in life!). The handy green plastic bottle comes with clear instructions and a measuring cap to ensure recommended dosage intake only.
Other Details
Priced at Rs 599 for a 500 ml bottle, the product has a shelf life of 18 months.
Main Benefits
A product that is organic is surely a winner for me. Absence of added sugars and preservatives is another winning point for me.
With added benefits of improving digestion and immunity, the product is not just being marketed as a 'weight-loss' elixir.
Presence of turmeric makes this ACV anti-inflammatory and anti-microbial.
Apple Cider Vinegar is high in potassium. The usual postpartum troubles like leg crams, fatigue, aches etc are well taken care of with this.
It also helps boost your energy levels- so the usual complaints of fatigue and exhaustion are sorted to a large extent
The taste is much better as compared to plethora of other Apple Cider Vinegars available in the market. This probably is because of the presence of Manuka Honey, Ginger and Turmeric.
The Taste
It is light yellowish in color with a sour taste, of course because of acidic content. Initially, you may not like it but with regular usage, you will develop a taste for it. But trust me, it tastes far better than any other ACV that's available in the market.
What not to expect from this Product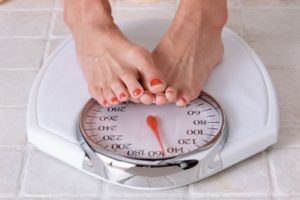 Well, if you are looking for a sure short quick-fix for losing weight, this product is not for you. ACV is surely a booster to your weight loss regime but shouldn't be taken as a whole-sole weight losing elixir. The effects that ACV has on reducing blood sugar levels, promoting satiety and improving digestion make an over all impact on your body and lifestyle. With higher intake of water and direct impact on starch levels in the body, any Apple Cider Vinegar should only be treated as a supporting system to your weight loss project.  It won't work any miracles on its own.
The effects wouldn't show anytime soon. The underlying objective of ACV is a wholesome improvement in your health and that would take at least 8-12 weeks to reflect
The taste! Well, as I stated earlier, the taste is really not what you would want to take in first thing in the morning! But then you will develop a habit of it over a period of time for sure.
My take/ Do I recommend it
Yes! Yes! Yes!
While talking care of our little bundle of joy, more often than not we tend to ignore our own body. This results in weight gain and stress in the long run. Regular consumption of Mamaearth Organic ACV would not only improve your metabolism and immunity but would also make you feel fitter.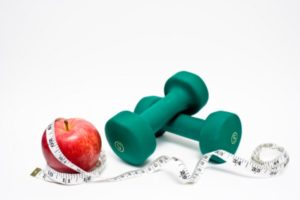 In my experience of using this product for 30 days, I see a considerable difference in my body in terms of a healthier gut, improved immunity and overall a more energetic me!
Why it's a winner for me
Anything organic that's sans artificial sugars and preservatives is a winner for me. With added benefits of ginger, turmeric and Manuka Honey, Mamaearth Organic ACV has become an essential part of my day.
So wait no more mommy and try out this latest offering from Mamaearth.
Go Mommy!