If you have been following my blog ever so religiously, you would have known by now that we are always on a look-out for new places for little ones to spend some quality time, especially during holidays!
So when the opportunity came in the form of a review from Chanda Mama- Kids Play Area & Learning Centre, I couldn't fathom saying no.
Predictably, when I broached the subject of attending some interesting activities to the Tweenies, their response wasn't too favourable. Luckily, there exists something in Chanda Mama which completely made them change their tune.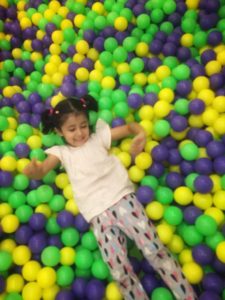 Heh, the play area always works.
So what exactly is Chanda Mama? Well, it's the newest and coolest entrant in the kids' indoor entertainment zone segment in the city and trust you me, it checks all the boxes for parents of young children.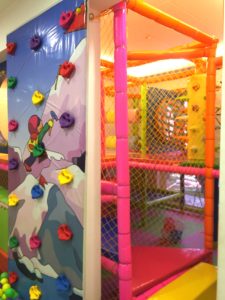 • A wonderful engaging option – Yes
• Specifically designed to offer the ideal environment for children to practice and improve their communication skills, learn new skills, explore various forms of art, play and interact with other children and simply have fun – Yes
• Safe and clean environment – Yes
• Promotes active play to help children develop better physical, social, mental and emotional skills – Yes
• Lots of fun toys and play equipment to keep children entertained for hours including ball pools, slides, obstacle maze, crawl tubes and more – Yes
• Designed specifically for children and therefore, parents don't have to worry about how much noise children make – Yes
• There's something for everyone- from infants to preteens – Yes
• Ideal venue option for birthday parties and special events – Yes
• Great facilities for parents and friends with a café, charging points and net connectivity -Yes
The founder, Poojashree Somani, is a mum to young children. A visit to this thoughtfully designed Centre reveals how this mom has ensured that care, passion and excellent execution have been applied to every little detail. It's hard to believe that the space has been open only since the 9th of June 2019 considering it is already buzzing with the sounds of excited laughter and shrieks of joy from their most important clients, children one to twelve years old.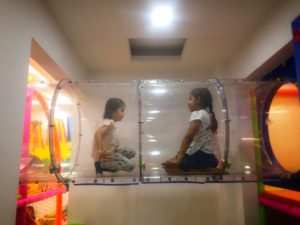 Located on conveniently accessible main road, yet tucked around the residential area, makes this place noise-free, safe and comfortable. For starters, Chanda Mama is a 4000 sq ft children's play area, activity centre and party facility.
The first thing I loved was how thoughtfully each zone has been demarcated. The Centre spans over 2 floors with soft play area, pretend play corner, role play room and art & craft section and café on the ground floor and sensory, physical & skill development activities on the first floor.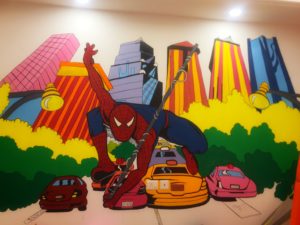 Part of the beauty of the facility is that the ambience is very homely, yet professional. With a little garden at the entrance, access to backyard turned into a green Cafe and enough  natural light fills the space giving it a bright and positive feel.
The soft play zone, where socks are mandatory, is a mix of soft play delights in bright colours with interesting obstacles along the entire area.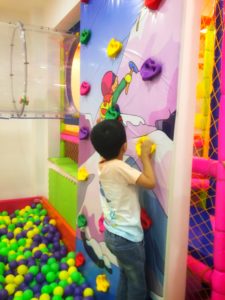 There's ball pool, crawling tunnel, maze, spider climbers and lots more. The most instagrammable part indeed is the Climbing wall!
As soon as the play area caught my kids' eyes, mommy knew there was no looking back! And ofcourse we clamoured to be brought inside to be in the thick of the action. And once we put on our battle gear (read : socks), we just couldn't wait to get started.
Our kids let their wild sides loose as they chased each other through the various sections of the zone, played hide and seek, crawled, climbed, jumped, and dived. That our kids can be like monkeys in a safe, padded, clean environment is music to any parent's ears.
I had to peel away kids from the play zone to explore the others parts of the Centre.
The adjoining pretend play corner has enough equipments to keep children busy and stimulate creativity and imagination.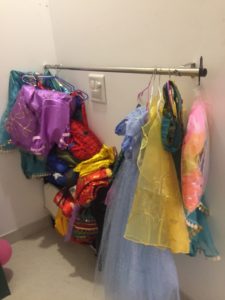 One unique section offered at Chanda Mama is the Role Play studio. With costumes and props readily available for different characters, it provids an ideal setting for igniting the creativity of young minds.
In the Founder's words, " We do not intend to offer a made-up setting to children for entertainment. You will not find movie nights or screen time as part of our activities. We want children to create, learn and enjoy. And what better than role plays!?"
Now that's what hits a chord with parents like me who believe in experiential learning for 21st century kids, ain't it?
The first floor covers sensory, physical & skill development areas like reading room, yoga/dance studio, pottery, sand play and water play.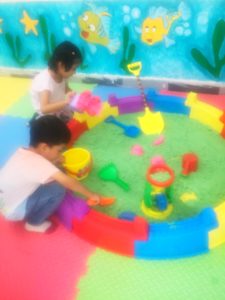 I can't stop raving about the beautifully done decor of the entire space. Each room, each wall speaks about the inner abilities and talent of a child. I was in complete awe of the talent the team has!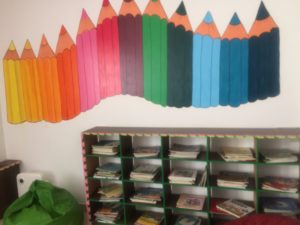 The staff comprises primarily of trained teachers who are well honed with early childhood learning requirements. Even the support staff & assistants are young ladies who seem experienced in child care. They watch out for the children in the play areas like hawks, encourage them to try unexplored areas, keep an eye on rough play or unruly behaviour and they smile a lot. Once you and your child are comfortable with the space and the people you could even consider leaving your child at the centre. Yes, you guessed it right, Chanda Mama also offers childcare services on per hour basis! You can checkout on this with the team for more details.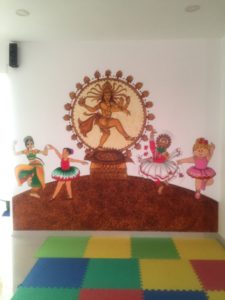 The entire Centre has been designed such that each space can be used as a stand-alone room or as a part of the centre.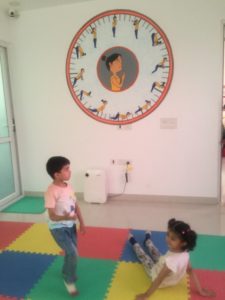 For workshops and parties the space is used as per the requirement. The weekly workshops at the studio, on all year-round, are conducted by trained professionals in each of the fields. Featuring on their current list is Yoga for kids. Upcoming workshops will feature Self Defence, Dance, Art and Creative writing- so like their page to stay updated.
Chanda Mama is the ideal place for birthday parties and special events too.
Mums' verdict:
Chanda Mama – Kids Play Area & Learning Centre offers children unstructured 'free play' opportunities. The Free play concept allows kids to explore, experience and develop. Besides coordination  muscular development, free play also helps develop imagination, enhance creativity and build confidence. A good thing about Chanda Mama is the well-knit activity classes available all day-long that add a fun tangent to the time a child would spend at the Centre.
And the price for all this & so much fun?
Well, the charges on a regular day is Rs 500 per hour. But they have special introductory offers and day long packages as well. You can find the offers and discounts on their Page.
So pull up your socks and head to Chanda Mama- Kids Play Area & Learning Centre right away to experience this & lots more!
Go Mommy!