This has been long overdue post but now is the right time to share my thoughts about this book by Katha India because now this has become a part of our bedtime ritual.
Supergirls Play a Trick by Geeta Dharmarajan , Art by Sonal Gupta Vaswani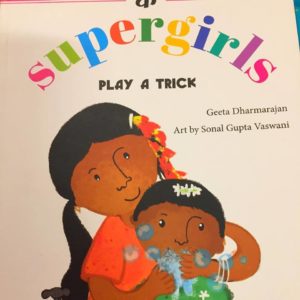 This book is a part of Katha India WaSH Series, published under (SHE)2 project, and their award-winning mobile application, Katha Khazana.
The (SHE)2 project has been developed for children in schools that support and promote Goverment of India's swachh bharat Campaign.
(SHE)2 stands for: • Safe Water and • Sanitation • Health and • Hygiene • Education and • Empowerment
Ready, set, grow with this amazing book that introduces young readers to the whys and the hows of taking care of their bodies.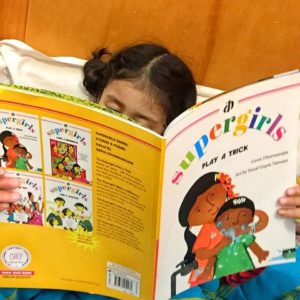 The book revolves around two sisters Tara & Nila and Germ Asura (devil/monster). This short story is a subtle yet fun introduction for young readers to the importance of personal hygiene, cleanliness & relevance of self care…perhaps one of the most critical aspects of growing years.
Our kids were excited to read how the characters in the story played a trick on germs' army. They learnt about basics of maintaining hygiene through hand wash, bath, not walking barefoot etc.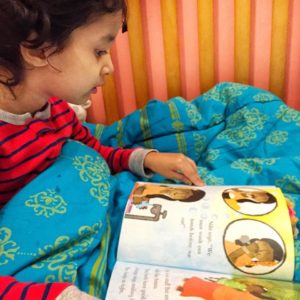 Most fun part – You can find Nila's friends and Germ Asura's enemies with a mirror game in the storybook!
Also read "Best storybooks for 2 year old"
What our little ones liked about the book-
1. Catchy illustrations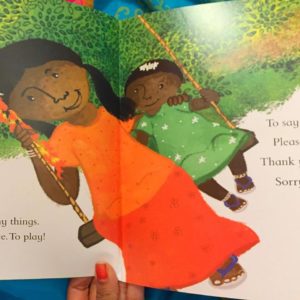 2. Relatable pictures 
3. Short & crisp storyline
4. Big bold letters (that's very helpful for preschoolers who are learning 2 or 3 letter words)
It's a good read and reinforces the idea of maintaining cleanliness in & around one's space- something that we all somewhere try to focus upon!
Recommended age: 2.5 years +
Grab a copy of this book here.
Also read "Best Books for 3 year old"
About Katha india –
Set up in 1988 by Geeta Dharmarajan, Katha is a profit-for-all voluntary organization that works in the areas of education, publishing & community development with the mission to enhance the joy of reading through the power of stories.
Go Mommy!