It's that time of the year!!! Yay, kids are turning Big Five soon and the year 2020 Birthday of course would be very different from what we had perceived it to be! Nevertheless, accepting the reality and finding the best possible ways to still make it special for kids is what moms are best at. So this year's birthday celebration would be only and only about fulfilling kids' wishes (read : spend a little extra on what they demand because birthday party wish will not be getting fulfilled!).
One of the most discussed 'wishes' in our home these days is about birthday dresses for kids. While little champ is more or less sorted, our little Missy is all ga-ga about party wear gowns and is definitely not budging away with anything else this time.
You may also like " Best Books for 4 year old kids"
Dressing up your little girl is never an easy task. Apart from your daughter actually like the dress, it must go with the occasion you are purchasing it for. And of course, it must meet the comfort & ease of movement parameters of your little naughty nut.
My research on party wear gowns for kids has already begun. While at first, I did feel that there were a huge market and zillion options available around, one thing that I have been able to narrow down very fast is the fabric that the dress is made of. 
Do you know- harmful effects of chemicals & dyes used in the processing of fabric can have irreparable effects on babies & kids in the form of skin allergies, damage to brain development etc???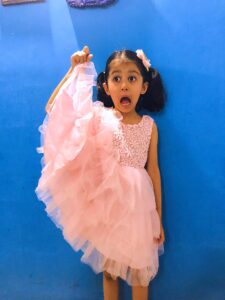 No wonder organic cotton has gained so much popularity in the last few years. It is not only natural and soft but also eco-friendly which connects well to our "green parenting" beliefs.
It's quite fascinating to see how fashion and its trends keep on changing constantly. This change is not just for adults but in kids' fashion as well. Therefore, with changing times, trends of party wear gowns for girls and party outfits for boys are prone to change too.
You may also like "Best Educational Toys for kids"
Personally, I do not dig much into what's trending and prefer sticking to evergreen styles that never go out of trend. But when it comes to kids, one knows that dress worn now wouldn't make it to the next year as kids outgrow clothes very fast. So no harm in being updated with the trend.
Here is a list of some latest trends in Party wear gowns for kids that I came across and they are worth sharing with you all. Have a look.
5 Trending Party wear Gowns for Kids
1. Unicorn Rainbow Party wear Gowns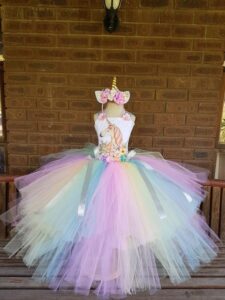 Highly popular for some time now, the theme continues to run hot in 2020 as well. The cutesy element that this imaginary(is it?) animal brings to a party is soaring high and will leave your little one in awe. Its versatility in terms of how it can be incorporated into the overall party theme in terms of decor, cake, food, etc doesn't allow you to discard the theme based on do-ability.
I love the soft, gentle yet cool options available at Berrytree. The fabric is naturally anti-bacterial, organic & eco-friendly. Moreover, being a brand that is eco-conscious, its offerings are five times more sustainable because they are made sans harmful chemicals, artificial colors & dyes. And the cherry on the cake is the fact that it's a Made in India brand (#VocalForLocal). 
You may also like "Ultimate Gift Guide for Peppa Pig Fans"
2. Princess Party wear Gowns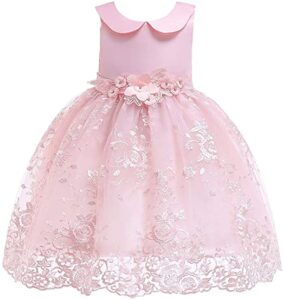 Oh, what a dream! This gown is a perfect choice to let your girl turn into a princess! Princess Party wear gowns never cease to be one of the most popular party wear themes for children, but I could see so many new versions of the same. From off shoulder to one shoulder, from satin to lace- there's so much variety in these party wear gowns for kids.
You may also like "10 Best Learning Toys for Toddlers"
3. Sequenced Party wear Gowns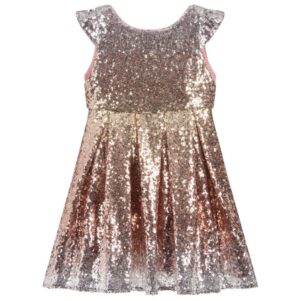 Bling never goes out of fashion! For a more vibrant and classy look, opt for a sequence finish in the gown. Sequenced party wear gowns add a dash of glamour to the look. I see it to be a rare but upcoming fashion trend in kids that looks exquisite. Further, this can be in numerous styles and types. However, make sure that the dress has a soft lining beneath it. This is to prevent the skin of your baby girl from irritation and charring.
You may also like "Quick Guide on planning birthday Party for kids"
4. Tutu Floral Party wear Gowns with Detachable Tail
Dress your princess in a different and classy gown. Again, although floral prints have been around for a while I like the variations that are coming up in this theme of party wear gowns. A High-low pattern with a tutu looks ritzy and cute. The detachable tail looks catchy and would definitely make your little girl feel super special!
You may also like "10 Engaging Activity Books for Toddlers"
5. LED Light up Party wear gowns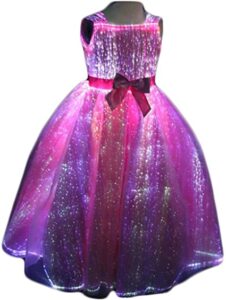 This stunning outfit is a unique concept of party wear gowns with LED lights. I love how captivating this magical gown looks….There are more versions to this segment of party wear gowns that is definitely going to be a trendsetter. Neon lights, glow in the dark, etc are some of the options available.
So, go ahead and shop from these amazing gowns for your little daughter. Choose the best according to your requirements and turn your little girl into a pretty princess!
Go Mommy!
Image courtesy: Google