What do you think is the most important word in a child's life that they learn in early years? Well, undoubtedly the first coo made by a little Bub is special and memorable and of course next comes the word "mom" or "dad". But in reality the first most important written words that children learn are their names. It's indeed something that they begin to claim ownership of very early in life. So in this post I have shared the different stages of recognising, spelling and writing their name through DIY name activities for preschoolers.
The first stage to learning their name is recognition. This mostly begins with identification of the appearance of the first letter, or repetitive letters in the name. Labelling of most used things like cupboard, toy room, tiffin box, water bottle etc work great for this stage.
Followed by this is the stage of spelling the name orally. I remember teaching my son the spelling of his name by making up a rhyme on the same tune as the  "B-I-N-G-O was his name-o" song. This somehow made it simpler for him to catch the letters because his learning ability is faster with tunes and rhythm.
And finally, when the child is comfortable with recognising and spelling their name, the next step is to work on writing them. Often these steps overlap and work in conjunction with each other! This stage typically comes around 3-4 years of age once the child's pincer grip is well developed.
Learning about names is an essential part of learning about letters and literacy in early years. Practice recognizing, spelling and writing the name in a variety of fun and playful ways!
A few easy DIY Name Activities For Preschoolers that worked with our kids have been –
1. Name Puzzle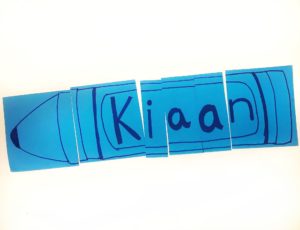 Take a coloured cardstock sheet
Write the child's name in bold letters and make a pattern around (optional)
Cut the letters apart (you can cut in varying patterns too like zigzag)
2. Name Blocks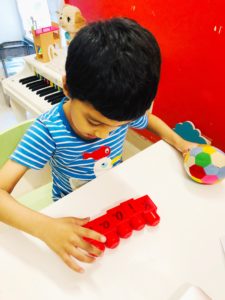 Write the name initials on a set of blocks or unicubes
Child connects the blocks to spell their name
3. Name Pegs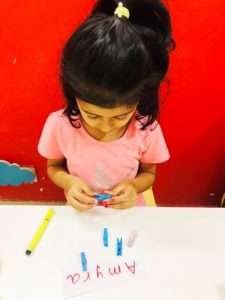 Write the child's name on a piece of cardstock.
Mark each clothespin/ wooden peg with the name initials (Write uppercase on one side and lower case on the other to help children make the connection between the two)
The child pegs each clip on respective letter.
This activity works great for fine motor skills development as well
4. Name mats using playdough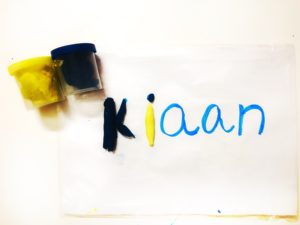 This was one of our favourite DIY name activities that I used to do with kids almost as a daily ritual while I was homeschooling them in initial years
Simply write the name of the child on an A4 sheet
Laminate the sheet for re-use (you can also use plastic jacket/ inserters that are easily available in market)
Give colourful playdough to the child to trace the name letters
A fun sensory activity that can be done from an early age
5. Name writing worksheets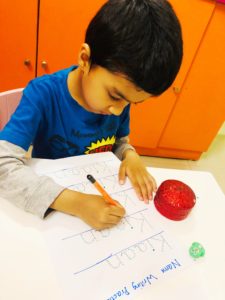 Once the pincer grip is developed (around 3.5 years of age) and child starts recognising their name letters, you can make simple worksheets for practice
Tracing the lines, curves and letters are great way of reinforcement using paper & pencil
Which of these DIY name activities you like the most? Don't forget to share in comments below.
Go Mommy!