Is your child bored of all the toys? Kiddo interested more in the packaging than the actual toy in it ? Got limited means to get hold of toys in the present scenario?
Well, more often than not, we parents do the research, buy our toddler the best toys for their development — they're toxin-free, sustainable, organic etc etc and of course age-appropriate. But they lie untouched as your little one gnaws on the remote control unearthed from the couch or fiddles with the car key remote!
Well, guess what! Toddlers don't always need fancy or expensive toys to have fun. The most important thing for children is to have positive interactions with the adults in their lives on a daily basis. Did you know when children are playing, they are learning? Children learn about the world around them through play and exploration. By playing, children are learning math, science, literacy, language, social skills and much more.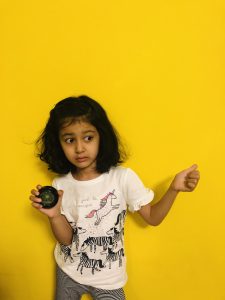 The great thing is you don't need expensive toys to have a great play time with your toddler.
Checkout these everyday household gadgets that can not only be fun but get the grey cells working for these 21st century kids-
1. A pair of binoculars
Whether it's to observe the stars or an ant in the garden, a pair of binoculars brings the natural world into sharp focus and helps kids become keen observers of the world around them. This pair is the right size for children's hands and simple to use.
2. A Calculator
Our son has always been fond of things that are black or grey in colour! I think that's with most kids. So the best thing to hand over to him at around 2.5 years of age was a calculator. Trust me, it's no less than magic for a kid to see numbers appearing by pressing buttons. Gradually I started telling him to press specific numbers to reinforce number recognition. Plus basic skills like hand-eye coordination can be worked upon using a gadget like calculator. My kids even learnt their house number by pressing the digits because undoubtedly visual recognition makes a long lasting impact on memory. And now we are learning our phone numbers!!!
3. A Measuring tape
A must-have tool for little explorers and doers! It's perfect for reinforcing early math and science skills. From measuring their tiffin box to study table- kids can explore so much with a basic measuring tape that's found commonly in most households.
*Parent supervision recommended in case of young kids
4. A Compass
My 4 year old got hold of a magnetic compass and spent enormous time twisting and turning the same wondering how the needle always knew to point towards the north. It led to so many questions by the curious head and discoveries for us that day.
5. Masking tape
Perfect alternate to fancy stickers! Tape a straight line on the floor and have your toddler walk heel to toe on the line. They are working on large motor skills and balance.
6. Flashlights
Exploring shadows, making hand puppets, imagining figures- this little humble devise has been a part of our bedtime routine through all these games. For younger kids, use the flashlights to make hand puppets on the wall and have a puppet show. Play flashlight tag outside, where you use the beam of light from the flashlight to "tag" people. Talk about why shadows are created and see what your own shadow looks like. This is a fun everyday item found in our homes that work wonders on enhancing motor skills, imagination and interest in science in toddlers.
So, mommies & daddies out there, help your child learn to ask questions, express themselves, collaborate with others, and take creative risks. It's imperative to help them retain their natural curiosity and to never lose the excitement of learning something new. All those things are achieved by making learning fun for children. In short, help your child learn through play!
Go Mommy!