The idea of decorating baby playroom sounds so exciting and gives so much happiness!
We had always dreamt of having a very delightful lovable room for our babies, a dream nursery- an area designated for only their play time. As a new parent isn't it something we look forward to?
But as we started checking out for options and went through several interior designers' ideas, we realised that decorating our kids's room all by ourselves would give us more joy; it would make it easier for us to express our love for them.
And that's then we started exploring ideas – as per our need, our budget, available space and so on. So here are some of my ideas and our creations. I hope this inspires you to get that little corner or room ready for your teeny-weeny ….all by yourself!
Note: The space we created is only for play time for the kids.We still have their cot in our bedroom. So while you would want to incorporate baby cot, feeding chair and a handy cabinet ( that holds baby essentials like diapers, napkins etc) , read on for ideas to have a perfect place for your baby to spend time playing. 
Also, babies and toddlers look for open spaces ONLY! Let their playroom be clutter free; kids don't really appreciate show pieces or lamps on the floor. Plus from safety point  of view, think of room decor only with respect to walls and colours.

Color : Baby room need not be just about pinks and blues. It's a space that even
you would be spending a lot of your time in, so it's important that your taste and style gels into the overall decor. Before the arrival of our twins we got a lot of stuff fixed in our home- from white wash to wood work to flooring, a lot happened in those 9 months. We chose vibrant colours for all our rooms and the kids activity room was a painted a beautiful coral red( kids love warm colours and can recognise colours like red at very young age)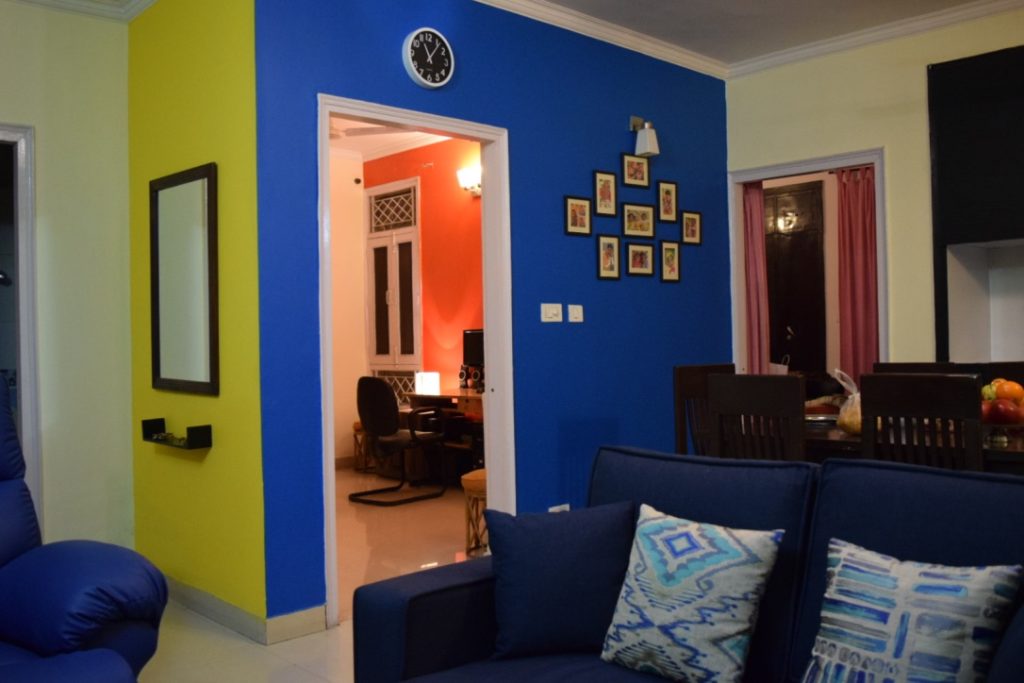 Also read "Getting your home ready for baby's homecoming"
Theme: Well, an important rule while setting up the baby's play room is that there are no rules. We didn't want to stick to any specific theme. The only thing we were working towards was to create a fun, comfortable and colourful space for kids to play in. So yeah, you may count "vibrant & colourful " as the theme!
Curtains – This is an important part of the baby room- this decides how much well lit the room is . I recommend use of sheer curtains to ensure the room looks bright and open. Also as babies start becoming curious, they just want to gaze out of the window all the time. Sheer curtains provide perfect atmosphere and look gorgeous.
Wall decor : Well, as they say, walls do talk! Especially in case of babies , a lot of visual stimulation happens basis colours and patterns. Stripes, bright colors, black/ white contrasts- these are some vitals that help development of baby's brain and visual sense. Decking up the walls in colourful and  vibrant fashion is thus adviced. You can create magic on walls using these ideas:
Wall stickers : These are way better than painting murals on the walls. You can easily change the stickers and add a new flavour to the room.  From bright coloured flowers to fascinating butterflies to cute alphabet cutouts – there's a great range available.
Personalised touch with photographs: This is one thing you would never want to change in the baby room – a piece created specially for those fond memories.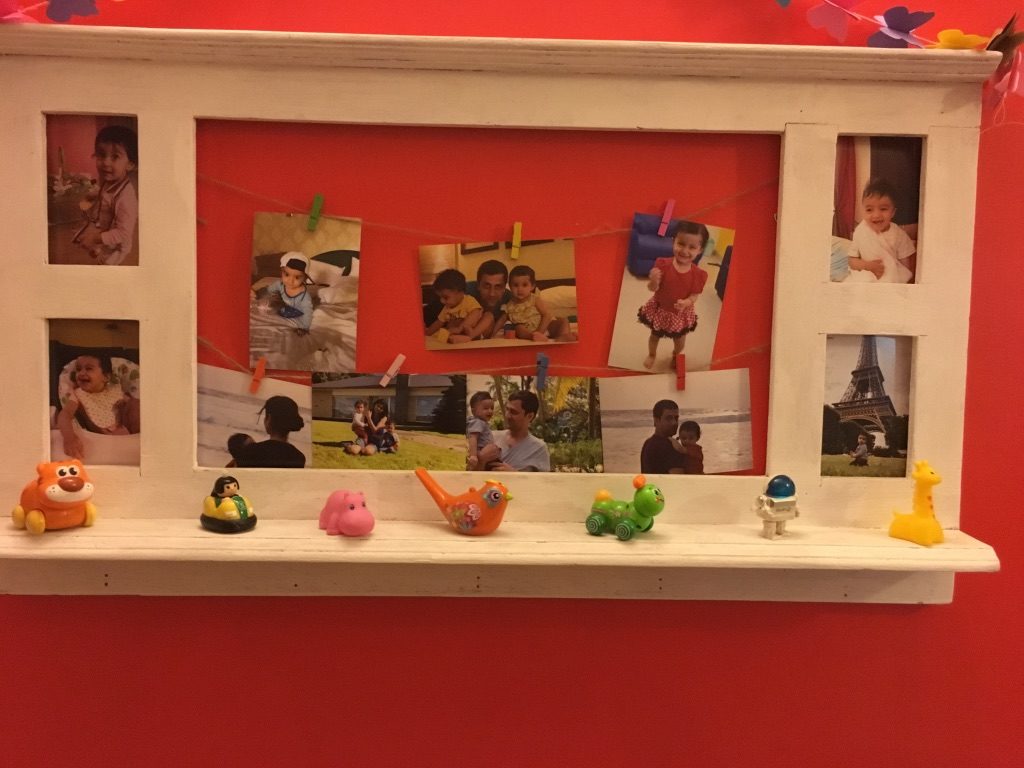 Go Mommy DIY tip: I created a small (no it's actually quite large) DIY photo frame using a basic wooden frame, a rope string and cute colourful wooden pegs to hold photographs. By adding 4-5 small windup toys, this piece adorns the master wall of our kids' play room. It's great to see them looking at their pictures from our family vacations and other memorable times.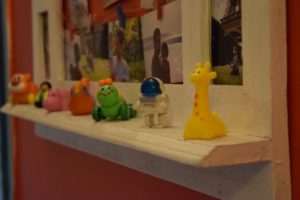 You can find these colourful readymade options too. Click here for more.
For decking up accent wall, you can also create a frame of all the printed ultrasounds images of your baby.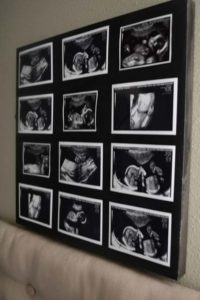 Shadow box  is another great idea for storing and showcasing baby's keepsake like your pregnancy test strip, last ultrasound image , baby's first mittens or booties etc etc. Click here to see more.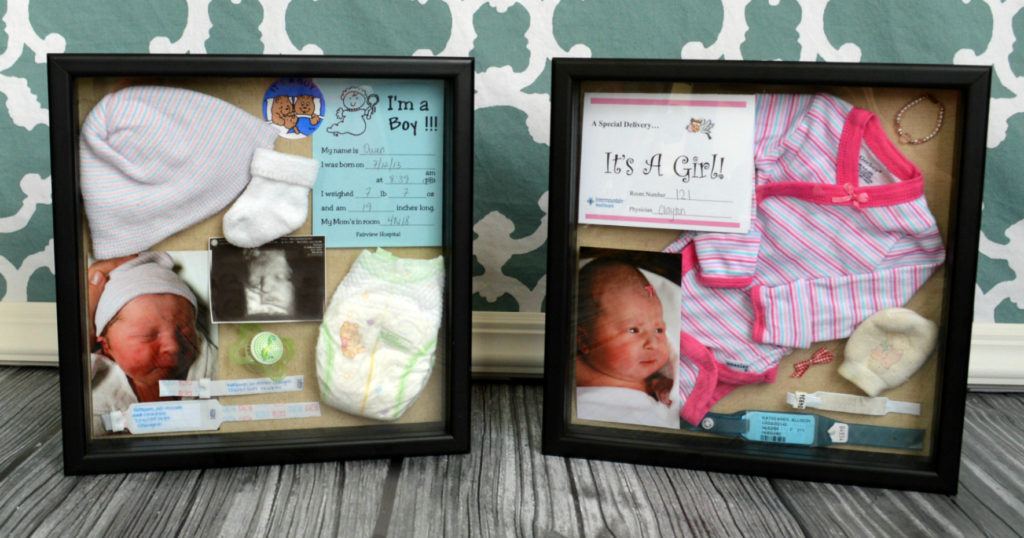 Paintings : Having a babyish feel all around the room was never on our minds. Colours & bright hues were what aligned more to our idea of kids play room. For this section I painted a few abstract designs with prismatic colours and arranged 2 of my creations (well yes, I think I am a not-so-bad painter!) on one of the walls. Click here to see more.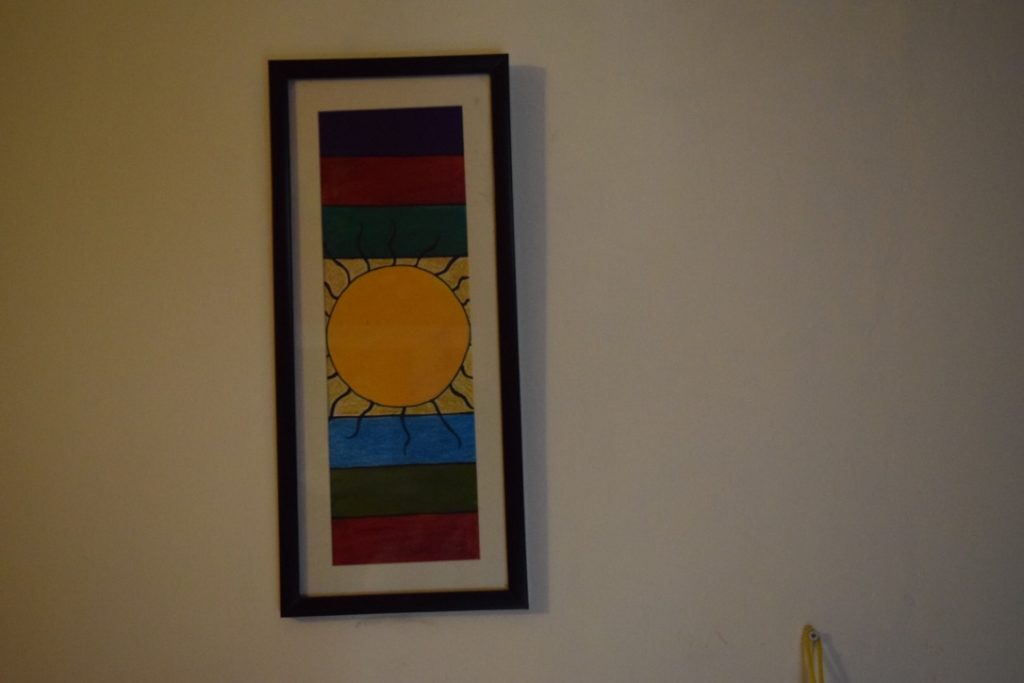 Go Mommy DIY Tip:  No time to paint? Want to keep it simple? Just pick any bright patterned t-shirt of yours, cut out the patterned part, stick it inside an empty photo frame and you have a masterpiece of your own- a framed printed fabric art piece!
Peppy buntings/ 3-D paper garlands: these add an instant sparkle to the wall and give a festive look. They come in lots of colours and patterns.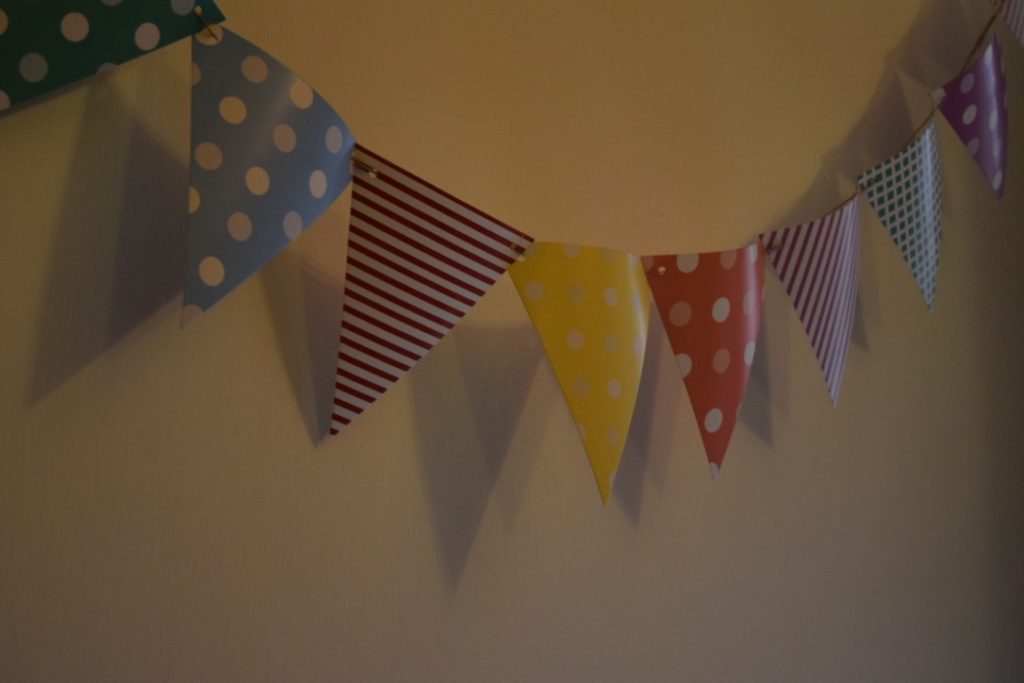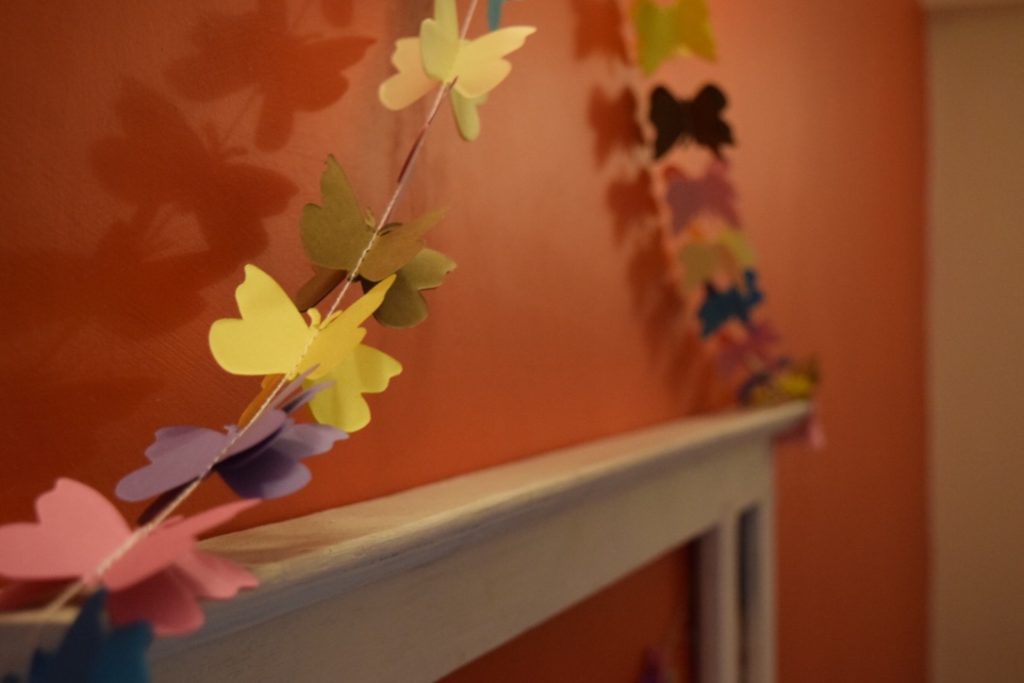 Play mat : The real need of a play room arose when babies started crawling. They needed space beyond our 5*6 ft bed! Plus the thought of baby tumbling on the floor from bed was quite haunting! It's then that we had to introduce them to open spacious clean floor. Having a soft and comfortable play mat is thus a must. We bought an Anti-skid waterproof double sided Play Mat  that added vibrant colours ( remember our theme – colours!) to the play room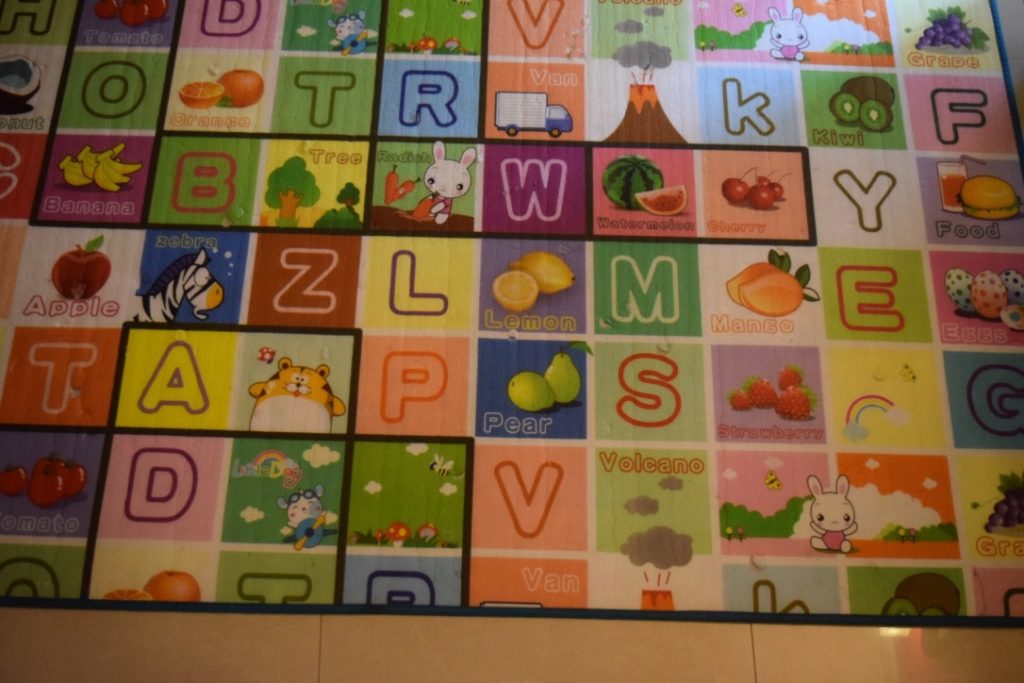 Worrying about your little one falling off the bed? Check this out.
Personalised name plate for room door: Who doesn't like the feeling of owning a space? Tagging a specific area with your baby's name would eventually give a sense of ownership, responsibility and security to your little one. Adorn the entrance door of play room.
Toy storage : Imbibing sense of organisation in the baby starts here on. Ensure all the toys are stored well in a toy cabinet or closet. If you don't want to take up too much space on the floor with a cabinet, opt for a  Toy Storage Box cum Organizer. It's stackable, collapsible and light weight. With quirky designs and colourful patterns, it's going to make toy storage fun & easy.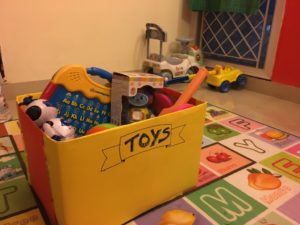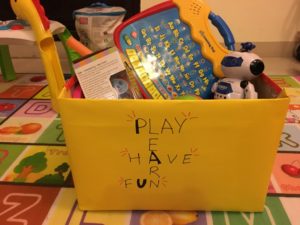 Go Mommy DIY tip: create a toy crate using a mid sized carton and wrapping it up with colored paper. You can decorate it further with stickers or simply label it with colored pens.
Book Shelf: Habit of reading should be started from the beginning itself ( Read my other post about '5 must have Books for Infants' ) . It's always a good idea to introduce babies to books and engage them while reading out. Creating a little corner specifically for reading adds a flavour of variety and warmth to kids room. You can opt for a magical piece like Cloud shaped shelf to stack their first books.
While preparing the kids play room, ensure baby proofing of the room is in place. Safety is of paramount importance.
( For simple ideas on baby proofing, read here!)
So these are some of my simple and handy ideas for decorating the baby room – who says you have to spend a lot of money!! Don't waste time in those jaw-dropping Pinterest images of baby nursery and get started with creating one of your own taste!
If you like these simple pocket friendly ideas, or have more suggestions please leave your thoughts in the comments below.
Go Mommy!