Well, if you thought that the fears of choosing the gentlest and safest baby products is only for new moms, welcome to the world of parenting toddlers. A stage where day is not complete without running around, getting sweaty and then letting it out in long showers! And the end result- scaly, dry and dull skin often leading to common skin problems like eczema, heat rashes etc.
But when it comes to picking the right product in baby skin care range from amongst zillion options, that becomes a daunting task in itself. And going by today's times when one is getting more & more aware of harmful effects of artificial dyes and chemicals used in baby products, it goes without saying that all of us have become much more aware and informed.
A few toxins that are commonly found in baby lotion are Parabens, Propylene Glycol and Mineral oil, phthalates and fragrance (yes, you read it right. Many fragrances have been shown to cause allergic reactions, skin irritation and more serious effects on baby's development etc).
Baby's skin is far more sensitive and delicate than ours, and seeing the little one suffer through skin irritations can be disheartening. So we have made your task a wee bit easier. We have created a quick guide to the best natural baby lotions available in market today and suitable for a baby's delicate skin.
Best Natural Baby Lotion- Our Top Picks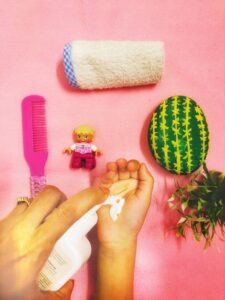 1. Cetaphil Baby Daily Lotion
Cetaphil has been a reliable player in the market for years and is well known for its dedication to formulating the best natural baby lotion, specially for dry skin. One of the very few baby lotions without alcohol as an ingredient, this daily baby lotion contains colorant-free, paraben-free and mineral oil-free calendula extract making it suitable for a newborn skin. A perfect blend of glycerine and shea butter, this organic baby body lotion replenishes the lost moisture and keeps baby's skin moisturised all day long. Cetaphil's short ingredient list is dermatologist tested to ensure minimal risk of allergic reactions. It is gentle and hypoallergenic and thus ranks amongst our choice of best lotion for baby dry skin.
2. Mother Sparsh Plant Powered Baby Lotion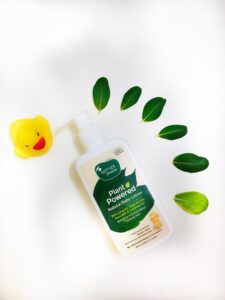 From the range of a brand that comes closest to being "natural", Mother Sparsh Plant Powered Baby Lotion is made of ingredients derived from plants blended with essential oils & herbal extracts. We have been using Mother Sparsh products for past few years and I find it to be the best when it comes to choosing organic and natural products for kids. Their latest plant powered range is based on ingredients extracted from natural sources making it truly a "natural choice for your baby".
Primary constituents like Organic Shea Butter, avocado and coconut oil present in Mother Sparsh Baby Lotion act as nourishing agents for baby's delicate skin making this calming lotion the best choice in baby lotion range. The natural non greasy formula gets absorbed in baby's skin very quickly yet leaving the soft & supple effect for a long time.  
Mother Sparsh has been an innovator in baby care range. Their unique plant-powered formula strengthens the moisture barrier of baby's skin and helps to prevent it from dryness.
I was sold for Mother Sparsh Baby lotion by the fact that it's organic ingredients are certified (which means this baby lotion is free from harsh chemicals, parabens, phthalates, dyes, synthetic fragrances) making it the perfect choice not only for newly born baby skin but also for babies with sensitive skin.
If you prefer a nice daily lotion to rehydrate baby's skin that loses moisture mostly after bath, Mother Sparsh Plant Powered Baby Lotion is a must have in your baby care range. And all this comes with an assurance of pure, non toxic, natural and organic care for your child.
Know more about the brand and product here.
You may also like "Best Sensitive wipes for newnorn babies "
3. Aveeno baby Daily Moisturising lotion
Another daily use baby lotion that is completely fragrance free, Aveeno Baby lotion is non greasy and made with natural ingredients. Collodial Oatmeal, an important ingredient in this lotion, helps heal and palliate itchy skin, diaper rash and eczema. This baby lotion moisturizes baby's skin well and is not tacky or sticky. Being scent-free, it nullifies the chance of baby's sensitive skin to react to any added fragrance.
You may also like "What to buy before the baby arrives- Newborn checklist"
4. Mustela Hydra Bebe body Lotion
Another clinically tested baby lotion with natural ingredients is Mustela Hydra Bebe Body lotion. It reinforces skin barrier with a natural patented ingredient, Avocado Perseose, to preserve baby's skin at the cellular level. We have seen noticeable soothing effects on skin within first or second use.
You may also like "5 Toys you must buy for your baby"
5. Rustic Art Organic Aloe Almond Baby Lotion
For a no-frills, all-day baby lotion that is safe for babies, Rustic Art is a wonderful option. Presence of organic oils of Sesame, Almond, Moringa, Coconut and Jojoba keep the baby's skin healthy & overall nourished. The unique mix of organic essential oils of lavender & turmeric not only give it a beautiful soothing fragrance but also are instrumental in making this lotion calming for babies.
Sometimes being a parent can feel like you spend every day trying to save your child from one disaster or another- whether it's a fall off the bed or a near-miss choking incident. As if these concerns weren't enough for a parent already to deal with, now you can add another one to the list: Many baby body lotion brands are contaminated with a slew of toxic chemicals that can have negative consequences for your child's health.
But making an informed choice is in your hands. Even if baby lotions are to be applied externally, remember that anything that is applied on a baby's skin seeps into their skin and enter the body. Also, these days terms like 'natural' or 'organic' are sometimes used very loosely. Never assume that a product labelled 'natural' is actually safe for your child. Go through the list of core components of the product and then choose.
The fragrance-free and hypoallergenic baby lotions listed above have been our top picks over the last few years. I hope this information comes handy when you are choosing a natural baby lotion for your little Bub.
Go Mommy!