We recently ventured into the world of Dinosaurs when kids watched the flick Jurassic Park and were quite intrigued by the concept of extinct animals, fossils and of course the role of Paleontologists. Well, this Dino world is quite fascinating for everyone if you see, specially the discoveries that have been made through fossils that have helped us learn about dinosaurs. So I planned this exciting DIY Dinosaur Fossils activity to let Kids' imagination soar!
DIY Dinosaur Fossils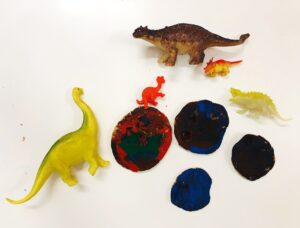 Things required-
1 cup salt
2 cups flour
3/4 cup water
dinosaur toys (small sizes are best)
Paints
Paint brush
You may also like "Best books for 4 Year old kids"
How to Make Dinosaur Fossils
1. Combine salt, flour, and water in a small bowl or dish. Mix well until a soft dough forms. It's something similar to kneading regular dough, but the consistency of dough shouldn't be too sticky. If it feels too wet or sticky add a little more flour. If it feels crumbly or dry add a drop of water.
2. Now make small cookie sized flattened rounds. You can keep the thickness as per ease. I didn't keep them very thick as that would have taken more time to harden further.
3. Now, place the dinosaur figurine on each of those flattened rounds.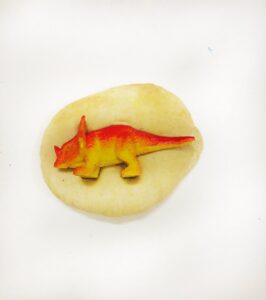 Press it firm enough to have a clear impression on each dough.
In between creating these impressions kids had great fun exploring different patterns and prints.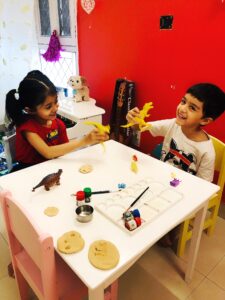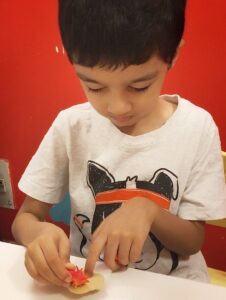 4. Repeat step 3 with each dinosaur. The dough should yield about 5-6 fossil discs.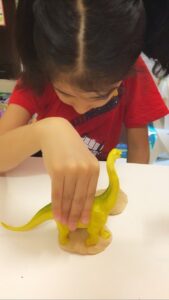 5. Once you finish taking impressions of the dinosaurs, microwave the dough discs for 1 minute.
6. Carefully pull them out and set aside to cool down.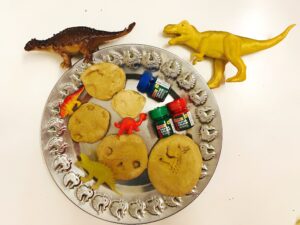 7. Once your dinosaur fossils cool, you can paint them. I let kids choose the colours and paint the fossils.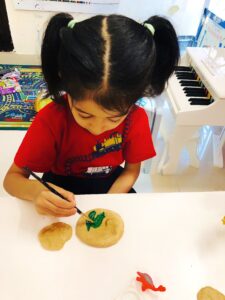 You may also like "Best Educational Toys for 3 year olds"
STEAM- The Science Part
At this stage you can bring out the science behind Dinosaur Fossils. We started discussing about fossils, what are they, how are they formed, how they help in understanding about dinosaurs etc. You may come across some really curious questions from kids. My daughter was wondering if fossils are made from human beings as well and that's when I explained her a little bit more. This book helped me show things more clearly. You can show some age appropriate videos as well.
STEAM- The Art Part
We painted the fossils that works great for fine motor skill development. Even the process of creating Dino impressions on dough comprised understanding of sculptures, design & visual perception. 
Once the paints dried, it was time to play!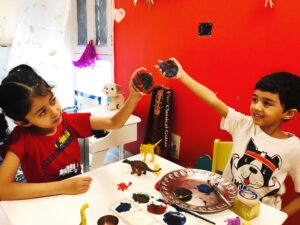 A few games that we enjoyed were pretending to be a paleontologist and digging fossils, fossil match (match the imprint with the correct dinosaur), Fossil hunt etc.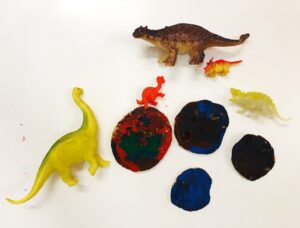 All in all, we enjoyed this activity as it comprised STEAM, sensory play, painting and of course our favourite pretend play!
We extended this activity to the following day where we made our magnifying glasses to study these fossils. Check our next blog post to know how to make a DIY Magnifying glass.
Hope you enjoyed learning about this engaging DIY Dinosaur Fossils making activity.
You may also like "DIY Boardgames for Toddlers"
Go Mommy!