It's no secret we're big advocates of everything natural for our children. Be it organic food or sustainable toys or maybe even baby wipes! Well, Baby wipes are just about the first things to touch a baby's skin, after all.
But with so many brands of baby wipes, at so many different price points, claiming to be made with natural ingredients or for sensitive skin, it can be hard to know which wipes to choose. However, we did all the testing and research so you don't have to.
So, in order to ensure you're buying safe, soft and natural baby wipes, always look for these 5 things-
5 Things to Look for When Buying Baby Wipes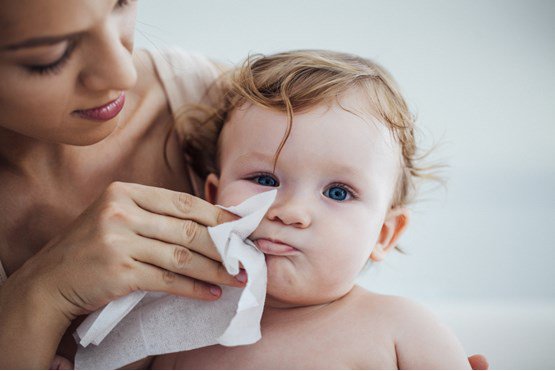 1. Primary ingredient
Because a baby's skin is still developing, irritation can develop very easily. And if you are a mom already, you would agree that babies' most sensitive places are also the messiest! Harsh additives and excessive friction can contribute to skin irritation, diaper rashes and discomfort. The primary ingredient of baby wipes must be mild, non irritating yet effective.
Shopping for a newborn? Click here to see our comprehensive checklist for essential must-haves!
2. Fabric
Baby wipes made from non-woven fabrics comprising a combination of natural and synthetic materials must be checked for. Brownie points for being environment friendly and biodegradable!
3. Strength and durability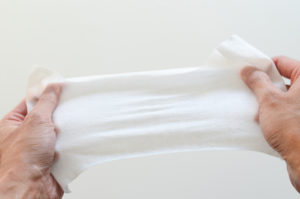 Nobody wants a wipe to break in the middle of a diaper change. I have come across several brands where the wipes tore or stretched easily when removing them from the package, which can be frustrating when trying to change a squirming child.
4. Texture
Softness, texture and thickness are a kind of trifecta of difficult-to-measure, yet very important qualities in a baby wipe. While in the first touch all wipes feel soft, it's imperative to see the impact on hand after 2-3 uses and whether its texture felt harsh or gentle. Alcohol-free wipes have the benefit of being gentler on the skin and are designed to be as effective as the ones that contain alcohol.
Click here to read about common Skin Problems in Babies & their treatment.
5. Moisture & Scent
Scent and moisture are subjective and subtle qualities in a wipe. A mild or unobtrusive scent is preferred when it comes to baby products for obvious reasons of nullifying use of artificial fragrances (read: chemicals). As for moisture, hitting the right proportion is of paramount importance. Too wet, and it dripped when it shouldn't. Too dry and it didn't feel effective in its purpose. Somewhere in the middle is the "just right" moisture level one should look for.
There's no getting around it. Mums go through baby wipes in the blink of an eye. Not only to tend to the cleanliness of those tiny little bums, but also to take care for sticky fingers, dirty bare feet and messy mouths too. Truth is, you end up rubbing them all over your little ones on a daily basis for the first few years of their lives. So you definitely want to choose the right ones—the kind that don't come with an unwelcome side of toxic chemicals and skin irritants.
That's why my trust lies in Mother Sparsh Baby Wipes- India's 1st water based wipes Brand!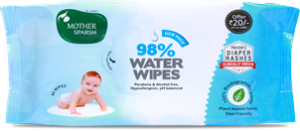 Considering Mother Sparsh's water-based wipes contains 98% water, the safest ingredient one can use in any product, there is no doubt that parents can depend on this product is the safest for their young one's skin. It helps prevent redness of the skin due to rashes or allergies. The wipes keep the skin smooth, soft and moisturized. Along with aloe vera and jojoba oil, these wipes also contain Vitamin E, which protects the skin and helps remove dirt and grime from the surface of the skin.
Know more about the brand here.
The wipes are fragrance and alcohol free, yet soft and absorbent. They're perfect for diaper changes and safe enough to use just about anywhere on baby (or mama!), from her face all the way down to her toes.
Whilst most baby wipes claim to be pure, natural and suitable for sensitive skin they still contain a large list of chemicals that include preservatives and parabens. Mother Sparsh Wipes have been developed with utmost purity sans Parabens, synthetic preservatives and Alcohol. These clinically-proven Hypoallergenic and pH Balanced Water Wipes help maintain moisture and softness in baby's skin and specially suit the newborn babies' sensitive skin.
Mother Sparsh: As Good as Cotton & Water
As a new mum I always found cotton wool and water was ineffective on a really dirty bottom. But Mother Sparsh Baby water wipes are a great alternative to the recommended cotton wool and water. They are some of the gentlest wipes in the market and are really great wipes for babies and toddlers.
But what got me really sold over this product is the fact that Mother Sparsh baby wet wipes are made of Skin Friendly Natural Fabric! Yes, you read that right! Mother Sparsh baby wet wipes are polyester free and environment friendly. They are made of plant-derived fabric that's 100% viscose (no polyester) and gentle on environment too as it is 100% biodegradable. Other interesting thing is that this fabric is extremely smooth (velvet-like), breathable & highly absorbent unlike polyester which tends to irritate baby skin.With this fabric and water based formulation, cleaning with Mother Sparsh water wipes are as good as soft cotton and pure water.
Read here my experience of conducting a flame-test on Mother Sparsh Baby wipes.
Most importantly Mother Sparsh water wipes do not leave a residue of unwanted chemicals on the baby's skin when used during a nappy change. This helps prevent diaper rashes that's one of the most common occurrences with babies.
Mother Sparsh baby wet wipes is an ideal product to use on a nappy rash or when dealing with sensitive skin conditions such as eczema. I often used cotton wool and water on my baby's red bottom instead of regular wipes in order to speed up skin's healing process. Mother Sparsh Water Wipes is a convenient alternative to that, particularly when you are on the go.
While you might come across cheaper alternatives to baby wipes in the market, Mother Sparsh baby wipes definitely are better than ordinary wipes. They are chemical-free, 98% water based and eco-friendly.
I would strongly recommend this product for babies with allergies and/or sensitive skin conditions.
Go Mommy!