It was witnessing a frantic mum searching for her son few weeks ago that gave me a push to be a part of the launch of Easyfone STAR- claimed to be India's first kids phone.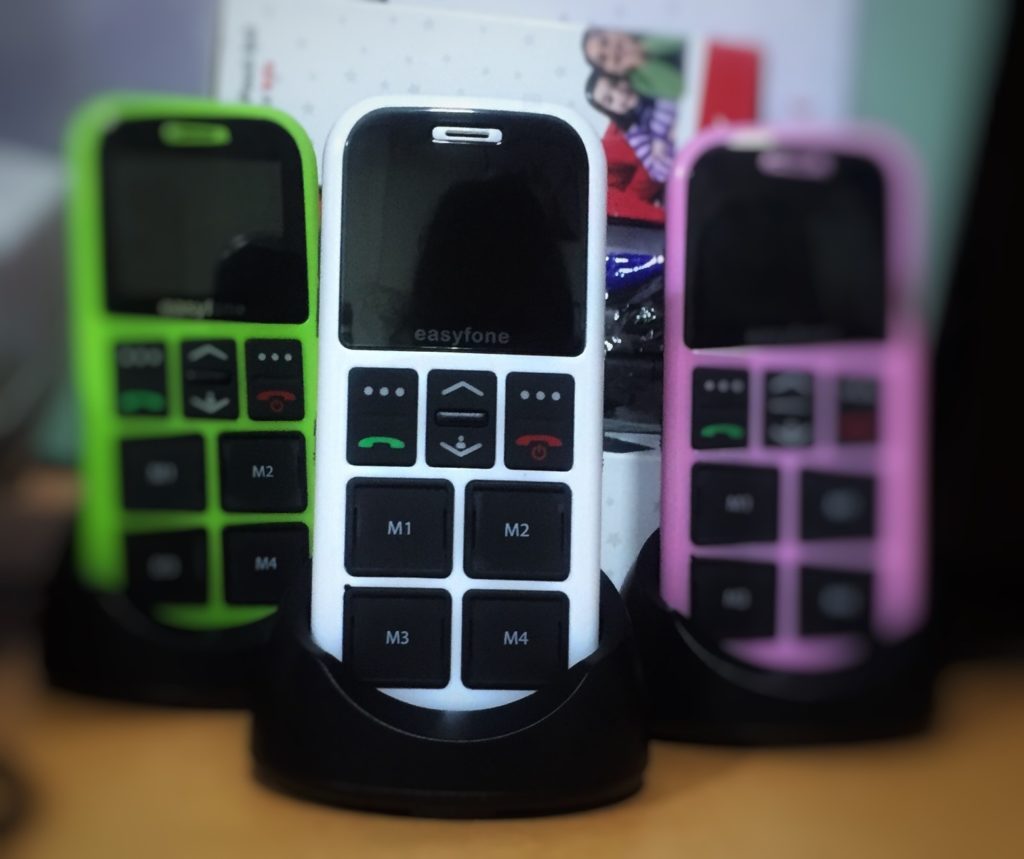 Easyfone – backed by eNovus Enterprise comes as yet another offering by SeniorWorld. I had heard about this company earlier as they have already come out with mobile phones specifically designed for senior citizens and my dad has been using one such handset for past 2 years. The brand largely focusses on customising the features & designs keeping in mind the requirement and needs of the seniors.
Know more about phones for Senior Citizens here.
But when I learnt about a mobile phone for children as young as 5 years old, I was more than curious to know what Easyfone STAR is all about.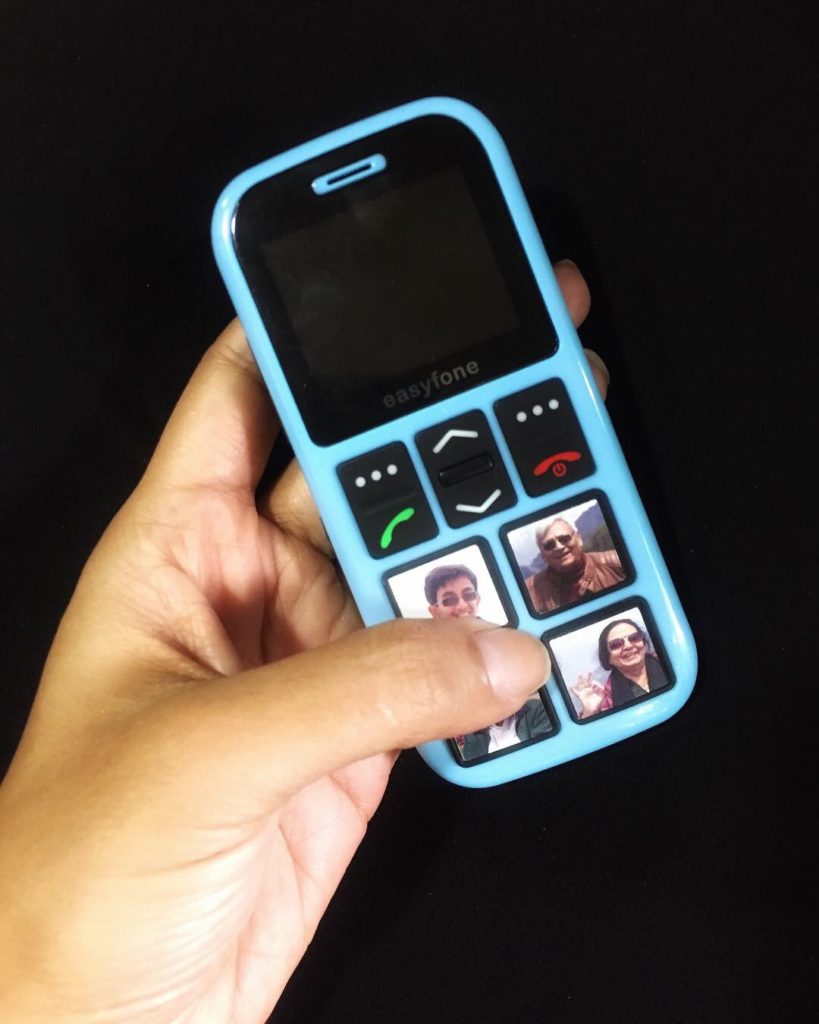 Apparently this comes across as a simple feature phone in the times of smartphones, however I believe it is "smart" in a lot of ways. A few notable & unique features of Easyfone STAR are-
Parental Control on Settings Configuration:  All the phone settings can be done only through the company's website where a login access is provided to Parents.
Simple design : Easyfone Star is a light-weight device with four large-sized keys that can be configured to speed dial specified family members, and even customized with their stick-on pictures. The phone has been designed keeping in mind young children, hence the design is easy & uncomplicated. It is actually like a console for a video game, where you can just scroll up and down or just select an option.
Limited Phone Calls: Calling or receiving a call via Easyfone Star is restricted to pre-configured contact numbers. This is the most salient safety feature of the gadget that allows the phone to be configured so that incoming/outgoing calls are possible only to some (maximum 20) specified numbers.This ensures that the child can be connected only to people known to the Parents like parents themselves, grand parents or friends.
Track the child via GPS: For parents worried about their children's safety, location tracking devices can be of immense help. If your child goes to school and you're sitting in office worrying about whether he or she reached safely, or is on the way back home, this device might appeal to you. Easyfone Star has no internet browsing, but has a GPS which allows parents to track their child whenever required.
Dedicated SOS Button for Emergencies: The bright red slider button on the back of the phone is the dedicated SOS key. On the use of this SOS button, mobile on its own dials up to three times on most frequently spoken five numbers from the pre-configured contact list until the phone is received. In addition, the phone sends GPS location with the help of a message and gives out a loud siren to alert people nearby.
No Internet = No distraction: This phone cum safety device leaves no room for distraction as there is no internet browsing available. Also it can't get any additional apps from other sources.
Discreet listening: This unique feature is like a spy-check. The auto-receive facility helps to listen to what is happening in a child's environment. This is particularly useful when the child is being taken care of housemaid or others. No one comes to know that the phone has been answered when using this feature.
Auto Call Pickup Function – If your kid is not taking your call, a command can be sent to the Easyfone Star from an authorised phone/ registered number and listen to the surroundings of the kid as well as activate its loudspeaker.
Scheduler – The phone has a reminder menu as well wherein Parents can feed relevant classes, birthdays, events, sessions etc to be attended by the child well on advance. This is great in imbibing a more organised routine for your little one.
Hide Menu – Feel the child is getting distracted in some way? Simply hide the entire menu or some part of the menu from the phone's display.
Do Not Disturb Mode – Parents can set "do not disturb" time windows for specific time of the day when the child shouldn't be disturbed by any calls.
Safe & Sturdy Body – Coming with relevant green signals in terms of safety, the phone is certified by various government bodies for use by kids. So one can be assured of quality of mobile phone batteries, material etc.
Cradle Charger- Easy and portable cradle charger means no more playing with wires or sockets.
My Take/ Do I recommend this gadget?
While very young children don't necessarily need a phone, some might need a way for parents to be able to communicate with or find them. This nifty little colourful gadget is the perfect answer. A fun accessory that they'll be excited to carry, it allows them to call and be called by limited contacts. When your little tyke gets away from you or has a tendency to hide, this "Gadget" can save you a ton of stress!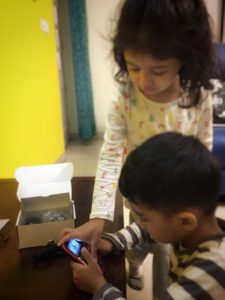 I believe the primary function of the Easyfone Star isn't to track, but to be used as a communication device. It's a stopgap for 5 to 10-year-olds who crave some freedom, but are too young for a smartphone. It allows parents to stay in contact, both in an emergency but also in order to help family life run smoother – you can summon your kids to the dinner table or give them gentle reminders to bring home their sports kits.
Plus with some really unique features like GPS tracking & SOS button, Easyfone is not just a phone for the kids, but any one can use it as a safety device or a backup phone.
Why it's a winner for me?
Easy to use buttons apt for kids understanding
There is no slot for ear headphone, no camera and no inbuilt games making it a perfect device to serve it's sole purpose!
Made for Gen Z, the phone comes in 5 eclectic colours with really cool customisable options including photo stickers for speed dial keypad as well as a customisable back cover that can comprise the child's favourite character, quote etc.
This phone would act as a perfect "first phone" for a 6 or 7 year old. This, in a way, acts as an additional layer before they are introduced to the world of smartphones.
Overall the phone is a no non-sense gadget that has been designed as a safety device for children. It is ideal for the age of kids 5 years and above plus it is reasonably priced as well.
It doesn't matter if your child is heading off to kindergarten or college, it's perfectly natural for us, as parents, to worry when we send our kids off to school. From cyberbullies to violence, what more can we do to keep our kids safe? Easyfone Star is an answer to this. It's a helpful device aimed at ensuring your child's protection. I would surely recommend it to all those who want a basic phone for young children.
Buy it here.
Go Mommy!