"I'm so frustrated! My 2-year-old son knows his letters and can count to 10, but he does not seem to know any colors. He just calls everything "blue". Do you think he could be colorblind?" – Well, this is one of the most common discussion points amongst moms of toddlers, of course after the much dreaded topic of "toilet training"! So let's talk about 10 fun ways to introduce colours to your toddler.
If you have been fearing toilet training your toddler as the toughest task on earth, let me tell you teaching colours is an equally difficult, challenging and frustrating task! I think it's much easier (and less complicated) to teach your toddler to identify fruits, toys or names of vehicles. But colour, being a visual aspect of any object, is more of an abstract concept.
You may also like "5 signs your  toddler is ready to ditch diapers"
Generally, children learn to identify colours by 18 months. They can name different colours by the age of 2.5-3 years. The ability to identify colours is considered a marker and milestone in a child's cognitive process and is often part of early screening for development and educational admittance.
We introduced our kids to the beautiful world of colours from the time they were just 5 or 6 months old. But it was only at around 18 months when we started teaching them the name of different colours. Well, we didn't use flashcards or anything, but we read and talked a lot about colors.
And there it is. The secret to teaching anything to a kid, right? Read about it. Use it in your daily language. Not only did we talk about colors during play time, we did it while waiting in restaurants, driving, and getting dressed. We didn't set out to teach them colors, it was something they were naturally curious about. And that's important, too. Don't force the issue with anything you're trying to teach a kid
So basis my experience, I am sharing a few tips and fun ways to introduce colours to a toddler.
Remember to focus on only primary colours to begin with- red, blue, green and yellow. Don't complicate the thing for the child.
When you show something, say a red balloon, use the word & the colour together with the name of the object. Instead of saying "this is red", it is better to say "this is a balloon and its colour is red"
Also, keep a lot of patience while telling the child about colours because it's a tedious task to stimulate young growing minds.
Don't forget to wear your creative hat- you would need that!
10 Fun Ways to Introduce Colours To Your Toddler
1. Learning Colours By Looking Around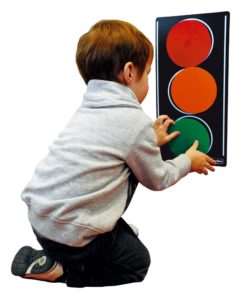 Talking about colours should begin with everyday things and activities. The idea is to just speak speak- speak!
Look around and specify colours of whatever you see- blue sky, green tress, red flowers. Make use of evening walks or park play-time to teach colours to your child. We never miss on the opportunity of talking about different colours to our children, even when we are out for a car ride! The classic 'Red Light, Green Light' game is a simple way to teach the colours and also helps with listening skills.
2. Get hold of Chunky Colour sticks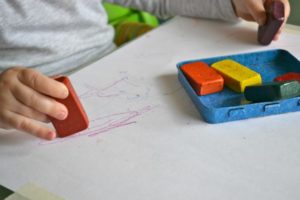 It's never too early to get hold of crayons for your little one. Now a days there are specific wide-gripped crayons available that are suitable for those little fingers. Pull out a few plain sheets (initially I used to stick chart papers on the floor so as to not restrict their movement) and let your child scribble on the same. Then label their choice with name of the colour while she is holding, feeling the crayon touch to the page.
3. Learning Colours through Books
A few books that talk about primary colours is a must-buy for your toddler. There are several books that are specifically designed as per a baby's visual development. A few I would strongly recommend –
Happy Baby Colours Board book by Roger Priddy
Brown Bear Brown Bear, What do you see? by Bill Martin Jr/Eric Carle
My Very First Book of Colors by Eric Carle
Color Train, Color Train! by Martin Kelly
Baby Touch: Colours by Ladybird series
4. Play with your Food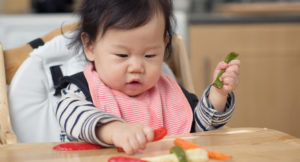 Well, I know you are as it is struggling with your little 'fussy-eater', but how about adding a bit of fun (and colour) to the meal time.
Get hold of 2-3 sets of color coordinated plates and tumblers. Use one specific color each day for serving meal.
Think of different coloured fruits & vegetables. Even if your child doesn't eat, keep a red tomato, piece of green broccoli, yellow coloured lemon etc in front of the child. Let him squish, squeeze, roll and play with it. Call out the colours of each while handing over.
Generally, the brighter a food is, the healthier it is, so turn your toddler's plate into a double-duty lesson in colors and nutrition. Name the color as you serve up the food.
5. Learning Colours with Toys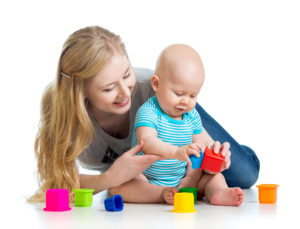 One thing that's closest to a child's heart & mind is toys. Get your child a few attractive and brightly coloured toys, blocks, balls, balloons & puzzles.
You may also like "5 Best Toys for Infants"
Stacking cups were one of the first toys we bought for our kids. They are easy to clutch and bright coloured making it easier for child to hold closely and register the colours.
Colourful balls or balloons make it easier for child to recognise colours because it's easier to distinguish identical objects.
One more toy that really helped my son catch up on colour recognition was the Leapfrog pop-up piano. With an interactive voice mechanism, on pressing each key, it speaks out the name of the colour (as well as number). I find it to be a perfect value-for-money toy!
6. Hand painting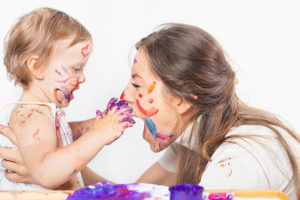 When learning colors, kids can experience the colors through all their senses- sight, sound, smell, taste, touch. The more experiences they get, the easier it is to remember. You must have seen your toddler being inquisitive about touching everything around- be it a leaf, a piece of paper or just a crinkling candy wrapper. To enhance their sensory skills and creativity, engage your child in finger or hand painting. This will pull his/her attention to different bright colours and he/she will be more interested to learn them. Don't think about the mess for some time. You may drape an apron around the child and use home-made safe paints.
7. Songs & Rhymes
Music has a strong influence on child's development. It's much easier for kids to register names of colours through rhymes & songs because of relatable content. You may checkout these rhymes which are specifically about colours.
8. Dress up
This one is the most easy way to introduce colours to a toddler. Ask them what clothes they want to wear each morning. If your child is fond of a specific clothing, call out the colour of the same and repeat this. Again, the idea is to speak! Repetitive behaviour would help the child learn different colours.
9. Sorting games with Buttons/Pom-Poms/LEGO blocks/Socks
If you start searching the web, there are numerous DIY activities & games to help you introduce colours to a toddler. I stuck to just 2-3 simple doable ones. Colour sorting game is the easiest. You may use coloured buttons, pompoms, LEGO blocks or colourful straws for this.
If you don't find anything, look around and grab a bunch of colourful socks!
10. Celebrate Colour Week
From the bedsheet in their room to the colour of mommy's nail paint- kids observe everything. Stick to a specific colour or 2 colours and focus only on those for a span of 6-7 days. The idea is to re-emphasize the colour. So you may have a red week/day wherein everything red should be shown and stressed upon. Red beetroot cutlets for breakfast, red nail paint, red bedsheets etc.
See, who says learning cannot be fun! I hope you and your toddler will have fun with some of these activities!
Go Mommy!
Disclaimer : This article has originally been written for http://www.helloparent.com