The other day I had one of the most awesome experiences of volunteering at my kids' school for a fireless cooking session.
Yes! Cooking & that too me! 
Well, the idea behind this fireless cooking workshop was to help children understand different senses and their role in cooking. I wanted to come up with something easy but unique which comprises maximum number of senses- like feeling, taste, texture, smell and of course visually attractive. So here's what I prepared-
Crunchy Banana Split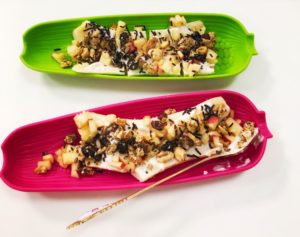 I thought it would be a little more fun to change things up a bit and make kids happy by giving a healthy twist to the age-old banana split.
So here's what I did-
Ingredients required-
Strawberry greek yogurt (I picked @epigamy strawberry yogurt)
Bananas (of course)
Finely chopped fruits like apples, raspberries, black berries, or any berries of your choice
Granola mix (I got superfoods seeds & nut mix from @thereadcompany)
Few mini chocolate chips
Split the bananas in half–um, yeah, because it's a banana split. Then add 2 scoops of yogurt on top. Add berries, granola and a few mini chocolate chips. 
Break out the spoons and eat up! 
Easy peasy!!!
Enjoy your breakfast banana split!
Or, why wait until breakfast? How about an after school snack? Or, why not serve it as a dessert? Your kids will think they're eating dessert, but it's good for you!!
Go Mommy!