If you're a parent to a pre-schooler, an aunt or uncle, or even a grandparent, you know all too well who Peppa Pig is. Yep, she's the popular pig who loves to jump in muddy puddles, giggle around but most importantly, keeps our children entertained in short, tolerable bursts.
Love her or hate her, Peppa Pig is a massive hit with toddlers everywhere! There is something about that cheeky little pig – whether it's the squeaky voice, her cheeky giggle or her ever so slightly bossy nature, but all the little ones LOVE her.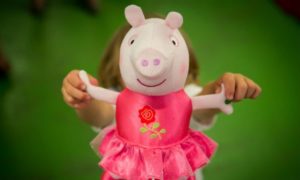 And for those of you with a child obsessed with Peppa Pig, here is my ultimate gift guide for a Peppa Pig fan!
Ultimate Gift Guide for a Die-Hard Peppa Pig Fan
1. Peppa Pig Lights & Sound Family Home
Experience Peppa's real home with this adorable play set. It comes with real sounds & lights. So be it a jump into the muddy puddle that comes with sounds or a step into the house that welcomes you with lights all around- this one is sure to keep your little piggy busy and entertained for hours together. Read more/Buy it here
If you are looking for something a bit more compact, check this out-
The peek & surprise playhouse is a sturdy, colourful and compact option for the starters who love the concept of dollhouses. Read more/Buy it here
Also read "5 books you must buy for infants"
2. Peppa Pig LED Canvas Wall Art
Illuminate your little one's bedroom with this adorable wall art. Soft LED lights add a magical charm to the room and can double up as a night-light. Read more/Buy it here.
And in case your little Peppa-fan wants more of Peppa Pig in the room, check out this 4-piece Canvas Wall Art pack.
Add an extra pop of decor with these unique designs that can be used part-alone or as a collection together. Read more/Buy it here
Also read "8 Best books for 1 year old Baby"
3. Nickelodeon Universe Peppa Pig Sunglasses
These stylish Peppa Pig shades will ensure that your little diva looks just like her favourite character. Super cute is the word for this! Read more/Buy it here
Looking for exciting Birthday Party Themes? Check this out.
4. Peppa Pig Sing-along Boombox
The working microphone and built in speaker makes it easy for your little entertainer to put up a show anytime! Built-in songs, MP3 compatability and adjustable straps makes this a perfect partner for family picnics. Read more/Buy it here 
5. Peppa Pig magna Doodle
If you have a Preschooler around, a magnetic doodle is a perfect fun toy to have. And when we are talking about fun, we are talking about Peppa Pig! This lightweight magnetic drawing tablet would ensure no-mess learning for your little one. Read more/Buy it here
6. Peppa Pig: Official Annual 2018
Join Peppa and her family on their funny, action-packed, everyday adventures in this collection of activity, story and novelty books. Packed with stories, puzzles, mazes and many more activities, this 64-page activity book would ensure hours of fun for your little Peppa Pig fan. Read more/Buy it here
When it comes to books, Peppa Pig adventures have been captured in several short storybooks as well as engaging activity books that are ideal for 2 years & up age.
The Peppa Pig range of books are fun, exciting, interactive and educational, ideal for encouraging children to start to read by themselves. The books are age appropriate for any child, and you can usually find one to go with their favorite episode!
 Read more/Buy it here
7. Peppa Pig Giggle & Bake Kitchen
Looking for the Best Birthday Party Venue in your town? Click here.
8. Secret Diary Book with Lock & Key
Want to encourage your preteen to start writing a journal or daily diary? Get one of these Peppa Pig featured Kids Lock Diary Set and your child can share all their secrets with their favourite pal Peppa! 
Read more/Buy it here
9. Peppa Pig Baseball Hat
When it comes to finding a unique gift for a Peppa Pig fan, ditch the usual clothes and pick this smart, comfortable and beautifully embroidered baseball hat. With an adjustable velcro band on the back, this cap is going to be your little-one's favourite accessory for sure! Read more/Buy it here
10.  Playhut Peppa Pig Tree House
The thought of a treehouse can make anyone want to become a kid again! If space is a constraint for you here, Playhut Peppa Pig Tree House is the perfect indoor treehouse you can get. Your little ones will have hours of fun in their very own discovery Hut.  It features a mesh button and solid top, so your child can play imaginary games high up in her own world. Read more/Buy it here
11. Brush Buddies: Peppa Pig Travel Kit
You know you are dealing with a die-hard Peppa Pig fan if your little one refuses to start his day without his fun time buddy Peppa! Perfect for home or on the go- this kit comes with a reusable pouch and other essentials. Read more/Buy it here
What more!?!!! Kids can have fun whilst washing and bathing too with Peppa Pig bath and shower gel.
This combo makes a perfect gift pack for a Peppa Pig fan. Read more/Buy it here
By now you would know that Peppa Pig is more than just a little piggy. She is an icon, loved by millions of children around the world. So choose the perfect gift for a Peppa Pig fan & let them snort with joy!
Go Mommy!