It's raining Summer Camps Mommies! With summer break round the corner and a job in hand to take care of, summer vacations can really become a time for guilt trips and anxiousness for parents. On one hand you've got to keep up to your professional commitments and on the other you would see kids being at home 24*7, either missing you or watching TV. While that's the fun part of vacations as well, but let's face it- the reality is that with nuclear families, unsafe surroundings, too much of technology and long summer days- it's really not a bad idea to get kids enrolled in a summer camp, or better still, some enrichment class/workshop for adding a flavour of excitement to their lives.
Fortunately, there are a galore of summer camps that provide a wide range of activities and cater to many different interests and age groups. Gone are the days when summer camps meant painting, craft making or clay modelling. We have picked the most unique summer camps happening around you. So wait no more and pick your choice (basis your child's interest of course)!
Also read "10 Engaging Activity Books for Toddlers"
1. Genius Juniors in collaboration with My Dance & Fitness Centre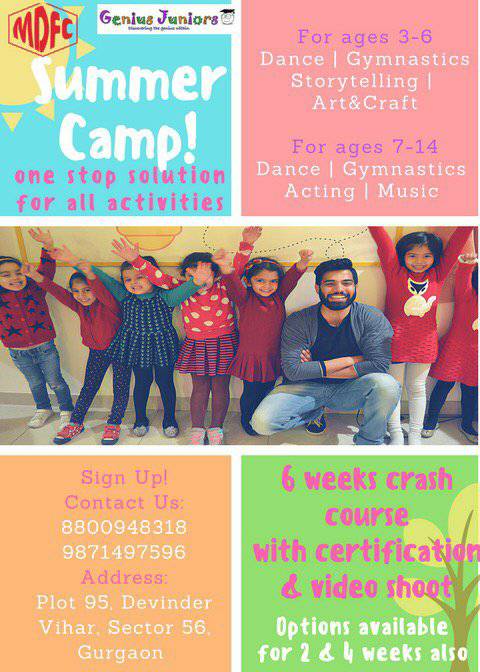 With activities delivered by Trained experts, this is a one-stop solution for an overall learning & fun for your child. Dance (Bolly-hop), gymnastics, Story-telling, Art & Craft, Acting, Music- they've got something for everyone!
To learn more, click here.
2. SCIENCE & COOKING LAB

Six weeks, six unique experience – let your little one explore the world of food. From identifying ingredients to 'un-junking' the 'junk' in food – the weekly sessions are interesting, developmental and experiential! Relevant to ages 3-8 years.
To learn more, call +91 96501 29400
3. The Beehive
 
Get buzzing with wide array of activities at The beehive. Their Theatre & 'Junk Jugaad' programs have been a great hit with kids always!
Psst…avail Early Bird discount by registering before 25th April..hurry up!
To Learn more, click here.
4. Mother's Arm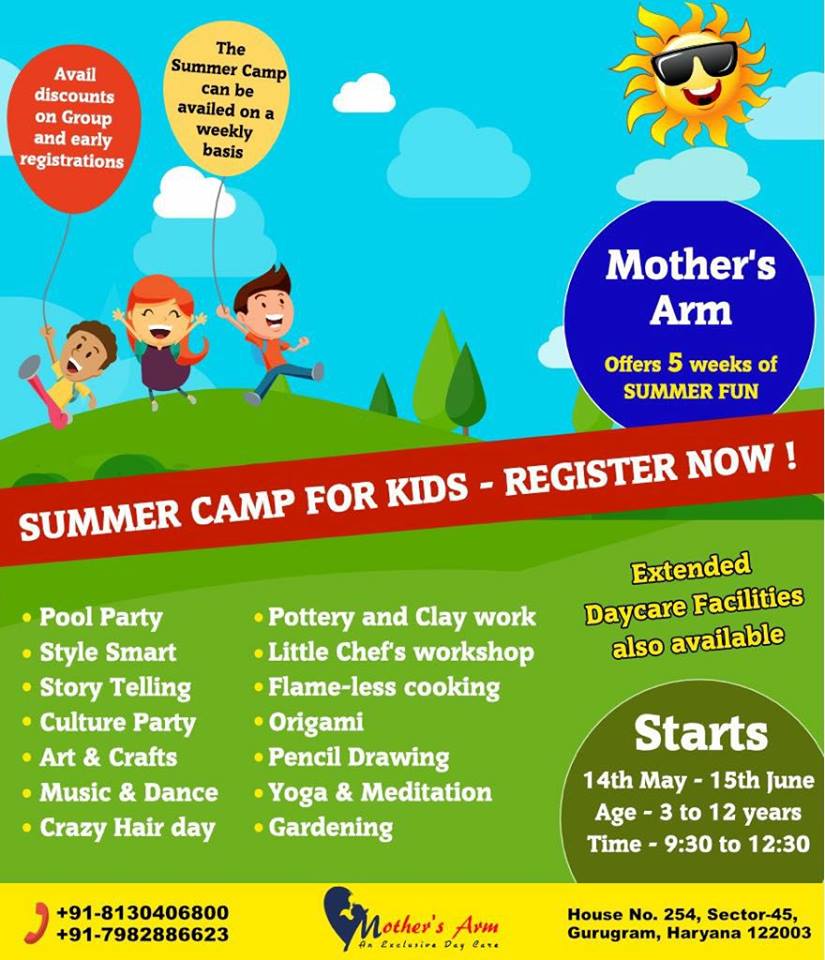 Let your child spend some time at a home away from home. With 5 weeks of exciting fun, you can choose any activity as per your child's interest. they even offer extended day care facilities. In short, happy mommy, happy baby!
To learn more, call 8130406800
5. BUBBLES & BLOSSOMS SUMMER CAMP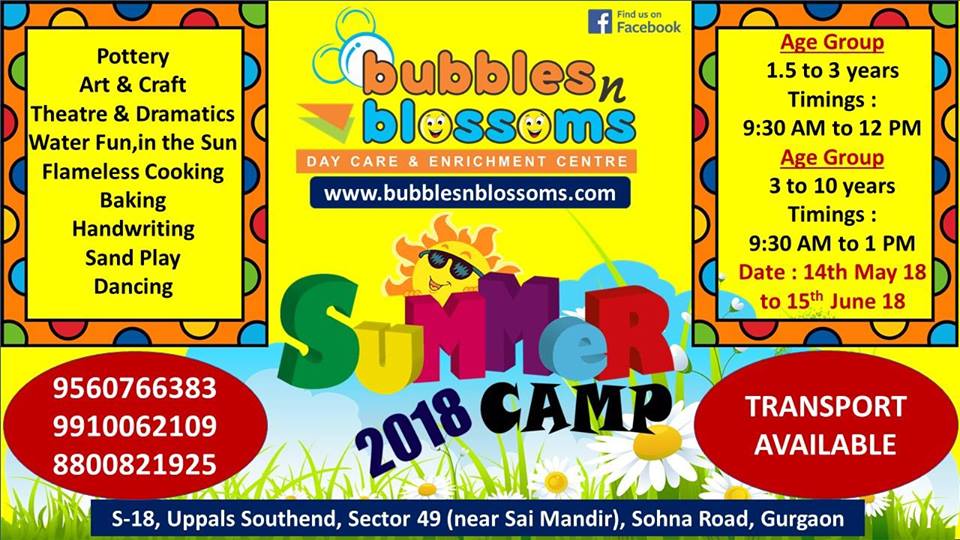 Cooking and baking along with singing and dancing? Their summer camp sounds like such fun for kids, with story-telling sessions, clay moulding, indoor games and more. Their Open Sesame Activity Centre has activities like karate and indoor fitness, as well as fun dance, painting and music classes.
To learn more, click here.
6. Safari Kid International Preschool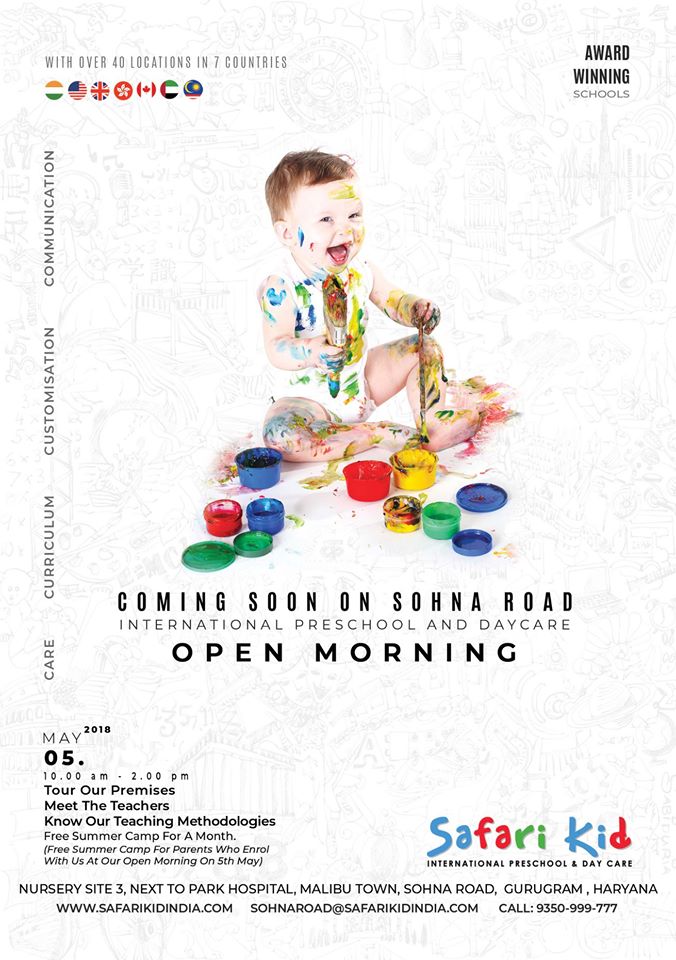 Take your child for a learning fun safari with Safari Kid Summer camp! The fastest growing Award Winning Preschool chain with over 40 locations across 7 countries is now coming to Sohna Road, Gurugram. Being one of the biggest International Preschool & Day Care Centres with a global curriculum, world class infrastructure and meticulous care, customised for the needs of each child, Safari Kid is offering FREE Summer Camp at their upcoming branch in Gurugram. Don't miss their Open house on May 5th to enrol your child for the preschool & summer camp!
To learn more, call 9350999777 or write at sohnaroad@safarikidindia.com.
7. Clay Artistry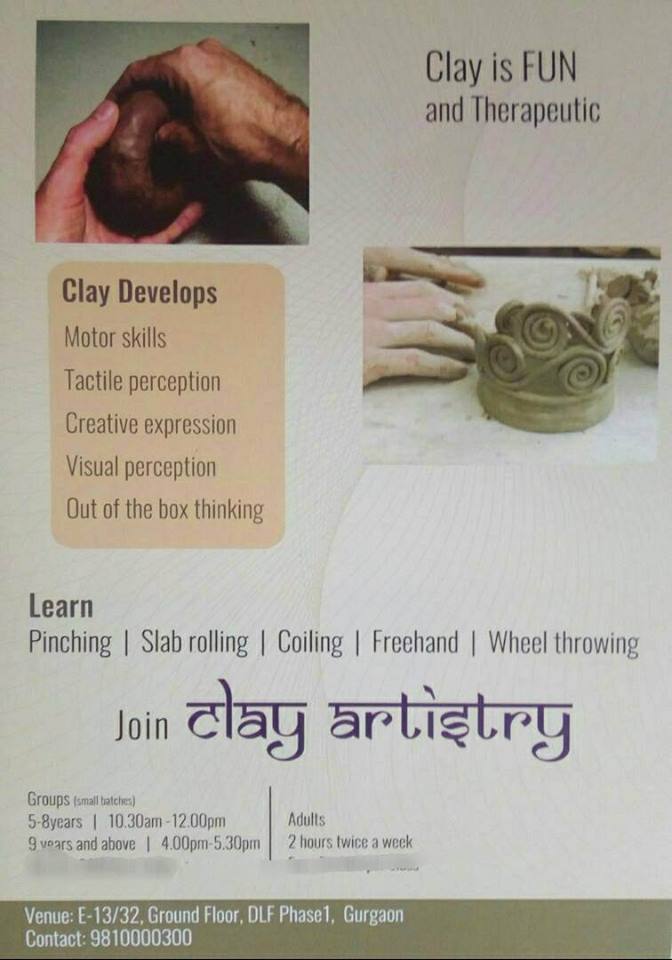 Let your child indulge in some therapeutic fun with Clay Artistry. From tactile perception to creative expression, clay helps develop numerous skills in children. Plus they get to take back home their creations! They offer flexible packages like weekly or bi-weekly classes that ensures a versatile learning experience for kids. Approx Fee- Rs 2500 (5 days).
To learn more, click here  or contact Ms Seema Kalra at 9810000300
8. SUMMER CAMP AT MONK.E.WISE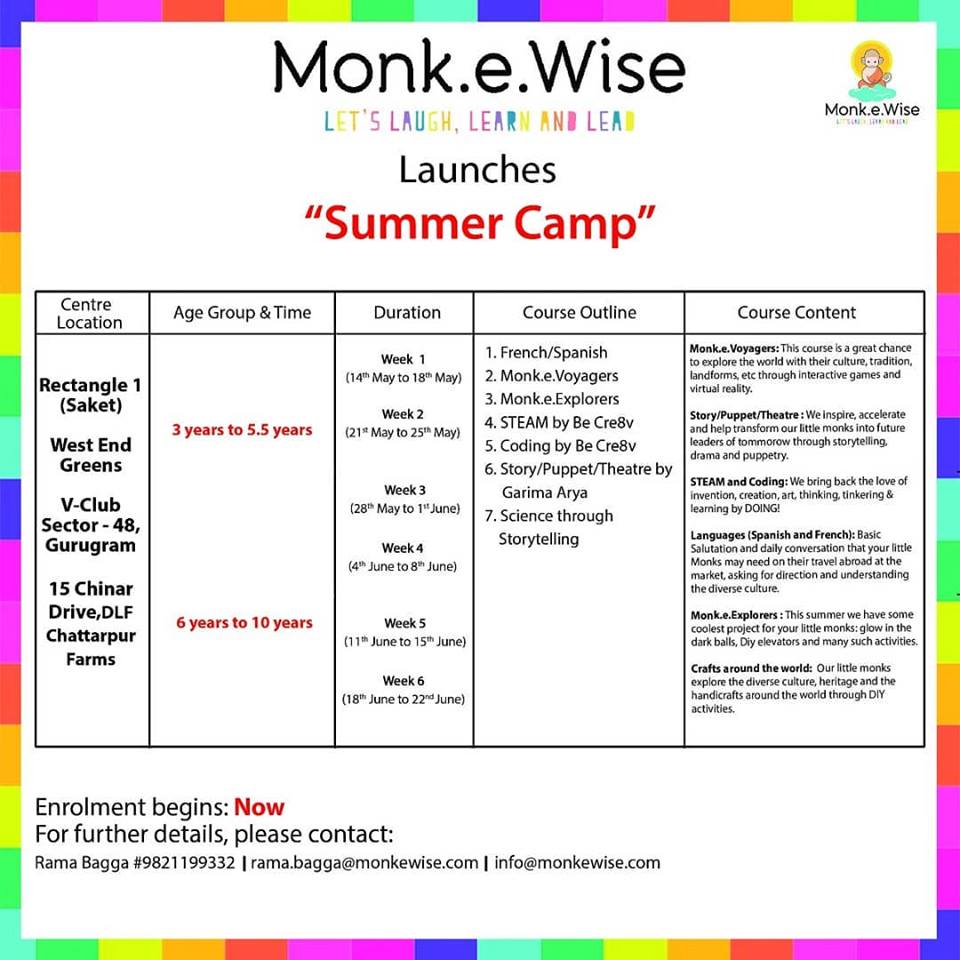 From language programs to indoor sports, lots of pottery,art, decoding culture and fun – the summer camp at Monk.e.wise promises to be enthralling and focused on making our future generation- global, aware & proud!
Location- Gurgaon & Delhi
To learn more, click here.
9. Summer Dance Workshop at Krama dance & Fitness Studio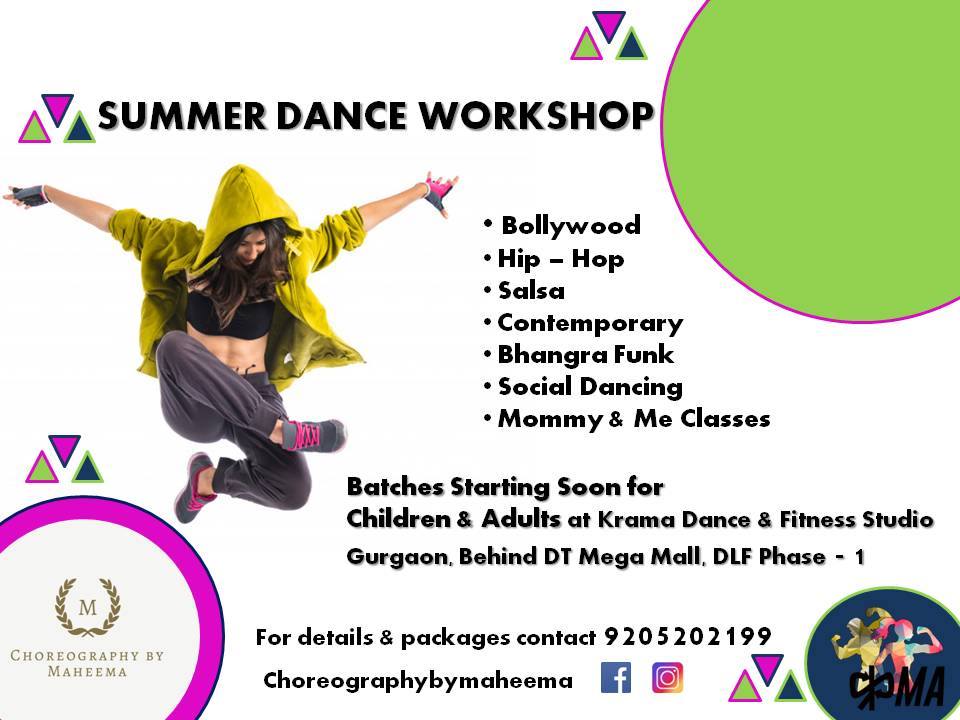 Still looking for the best ballet classes for your little one? Or looking to add zing to your child's life with bhangra funk? Check this out. They have mommy & baby dance classes also.
Psst…don't forget to take their free demo class!
To learn more, click here.
10. The Funbox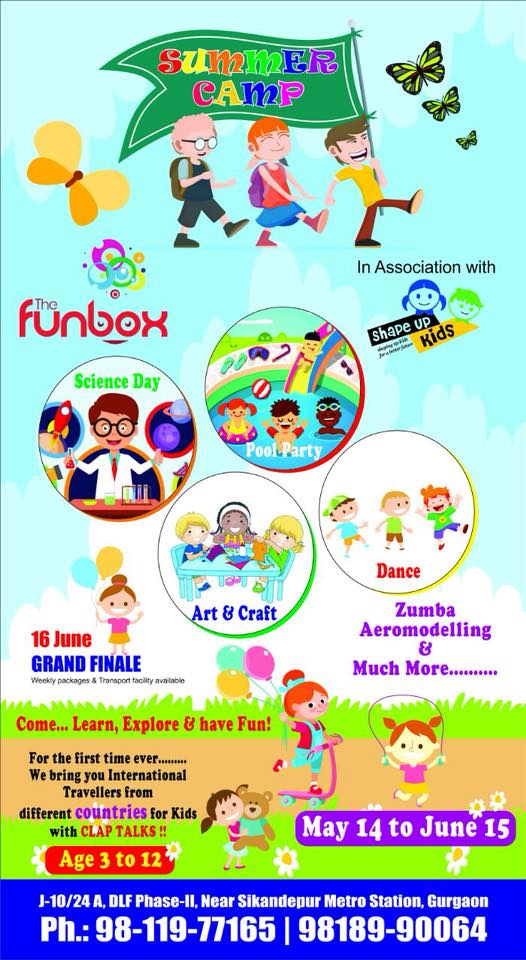 Summer fun is incomplete without a flavour of this crazy place! The FunBox is arranging for a summer camp for kids for all ages with different activity options with a unique clap talks classes with transport facility with a huge indoor play zone for kids.
To learn more, click here.
11. The Little Mind Talent Academy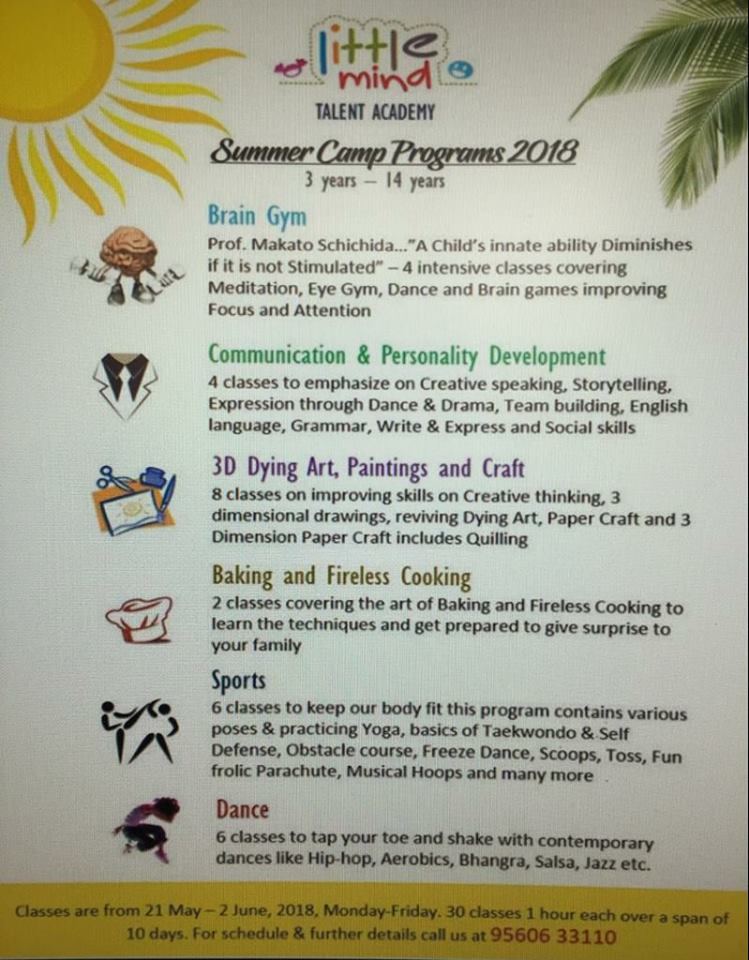 From 3-Dimensional Art to Brain Gym, from Yoga to Public Speaking, this place promises to be a fun place for the little minds.
To Learn more, call 9560633110
12. Mogly's Summer Camp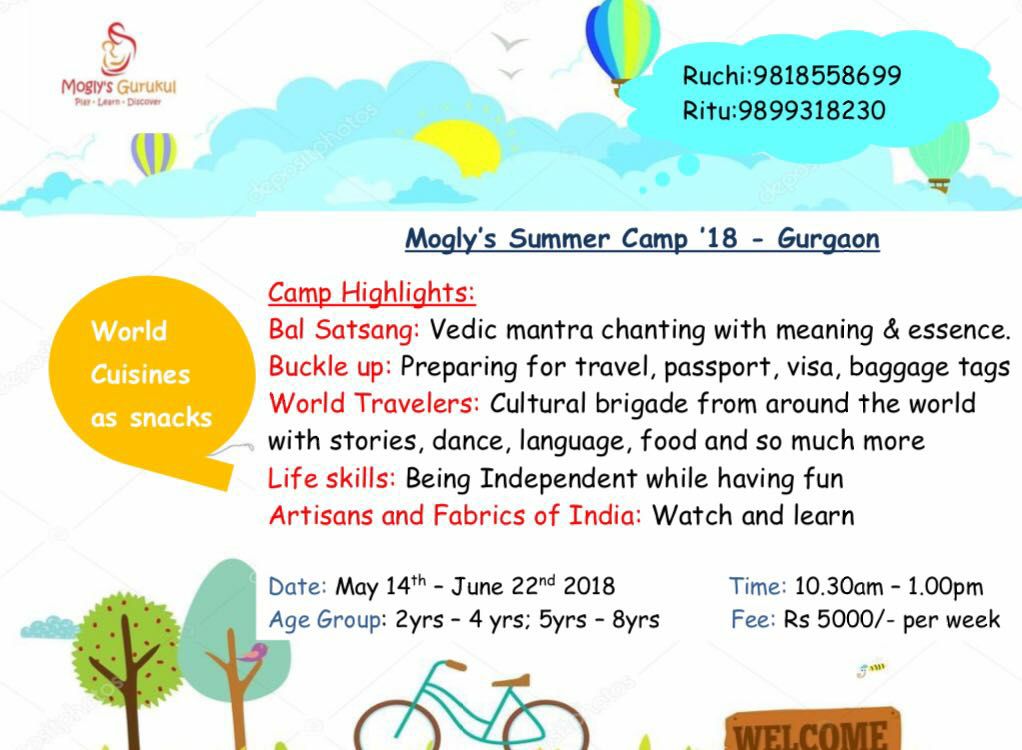 Giving the usual fireless cooking and story telling sessions a miss this time? Give your child a gift of cultural essence. Heightened flavour of travel, countries, culture, music and skill- all at one place!
To Learn more, click here.
13. Think Right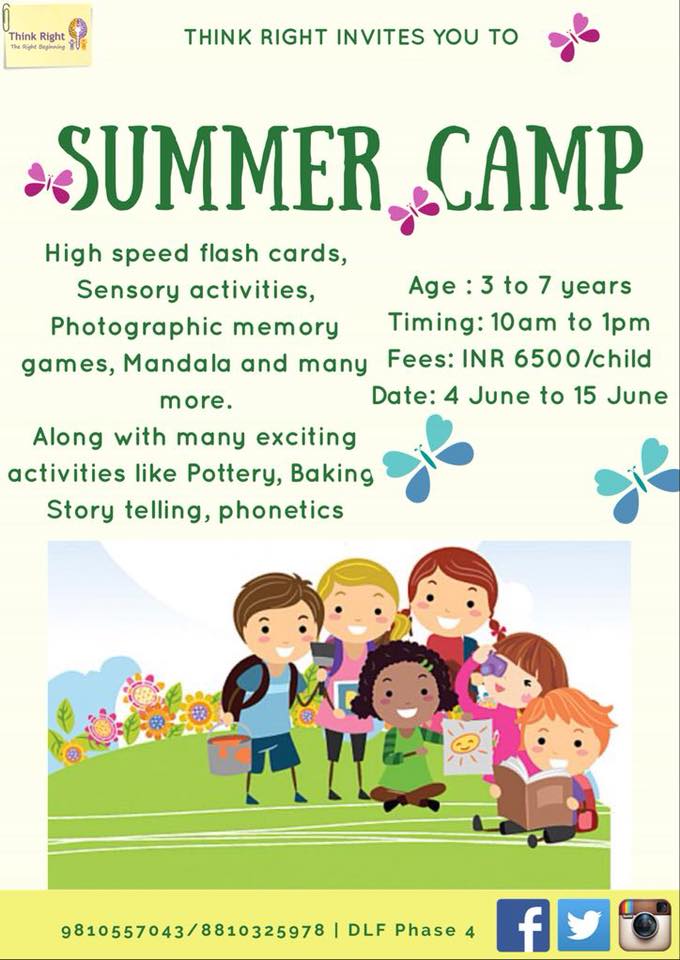 How about some action on the right-side of the brain? Sensory activities, Madala art, games & flash cards- Think Right offers the most unique learning program to activate those grey cells for the little ones.
To learn more, call 9810557043/8810325978.
14. Future Fit Gymnastics Summer camp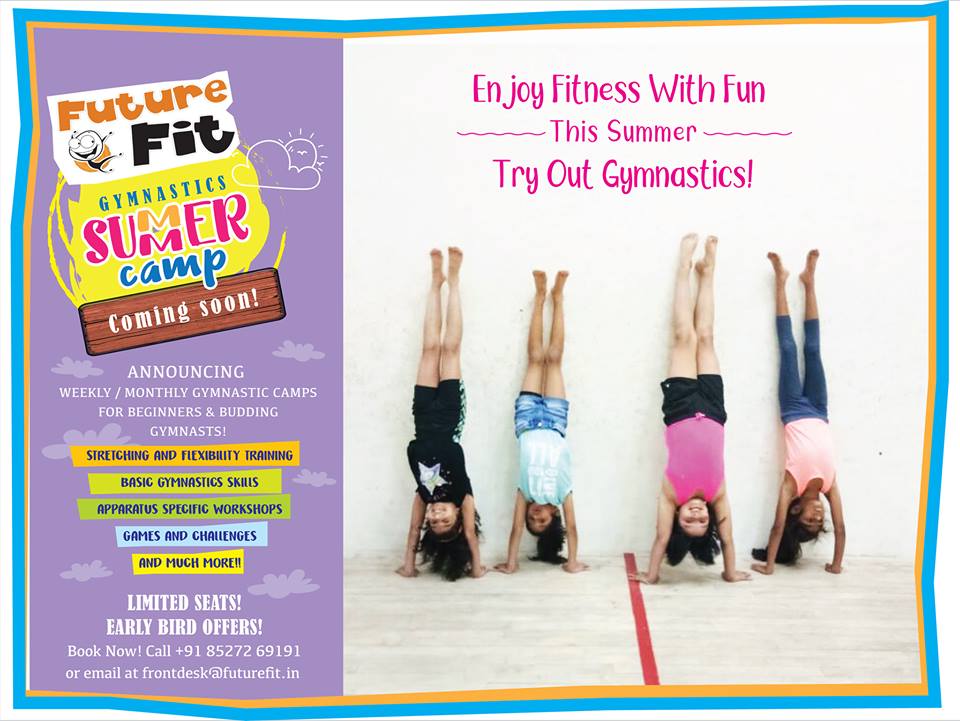 If you have been contemplating for long to introduce your child to gymnastics, this is the time! Get ready to beat the heat this summer with gymnastics.
To learn more, call on +91 85272 69191 or email at frontdesk@futurefit.in
15. Mowgli Camp for kIds & Teens by Urban Akhara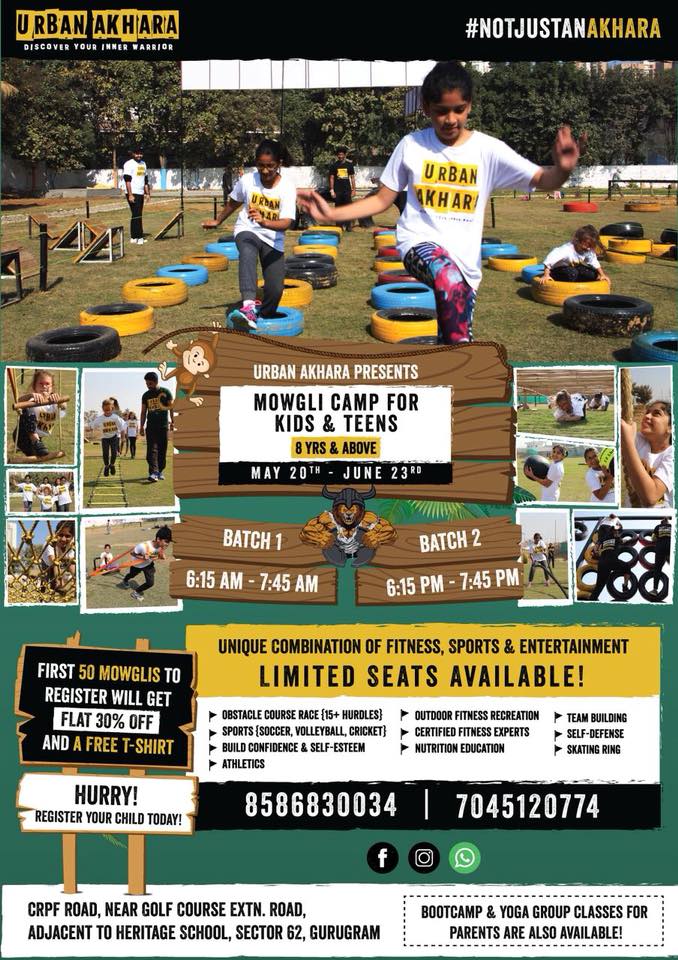 Give your child a Gift of Fitness this Summer. With a unique combination of fitness, sports & entertainment, this one is a not-to-be missed! They also offer bootcamp & yoga classes for parents.
To learn more, call 8586830034/7045120774.
16. Manthan – a fulfilled Summer Camp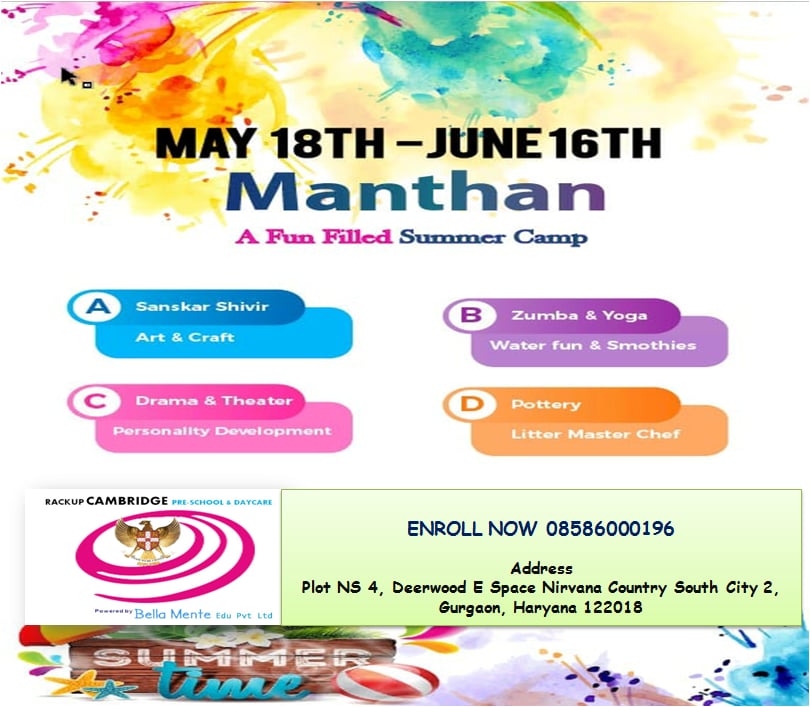 Offering a beautiful fusion of diverse activities, Manthan promises to fill your child's summer vacations with lots of fun!
To learn more, call 8586000196.
17. Summer camp at Yoga Fitness centre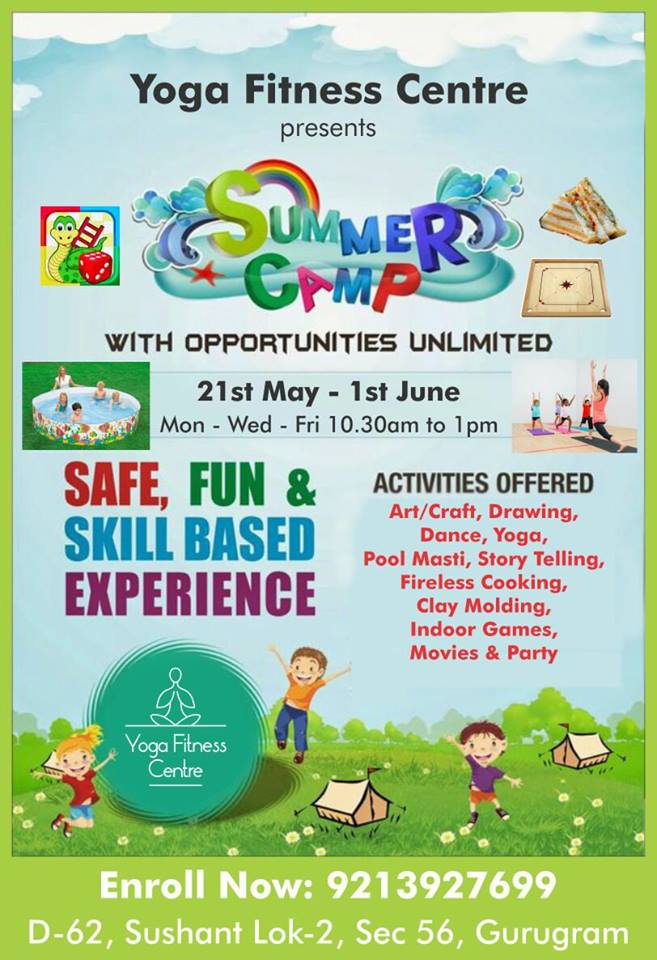 For a safe, fun & skill based experience, check out the Yoga Fitness centre. Besides yoga & story telling, they ensure lots of splashy-pool fun for kids. Isn't it what kids want!!??
To learn more, call 9213927699
18. Summer Fun @ Mochamania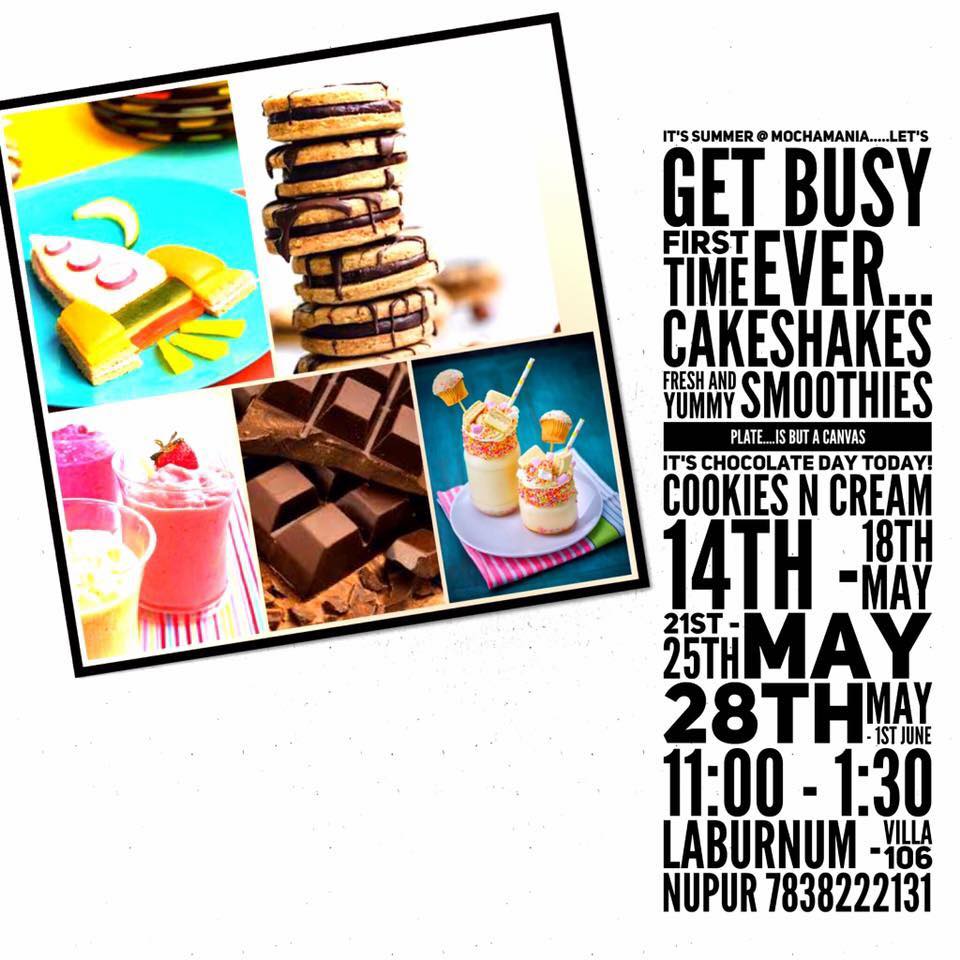 If smoothies & shakes is what gets your kiddo rolling, this is the best place to be in! Be ready to be pampered by your child with yummy pastries & cakes post this workshop.
To learn more, call 7838222131
19. Spanish is Fun!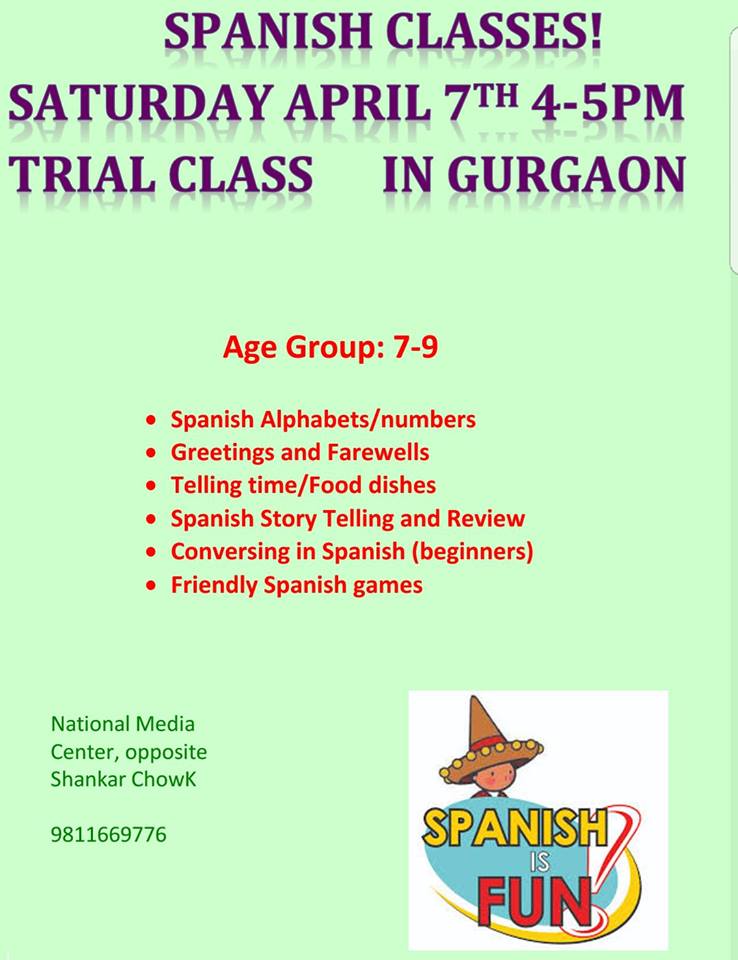 Hola! If Spanish is on your mind, don't miss on these classes that cover not just the basic of the language but also introduces your child to fun & friendly spanish games!
To learn more, call 9811669776
20. Vitamin Creativity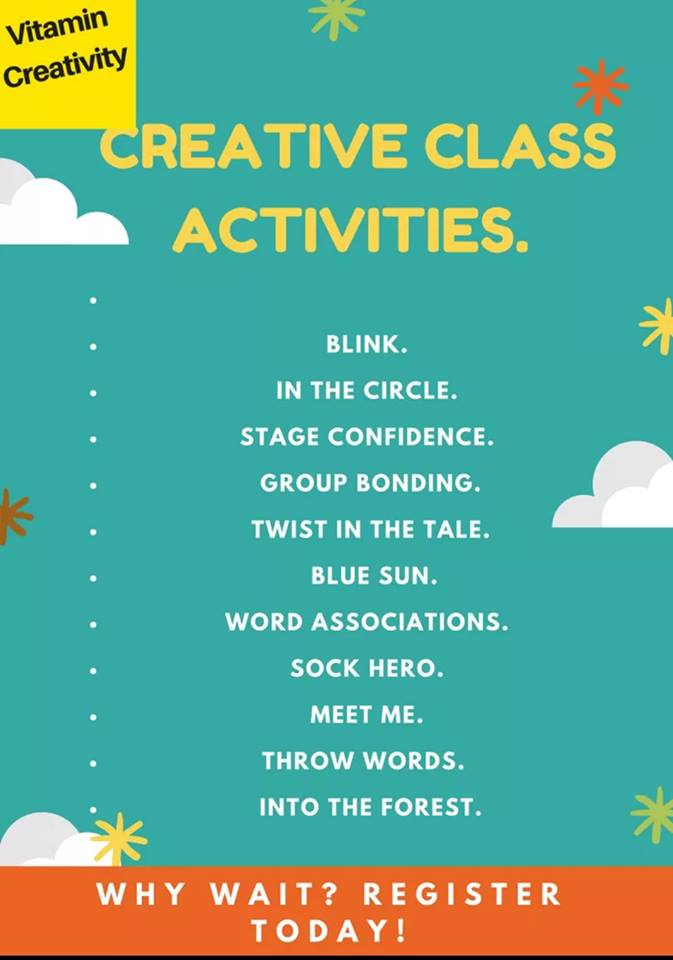 A unique concept where kids are taught to open up their minds, add a punch of Vitamin C to your child's summers!
To learn more, click here.
21. Future-Fit Summer POD @ Dolhin POD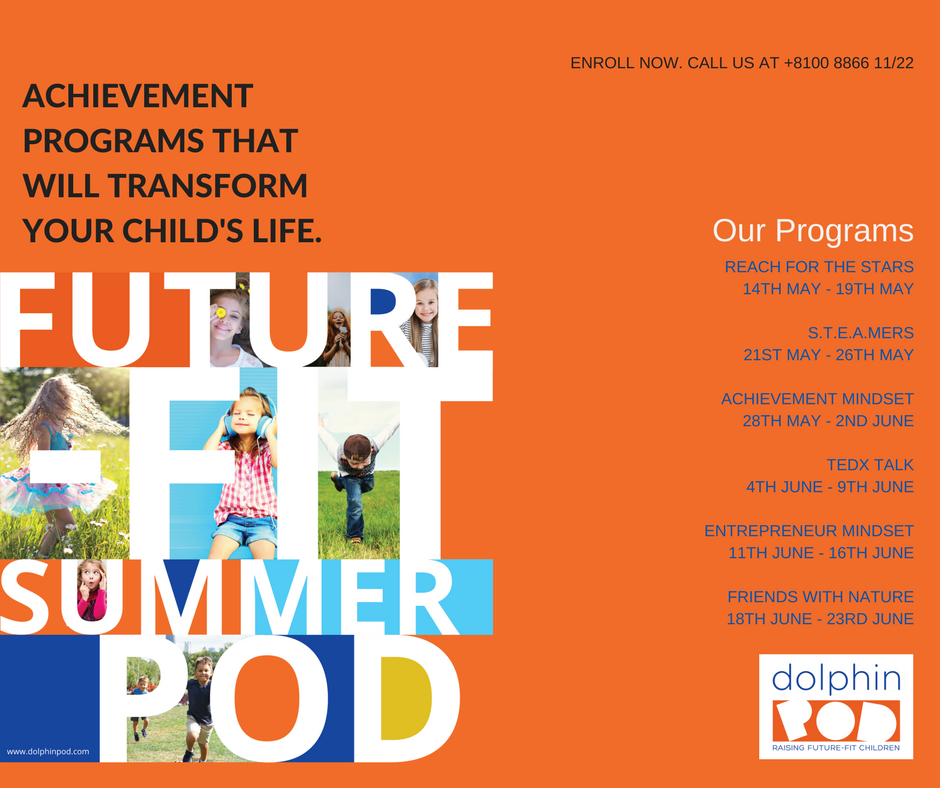 These summer holidays children are happier because Dolphin POD launches Future Fit Summer POD! Their achievement programs like S.T.E.A.MERS, TEDX Talks and Reach for the Stars are going to give a turn-around to your child's life. It will just take one summer to make your children stronger, smarter & happier.
Location- Vasant Kunj, New Delhi
To learn more, click here.
22. Happy Feet Theatre Worshop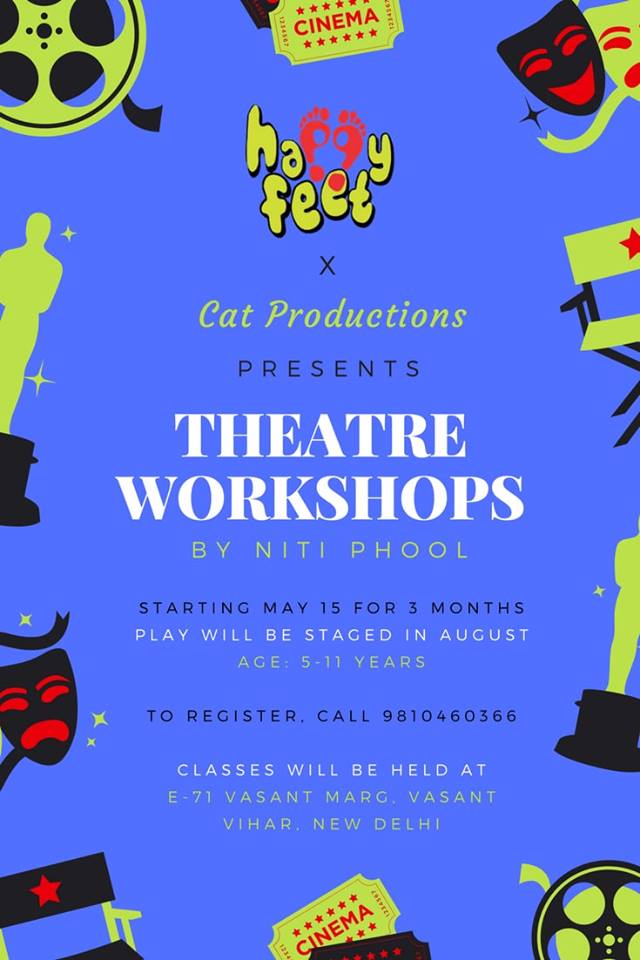 A great opportunity to introduce your child to the world of theatre, Happy Feet offers theatre workshops for children aged 5-11 years. The workshop concludes with a stage performance in the month of August. They offer separate summer camp activities for 2-10 years age as well.
Location- Vasant Vihar, New Delhi
To learn more, click here.
23. Kids Summer Camp – The Activity School by Mehar Kaur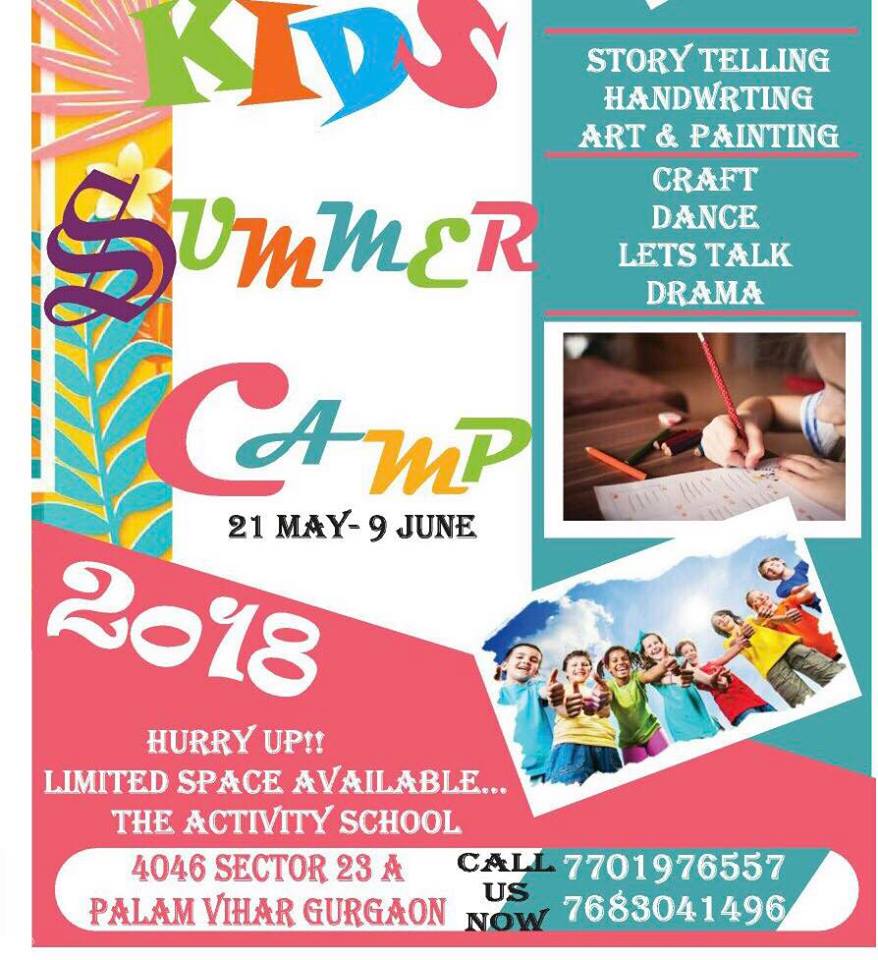 Tired of telling your child to switch off the television!, why not endulge them in fun activities. Hurry up as The Activity School offers various activities in its summer camp. Learn some moves, or some beats, and improve your child's handwriting. They also have provisions for baking & chocolate making by your little chef! Enrol fast, limited seats available.
To learn more, contact- 7683041496,7683041496- Ms Mehar Kaur
What's your pick Mommies? Dont forget to share with us what you plan to do with kids these summers!
Go Mommy!