As a new mother, I didn't intend to use anything artificial for my babies at all, and assumed that in addition to exclusive cloth diaper usage, I'd be employing the age-old trusted method of using cotton and warm water at changing time.
Um, yeah. As soon as I experienced the convenience of the disposable wipes, wringing out poopy rags was a thing of the past.
Because of the frequency with which we use baby wipes, the fact that they are used on the most delicate area of a baby, I think it is imperative that we choose truly non-toxic baby wipes that are not just gentle on skin, but are kind to the environment too!
I have already shared my experience with India's first water based baby wipes- Mother Sparsh that contain exactly one prominent ingredient: 98% purified water. Read my experience here.
While like everyone else, I thought it can't get any purer than this, Mother Sparsh comes up with something even purer and better! 

Mother Sparsh has recently launched a new variant of baby wipes for Baby's sensitive skin that are 99% pure water based. The premium wipes are available on all leading portals.
To buy, click here.
So, What's different about the new variant of Premium Baby Wipes?
The development of this brand began few years ago when they took the strategic decision to minimize the use of artificial ingredients & chemicals in the baby wipes segment. The next stage in this development has been reached with the inclusion of medical grade Fabric making it 3-times thicker and gentler on baby's skin. Trust me, you are certainly going to save on those extra 3-4 pulls (as normally happens with other ordinary wipes) as Mother Sparsh 99% pure water-based baby wipes are firmer, thicker and more elastic.
Medical-Grade Fabric makes this baby wipes gentle to the most sensitive part of the baby. The natural plant pulp based fabric ensures extra thick fabric (3 times thicker than ordinary baby wipes).
The new packaging comprises a Moisture Lock Lid packing (that's really convenient) and a film on top that doubly ensures water content retention. The double secure locking makes it handy to carry while travelling with the baby.

If you are like me and have a hard time depriving yourself of the convenience of disposable baby wipes, then Mother Sparsh Unscented 99% Water Wipes are your best bet as they are 100% Unscented/Fragrance free baby water wipes.
Moreover, these water based wipes are dermatologically tested, hypoallergenic, and are made of pure water making them suitable for cleaning baby's face, hand & body. These multi-utility wipes provide little ones with all-around protection.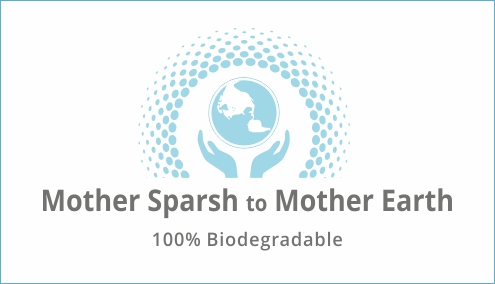 Besides this, Mother Sparsh water wipes shall always be a winner for me as the product is eco- friendly, natural and 100% Biodegradable Wipes.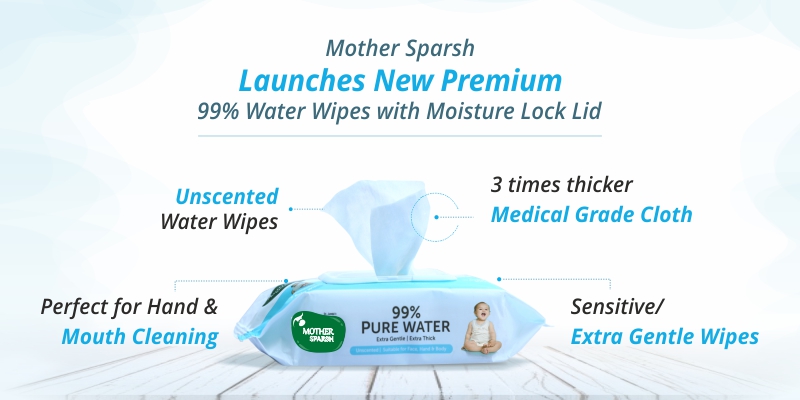 How Mother Sparsh 99% unscented premium water wipes are different from Mother Sparsh 98% scented water wipes?
Features Comparisons
Mother Sparsh 98% water wipes
Mother Sparsh 99% unscented water wipes
Fragrance
YES (Scented/fragrance wipes)
NO (Unscented)

 

Skin Type
Normal Skin
Sensitive skin/Extra gentle
Fabric
Plant derived/Natural fabric
Plant derived +

 

3- times thicker + Medical-Grade fabric

Plastic Lid
Not available (Resalable Sticker)
Yes (Moisture lock plastic lid)
Biodegradable/Eco-Friendly
YES
YES
Price
188/-

(80 Pcs baby wipes)

299/-

(72 Pcs baby wipes)
To conclude …
Whilst you might come across cheaper alternatives to baby wipes in the market, Mother Sparsh baby wipes definitely are better than ordinary wipes. They are chemical-free, 99% water based and eco-friendly.
I would strongly recommend this product for babies with allergies and/or sensitive skin conditions.
Go Mommy!