Talking about these "threenagers", well by now you would have understood that your 3-year-old is a complex person now, with thoughts, interests, and greater control of their body. They've also got a longer attention span, so they can focus on make-believe games, craft projects, toys and more. Kids love toys, undoubtedly, but picking up the right age-appropriate toy is quite challenging. To make things simpler for you, here I am listing Best Educational Toys for 3 year olds that we have loved so far!
To be considered an educational toy, the toy must stimulate learning or provide an educational value, such as helping a child develop a certain skill or learn about a specific subject. But most importantly, the best educational toys make learning fun. Whether they're teaching your child about colours, numbers, shapes or words – or even construction, coding robotics and fine art – these toys ensure there's real pleasure and play value to be had. Here's our pick of the best of the bunch.
Best Educational Toys for 3 year olds
1. Skola Toys Memory Game
This is an all-time favorite at our home and is more of a family game to get those grey cells moving. With 6 different variations, this memory game offers several skill development opportunities to children. From picking up circular peg discs (fine-motor skill) to testing one's memory skills and learning about different everyday objects, this is by far one of the best offerings from Skola toys.
Know more/ Buy it here.
2. Marble Run STEM Toy
Rated globally as one of the best STEM toys for preschoolers,  Marble Run stimulates Creativity And Reasoning. For the basic set-up of tracks & ramps, you might have to assist your child, but the excitement of building structures and using problem-solving techniques make this one a great educational toy.
Know more/ Buy it here
YOU MAY ALSO LIKE "5 must-have toys for infants"
3. Pretend & Play Cash Register
This is a perfect introduction to basic numeracy concepts for preschoolers. The high point of this pretend play toy is a built-in, eco-friendly solar calculator that makes it quite interesting for littlest 'number crunchers'. With actual-size pretend bills, plastic coins & Pretend credit card- this one is a great addition to any pretend store.
Know more/ Buy it here
4. HAPE Wooden Magnetic Play
Manipulation, dexterity, problem-solving, hand-eye coordination- these are a few of the skills promoted by this new-version-of-age-old-game. Use the magnetic pen that's tucked away in the base to sort the beads, or roll them around the maze and see how hard it is to sort them that way! Have fun rolling beads through the loops and whorls of the maze!
Know more/ Buy it here
YOU MAY ALSO LIKE "Top 7 Storybooks for 2 year olds"
5. Melissa & Doug See & Spell
Our little ones are in the stage of upper & lower case recognition and this toy is a perfect fit for reinforcing related concepts. Our son is sometimes reluctant to work on letter recognition, but he loves puzzles, so this is a great activity to sneak in letter practice. Beautiful illustrations of everyday objects on the wooden planks and letter cut-outs make this a value-for-money toy as the child can create countless letter games and activities.
Know more/ Buy it here
6. Gear-Building Blocks
These interlocking building blocks and gear wheels foster creativity, learning skills, and encourage learning of mechanics and engineering in young children. Liner logic, motor skills & problem-solving skills are the core areas of development this interactive toy aims at.
Know more/ Buy it here
YOU MAY ALSO LIKE "10 Best books for 3 Year olds"
7. Three Little Piggies Smart Game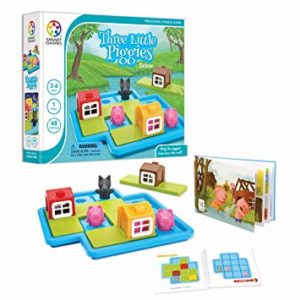 If your little one is a fan of the 3 Piggie story, this challenging board game is a perfect gift! The puzzle comes along with a booklet with 48 challenges and is a great booster for critical thinking and problem-solving skills.
Know more/ Buy it here
8. Take-along Wooden Tool Kit
I must admit we are a big Melissa & Doug fans and find most toys of this brand to be not only safe but also extremely sensible & well-made! This wooden pretend play tool kit was an obvious choice for our little builders as they love fixing (and un-fixing)stuff around! It's sturdy, interesting, and quite engaging thereby encouraging creativity, independence & imaginative play.
Know more/ Buy it here
YOU MAY ALSO LIKE "Must-have Books for 1 Year old"
9. Mini Squigz
Well, this is the toy that adds a kind of POP (literally!) to your child's toy collection. Squigz is all about freedom of expressive construction while boosting fine motor skills to whole new heights. The real thrill lies in sticking and unsticking these little Squigz. The moment you pick these little suckers up, your hands won't want to stop exploring, experimenting, and endlessly constructing! They're like vitamins for your hands and brain!
Know more/ Buy it here
10. Learning Resources Kids Puzzle Globe
Our kids have been showing a lot of interest in learning about continents and oceans these days. This Puzzle Globe offers a fun, engaging way to encourage learning geography fr preschoolers. Trust me, the challenging puzzle will keep kids engaged and playing over and over again!
Know more/ Buy it here
YOU MAY ALSO LIKE "10 Best Learning Toys for Toddlers"
These are just a few of the ones that got our attention while searching fo the perfect toy that enhances learning and being fun & interesting at the same time for our 3-year olds. As the name implies, the best educational toys are designed to teach your child values and skills which are aimed to be beneficial to both you and your child.
Just remember to consider your child's preference to get the most out of it.
Go Mommy!