Okay, so this family craft was something I knew we had to do and there was no better day than today. Because exactly 6 months back on March 21st 2020, it was the beginning of our life together without any dependency on anyone else- no cooks, no house helps, no nanny, no laundry guy- just the 4 of us. The beginning of our #quarantinelife…
Phewwww…can't believe it's been 6 months! Half a year we have been living a life that no one had envisioned. I mean we knew things would worsen, but I could have never gauged that it would spill over till September and thereafter!
We knew things were turning a bit different, we knew life won't be the same after this phase, we knew this experience is going to be an epic one for centuries to come. I was anxious, nervous, scared and kind-of tired! Coz hello! I had never worked so much in my life- cooking, cleaning, laundry, ironing, kids' studies, office work and so much more! But atleast, we were together- as a family.
Quarantine Family Handprint Craft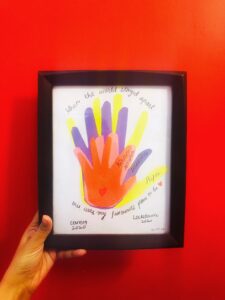 This little colourful craft is a representation of our togetherness in the trying time for all of us. I would want to look back at this half year of 2020 and remember what we did during the time of togetherness.
Things you would need-
Coloured cardstock sheets
1 A4 white sheet
a pencil to trace the handprints
scissors
a couple of colour pens and…
……..and …… your loving family members who are equally convinced and enthusiastic about this Quarantine Family Handprint Craft!
How to make-
Take hand impressions of all the members on different coloured sheets.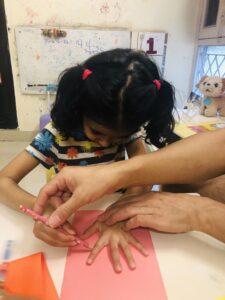 Then take the cutouts of the same and start pasting one on top of another as per the size- starting from the largest handprint on a plain white sheet and rest on top of the "big" hand.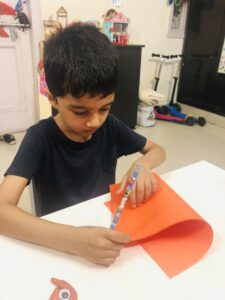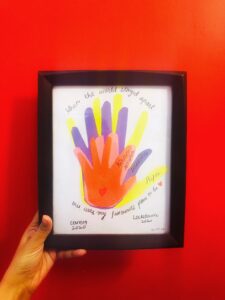 Write the names of respective members on their hand prints (refer picture above).
Moving on, you can write a quote or message around the same. I wrote "When the world stayed apart, this was my favourite place to be". I found this on Google and there are plenty more you can take inspiration from.
Once done, frame the craft and cherish these memories for a lifetime!
The idea of this quarantine family handprint craft is to commemorate this time and a reminder to appreciate every little moment with my little family.
Truly, even if these guys drive me crazy, there's no other place I'd rather be.
Isn't it the same way for you?
Go Mommy!