Yay, it's that time of the year…time to snuggle up in cozy winter wear and sip in some hot choclate. I totally love the feel of this season and the nip in air!
But but but, if you are a mom, especially mommying toddlers, there's a humongous task that must be looming over. The task of finding the right winter wear for your child- right enough to ensure that the little one doesn't look like he's all set to hit the moon in his "spacesuit" a.k.a layers of bulky winter clothes!
Frankly, there's an art to dressing babies and children for winter. Our winter dressing tips for children make sure they're not too hot, not too cold, but just "right" whether they're going for a stroller ride, to the park, or making a trip with you to the store.
I've included some brands that worked for us, but that's just a starting point. What is important is to note that buying cheap isn't always the answer with winter gear. The fabric, quality, size and styling makes a lot of difference.
These days markets are flooded with mixed fabrics that turn out to be big irritants for sensitive and soft skin of kids. No wonder organic cotton has gained so much popularity in last few years. It is not only natural and soft but also eco-friendly. So choosing the right fabric that keeps the baby warm enough and comfortable through the day is very crucial.
5 Winter Dressing Tips for Children
1. Layering is the key
The rule of thumb for winter weather dressing: Put babies and children in one more layer of clothing than an adult would wear in the same conditions. You may ask why? Well, pockets of air between clothing layers actually help trap heat. Layering also allows kids to remove a jacket or sweater when, say, you're in transit, instead of having to choose between being overheated or freezing. Sweatshirts, full sleeve tops, jackets are great layering options in winters.
But ensure there aren't too many layers. Layering your child with too much outerwear can actually make them colder. That's because excess layers can cause your child to sweat, which makes their clothes wet, allowing the cold and wind to bring their temperature down.
2. Choose the right base & cover up layer
The base layer (or under-layer- the one that is in direct touch with the child's body) should be body hugging and snug. See that it's not constricting. Wool or polyester fabrics work best for this layer as they wick away moisture if the baby sweats.
This is one of the most important layers when dressing kids for winter weather.
Next, cover up layer should ideally be soft cotton based long sleeve top or shirt.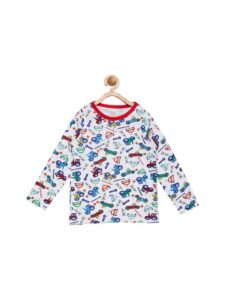 Same holds true for bottom wear too. This layer adds additional warmth and is the one you'll see if the little one takes off their jacket or cardigan through the day ( which, as a matter of fact, can happen over a zillion times in a day as well! ).
The cotton layers are easy to source from your little one's closet. I mostly stock our favourite organic cotton t-shirts from Berrytree. These t-shirts are full sleeved, airy enough for child's comfort, extremely soft on kids' skin and are naturally germ free (well, that's the thing about 100% organic cotton stuff!). You can see some sassy patterns and options here.
3. Stock up on the best winter buddy-  Sweatshirts!
Sweatshirts by far are the most versatile piece of clothing I have seen not just for kids but adults too. They come in so many varieties, help you sail through autumn and winters easily and come handy in those days when you are utterly confused as to how the weather "actually" is! They are functional and comfortable even through slightly breezy days/ evenings and add a flavour of style to child's outfit every time. For me, sweatshirts are truly a wardrobe essential for kids.
We love hoodies as well as regular round neck sweatshirts. However, with this layer I prefer sticking to cotton fabric (see Tip #2 above). We found some really comfortable sweatshirts and hoodies at Berrytree. The non toxic colours, organic cotton fabric and stretchable comfort fit makes these sweatshirts a hit with my kids.
4. Make Sure Clothes (Still) Fit
As tempting as it is to squeeze those tootsies into last year's bootsies, feet need room to wiggle. Shoes and jackets that are too tight can limit circulation, contributing to cold limbs. So it's best to buy appropriate size clothing even with winter wear.
5. Fingers, Toes, and Faces Need Extra TLC
Okay, so while there's so much we do for snuggling our little ones with stylish bomber jackets or comfortable sweatshirts, I think some really important freeze-prone parts remain ignored. Your child's head, face, ears, hands, and feet are most prone to cold exposure and frostbite.  And children's skin is especially sensitive to the cold, so keep an eye on their extremities. Heavy, non-cotton socks; waterproof boots; waterproof gloves; a scarf; and a hat all are key to keeping everyone toasty and warm on cold days. For very cold windy mornings, earmuffs add extra protection.
Now this one isn't officially a winter dressing tip but a very important thing to note- it's always good to have extra clothes on hand for kids, as you probably already know, but in the winter, extra clothes are essential. One jubilant splash in a puddle or one wet (or lost) mitten, or the jacket that got mixed up or left back at school could set your kids up for a case of frost nip. Pack a cold-clothes emergency kit equipped with extra gloves, socks, pants, and shirts. Remember to update the extra clothes stock at school as well as the season changes.
Hope these tips come handy. Happy winters!
Go Mommy!
Note: Feature image source : Google