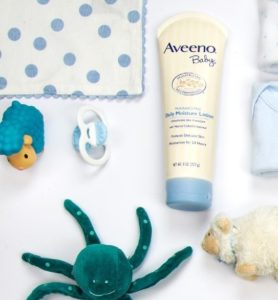 Soft & supple, sensitive & gentle- that's what our babies are, right? And as a mom, one of the most confusing decisions to make is related to baby skin care. With the store shelves overflowing with different formulations and brands, choosing the right product to meet your little one's needs can be difficult and tricky. And it becomes even more complicated when you factor in that infant skin is easily irritated by fragrances, dyes, and other ingredients in skin-care products and the environment.
So in the process of finding the right fit for my kids, especially my daughter who has an extremely sensitive eczima-prone skin, I came across the newest Baby range in the market from Aveeno- AVEENO® Baby Daily Moisture Lotion. And what I think about it? Well, read on for an honest review.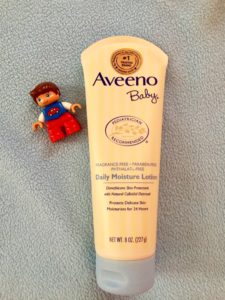 Basic Features-
AVEENO® Baby Daily Moisture Lotion contains natural colloidal oatmeal blended with rich emollients that soothe and help protect your baby's delicate skin. The naturally nourishing, non-greasy formula absorbs quickly, moisturizes for a full 24 hours, contains no drying alcohols and won't clog pores. It's formulated to be hypoallergenic, fragrance-free and gentle enough for daily use on baby's sensitive skin.
In simple words, the product claims to be Fragrance-free, Paraben-free, Phthalate-free and Steroid-free.
Additionally, it is specified that the product is ideal for daily use to ensure a healthy and smooth baby skin.
I like the fact they have specified that this brand is Pediatrician recommended ( yes, I find it a bit comforting!).
So, What's different about this product?
One of the natural ingredients used in Aveeno's products is Natural Colloidal Oatmeal. Colloidal Oatmeal refers to oats that have been finely milled, and when used as an ingredient in products like moisturisers, body wash and shampoo, provides many benefits for sensitive skin.  With five vital nutrients including antioxidants, anti-irritants and a natural barrier against moisture loss, Colloidal Oatmeal is clinically proven to deliver healthy, beautiful skin with regular use.
What we love about it –
The product is Paraben-free and Phthalate-free. It is hypoallergenic, alcohol-free and gentle enough even for newborns
If you are a parent and an advocate of baby products that are fragrance free, this one is for you! It really is completely 100% fragrance free.
The formulation is non-greasy and gets absorbed in skin very smoothly.
Dermatologists agree that oats are one of the best natural resources for maintaining skin's moisture barrier while restoring its pH.
One thorough application of the lotion is sufficient for almost 24-hours.
Ease of Use –
The product comes in a sturdy flip-top squeeze tube that makes it spill-free. A noticeable and good thing is the extra seal on the nozel to ensure the product is not tampered.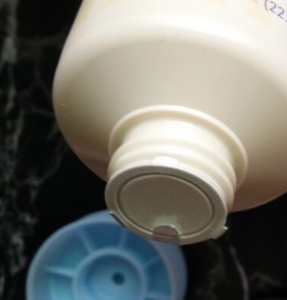 All the information about the product is stated on the labels on the tube.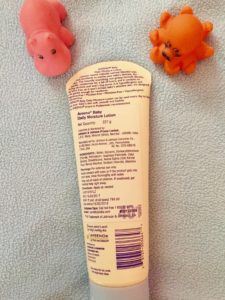 Other Details –
Priced at Rs 799 for a 227 gm tube, the product comes with a shelf life of 2 years.
The Scent –
The product is fragrance-free, literally! But if one really concentrates on the smell, you could feel it to be like oatmeal.
Is it the right choice for your baby?
Before applying this lotion on my kids I used it on my totally-ignored-almost-forgotten elbows. The cracked and dull skin on elbows has shown considerable improvement in just a week's time of applying this lotion. I am not exaggerating!
Aveeno Baby Daily Moisture Lotion is truly made for babies with sensitive skin because of their special blend of natural oats and rich emollients.
This lotion is specially designed for delicate baby skin as it works by hydrating the skin and not simply greasing the upper layer. So if you are struggling with your bub's dry skin or frequent bouts of eczema, this product is a must-have.
What not to expect from this product –
Well, if you like baby products with that cute and beautiful smell, then this product might not win your heart.
If you are an "on-the-go" mommy and spend most of the time with baby-bag tugged with you, this product would lose out on your score card. The packaging is good but a bit bulky to be just slipped in a sling or bag while travelling. I personally find small flip-top bottles quite travel-friendly.
Price-vise the product is competitively priced with respect to high-end product range available but there are new entrants in this niche claiming to be as natural as this. So you could give this one a miss if looking at cheaper alternatives.
My Take/Do I recommend it?
YES!
Aveeno Baby Daily Moisture Lotion fits well in all my criteria.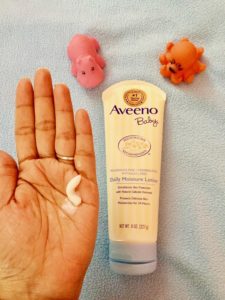 Why it's a Winner for me –
A product that is toxin-free is surely a winner for me. This lotion is fragrance-free and has minimal ingredients.
The best part is you need very little amount of the lotion as it spreads beautifully and blends with the skin quickly.
It definitely leaves the skin softer, without making it feel greasy.
For babies with sensitive skin product "sinks in without feeling sticky and relieves dry, itchy skin for hours."
We have personally suffered with frequent flaking and eczema breakouts in my daughter. It's heartwrenching to see your liitle one stuggle with itchy & scaly patches througout the day. If you are looking for a moisturizing lotion that really works and that will help relieve your little one's itchy, dry skin then I suggest to try AVEENO® Baby Daily Moisture Lotion. I love the fact that it is very gentle, it doesn't have any artificial fragrances (I love my little one's natural smell), and can be used daily.
Psst….there's something in store for you!
There's an exclusive discount for all Go Mommy readers! Yes, you read it right!!!
Just subscibe to 'Go Mommy' and click here to buy AVEENO® Baby Daily Moisture Lotion  and avail 100 INR Off on the product using Coupon Code: AVEENOBABYMJ
Go Mommy!