Do you remember that feeling when you held your little one for the first time? It's the time when within moments we make promises to our babies to provide them with the best in their life. Be it their nutrition, education, comfort, love…everything!
When our twins started with solid food (at around 6 months), we started looking for organic food options. That was the time when many players had started foraying into this industry and the buyers like us would just keep trying one after the other not knowing the authenticity of any.
While this continued for some time, I knew that when it comes to "organic", we can trust only someone who comes with 100% authentic certification. Plus in a busy routine like ours, it was always a struggle to procure organic food items from different parts of the city. I believe if we make a shift to organic living, it has to be full-fledged end-to-end, or else it really doesn't serve much purpose. Anyway, my quest for a one-stop store for organic produce and pantry went on for a while.
After a few trials and errors, I finally found I Say Organic, a social enterprise that believes in giving people the option of eating safe food that's grown without toxic chemicals and pesticides, all while recognizing and supporting the farmers who grow it!
With an aim for sustainability, I say Organic offers organic fruits and vegetables (selected locations), whole foods, cooking essentials, snacks, condiments, dry fruits & beverages.
I Say Organic- our favorite picks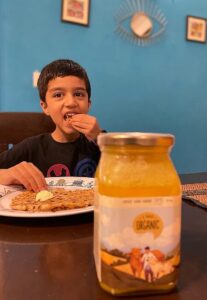 We recently got our hand on Desi Cow Ghee from I Say Organic. Made in an ayurvedic, handcrafted way, this bottle packed with nutrition and purity is a staple in my kitchen now. The sustainably grown cooking essential is very light and easy to digest. Unlike other market-bought desi ghee that are full of artificial ingredients, the promise of I Say Organic is to provide the purest form of ghee that is healthy and nutritious.
I am particularly hooked to the snacks and condiments range of the brand. The variety is wide, fulfilling, pure and of course healthy.
You know when it comes to kids, there's a special place for "snacks" throughout the day. And with our world literally full of quick & easy processed food options, it's hard to resist the easy way out.
But with the I Say Organic range of snacks & condiments, I never have to worry since they are completely free from chemicals, and preservatives and are made of whole wheat.
My pantry is always stocked with their products, especially when it comes to my little ones' food. Some of our staples from their stores are Makhana, baked Methi mathri, Namak Paras, and most importantly cookies.
Why 'I Say Organic'?
I totally endorse this one-stop solution to all things organic.
The website interface is very simple and customer-friendly.
Turn around time for product delivery is very good. And the fact that they keep you posted through messages about every stage of the order helps us plan things better.
Product pricing is competitive. Rather at times, I have found some unmissable deals running on the website too!
The best part about ordering from I Say Organic is that their packaging is as sustainable as it gets. The products are delivered in a big cardboard box and each product comes in resealable packaging.
The USP of the company lies in its process. Not only do they spend time understanding the best growing conditions for produce which eliminates the need for chemical help, but they also choose the farmers they source the products from and ensure good quality of their water source, soil, cropping patterns, and manure.
The variety is large and covers every aspect of our daily needs
Check out the range and shop by clicking here.
So now let's say goodbye to processed food and welcome the organic with open arms. C'mon, let's all say it together, "I Say Organic"!!!
Go Mommy!