With widening virtual life and narrowing family size, a Play Date becomes a great way of introducing your child to the concept of socialising. It helps enhancing your child's communication skills and increasing your own mommy network (Well, that's equally important!). However the thought of organising a Play date and ensuring kids are well engaged sounds to be a tricky responsibility and thus not many volunteer upfront. But using these simple tips, you can become a pro at organising a perfect play date that's fun for kids and comes easy on you.
1. Time it Right
Ranging from 1-1.5 hours, this works as an ideal time frame for a perfect Play Date. It is always good to specify the upper & lower timelines so that fellow moms are well prepared with respect to their child's nap & meal time. Fix a time that's most suited to the group.
2. Limit the number of guests
Having 4-5 kids in a play date would make it much more easier and stress free for all the mothers/caretakers. You can eventually increase the number as per your comfort as a host.
3. Set a rule that each child gets one toy
This helps in case you don't have enough toys for a specific age group of kids. Also, this works great in imbibing the concept of sharing amongst children.
Confused about what toys to pick for Toddlers? Click here
4. Stock-up Toys/Games

Ensure you provide enough games & toys that are age-appropriate. A great addition to your Play Date can be a Bouncy or Ball Pool. These not only come as a refreshing change from regular toys but also let kids have some 'active' play time. From Slides to Castles to Splash Pools, there's a wide range available in these Soft Play bouncies.
The best part- these are all available at very reasonable rental options. We had a fun-filled experience with toy rental services by ToyExpress recently.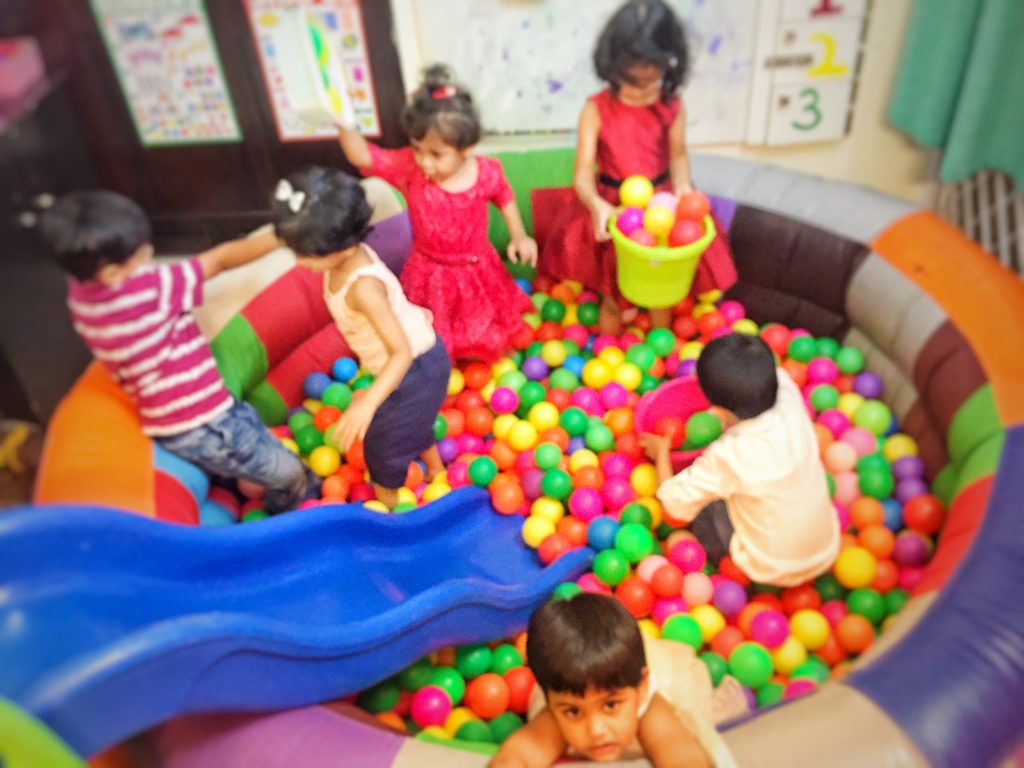 They are amongst the pioneers in online toy rental industry and have a very smooth order & delivery process. I was delighted to see the quality of toys they delivered. You may read more about them here.
5. Designate a specific area
The idea is to keep it simple for you as a host and comfortable for the guests. Have a play room designated for play date. You would of course need to have the washroom and kitchen area ready for use as well.
Looking for ideas to set up a Play room for your child? Click here for some simple DIY ideas.
6. Prepare well in advance
Ensure your child is well rested and fed. Try and prepare your chid in advance for the guests and the idea of playing with other kids. Ensure the play room is child proofed. In case you have pets, keep them in a separate area during this time. Disinfect all the toys & books to keep it clean. Have things like hand sanitiser and wipes easily accessible for the guests.
Click here for simple baby proofing ideas
7. Keep snacks simple

As a host try and keep things simple so that you have enough time to monitor kids and socialise with other parents. Snacks like crackers, cupcakes, fruit skewers and sandwiches are easy to be fed to kids and are enjoyed by grown ups as well. You can surely work around the presentation part and keep the snack area ready with easy-to-handle crockery.
Looking for fuss free snack ideas? Click here
8. Have fun!
Remember it's a date for you as well. Utilise this opportunity to mingle with fellow moms, share your experiences, offer first-hand advice and learn new stuff. From discussing about the colour of your little one's poop to what's latest in fashion – mommies have surely lots to share!
The idea is to have fun while kids are around and having fun too!
Go Mommy!
You may also like "10 Self care Tips for Busy Moms" & "7 Ways to Teach your Child Good Manners"