So the time has come Mommy! Your little one is going to enter the real world now. And as much as it's an intimidating experience for your little darling to get ready for the Preschool, things are not too easy for the moms too…C'mon, you got to agree with me on this. To help your little one (and you too) in this transition, read on further some simple tips on how to get your toddler ready for Preschool.
How to get your Toddler ready for Preschool
Tip #1 Don't over prepare
Starting too early or over discussing the concept of schooling would only make it appear like a huge event for the toddler and would be overwhelming. It's imperative to know that toddlers learn by exploring and playing. And that's the whole purpose of a Preschool! Start talking about a Preschool in a casual and upbeat manner. Talk about the things the child would experience like rides, games, colors, new friends etc.
Let schooling be an extension of the child's life and not an ultimate objective.
Tip #2 Tell Tales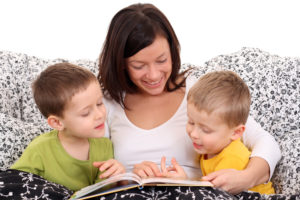 Toddlers relate a lot to stories and characters. Reading appropriate books that talk about school life is a great way to ignite excitement and curiosity in the child's mind. Even better, show pictures of yourself from school times or tell interesting stories of your own schooling days (grandparents can be a great help here in case you are clueless about your own experiences!)
You can also add a few books related to starting with school. I found these to be really helpful-
Tip #3 Maintain an active Social life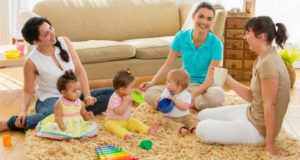 The idea of playing, sharing, taking turns and interacting with other kids can be a bit overwhelming if your child isn't exposed to such an environment. Play Dates work well in such case. Try and take your child to play areas, story telling classes or join a mother toddler program where the child can be introduced to the concept of friends.
Looking for tips & tricks to organise a perfect Play Date? Click here
Tip #4 Implement and maintain a Preschool routine in the Home
Maintaining a routine helps make things easier for parents and ultimately make the child more organized and disciplined in life. You can check with the new preschools' schedule in terms of play time, meal time etc and implement a similar routine at home. Familiarity with how the day would progress and what activities the child would do will instil a sense of security and routine.
Click here for "Top 7 Story Books for 2 year olds"
Tip #5 Preschool prep at Home
Preschool helps in development of child's cognitive skills and also enhances the fine motor skills. Utilise this time before he joins the Preschool to fine tune those fine Motor skills. Encouraging free- play enables the child learn through exploring and imagining. Children learn best by doing simple activities themselves. This, in turn, helps them master dexterity, coordination, communication and fine motor skills.
You may also like "5 Basic Life Skills your Child must learn"
Tip #6 Go Shopping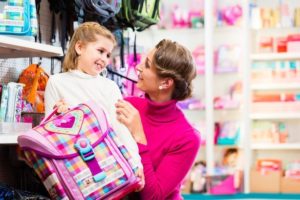 Now that's fun for the mommy and baby of course! Take your child with you and if possible, let them choose the backpack, water bottle and shoes that they like the most- this will help them get more excited to use the preschool supplies.
Recommended Products- (click on image)

Tip #7 Develop Self-Help Skills
Help your child prepare to be independent. Teaching simple self-help skills will make the child more confident. From dressing up on their own to pulling up the zipper or even clearing up the toy room– there are plenty of opportunities at home to teach the child to be independent.
Tip #8 Start giving a dose of Vitamin 'V'
Before you start looking out for your doctor or Google what's this new Vitamin 'V', let me explain. In today's times of fast-paced life with small family set-up and too much access to everything, the importance of basic values like kindness, inclusion, love, respecting elders and gratitude are losing their importance. While you get your toddler ready for the Preschool, start explaining the value of these values to your child. Participating in community services or simply expressing love for animals or needy around you is a great platform to get the child ready for the next phase.
Tip #9 Plan a sneak peak to the School
It's a good idea to visit the school ahead of time while it's in session. Most schools conduct Orientation week/day or School tour. It's best to take the child along and let him explore the space. Explain what activities are conducted, the kind of fun he will have playing in the playground, activity room etc. Introduce your child to the teacher, nannies and activity rooms. Familiarity with the surroundings will make the process of settling down smoother and easier for the child.
Request the teachers to share a short video clip introducing themselves and talking about the fun kids would have in the school. You can show this clip to your child randomly several times to get the child familiar with the faces.
Tip #10 Prepare for Preschool Separation Anxiety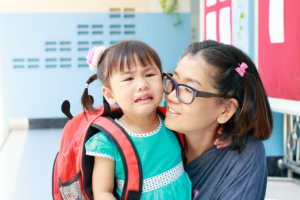 Separation anxiety is one of the most common emotional turmoils that preschoolers experience. It typically starts sinking in after a few days of joining the preschool, say a week or so. The root cause of separation anxiety is the thought of staying all day in preschool, away from parents. A gentle way of preparing your child for this is by practicing dropping your child off at grandparents or friend's place. Then gradually increase the time away from your child. Give reassurance to the child that even if you go away, you will come back. Shower the child with hugs & kisses but keep goodbye process short.
And most of all, be calm yourself. Children sense anxiety in Parents very fast and get more vulnerable under such situation. It's of vital importance to remember that ultimately the key to success for a child or any individual is the enthusiasm to learn, openness to new ideas and being kind to others. As a parent we should aim at developing these qualities in our children. And this is possible only if you have a happy outlook and maintain positive attitude yourself.
Remember Preschool should be treated as a major milestone and an exciting journey for your child. So ensure the child is surrounded with lots of encouragement and positive motivation.
Go Mommy!
This post has originally been published on http://www.child-tips.com.