We are a book-loving family. We love to read. And now as our little ones are growing up, they simply grab a book and babble as if they are reading. I don't think we can ever have enough good books in the house; so when I discovered the personalised activity book- BOZO, I was elated.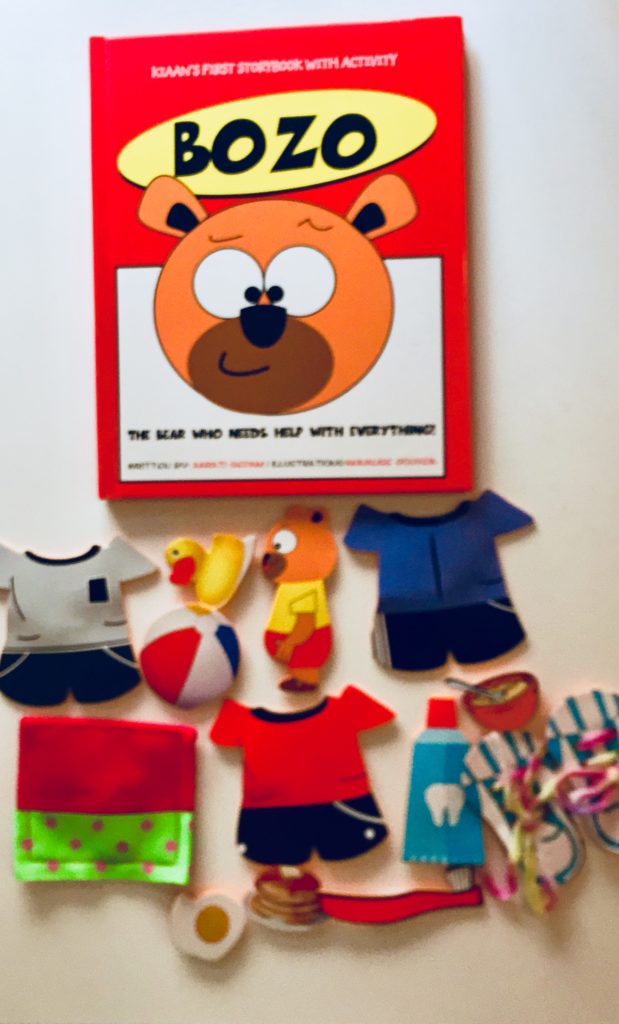 For the past few months, K & A have started with their Preschool. So nowadays it's mostly phonics and numbers that are being talked about in our house! If you have a toddler, you would know what I mean. K & A are reading letters and spelling out words everywhere we go. So it was really good timing when Aarti Gedam from Megan's World got in contact and sent us their first in the series of personalised activity books- BOZO. And it really is an amazing story-based activity book which is aimed at teaching pre-schoolers to be just a little bit self-sufficient with a story running through that features Little K!
Till now we had never ventured into the world of "personalisation". I had always chalked personalised kids' stuff as a fad instilling the thoughts of self-centredness in kids. But all that changed when we got our hands on this cute & colourful character called BOZO.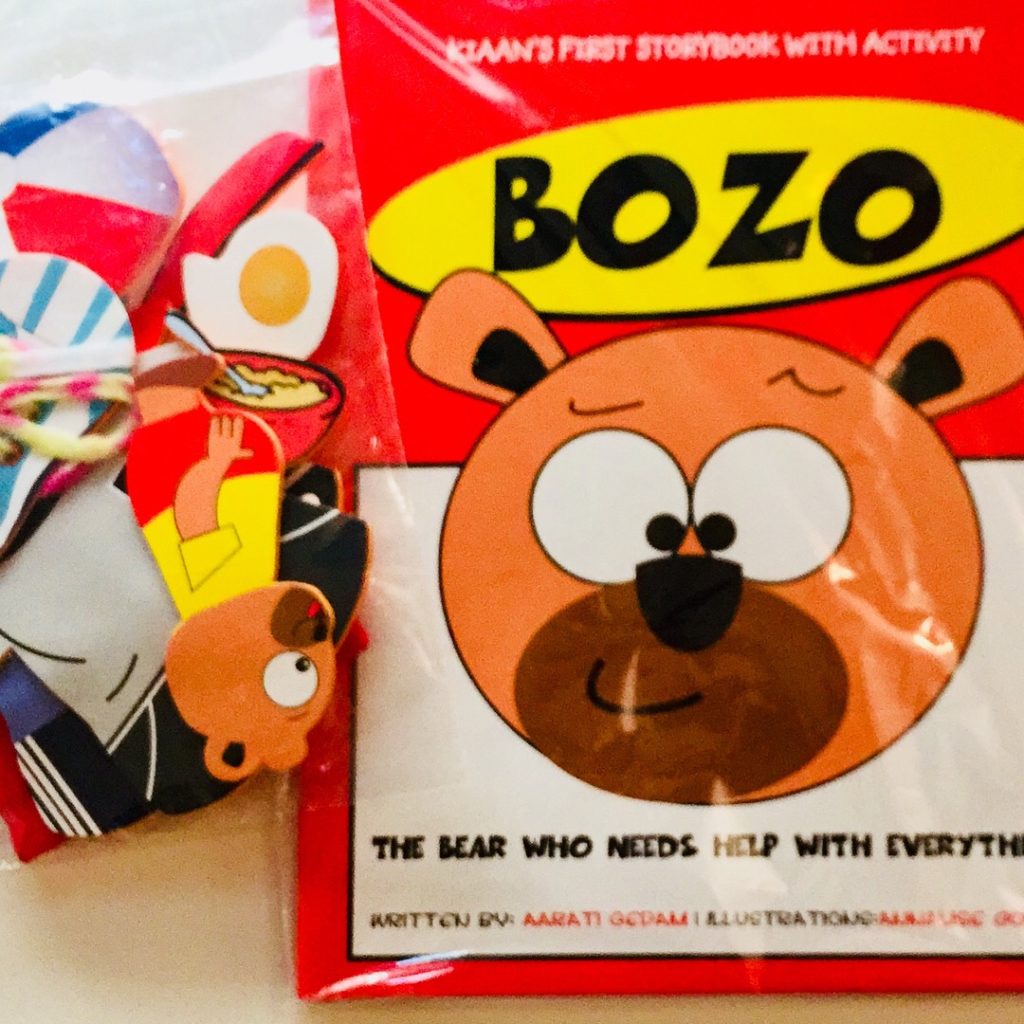 With a quick turnaround of around a week, the book came in a simple hard-cover packing with cut-outs packed separately. When I took out the book, I fell in love with the cutie character BOZO. The illustrator is really talented. The pages are so bright and cheerful, well I feel happy looking at them. And then when I showed it to Little K, he was so so happy, especially when he got to know that he is a part of the story. He couldn't wait to read it!
The story
The story is based around a bear named BOZO who needs help with everything! And here comes your little one in the story. Your child is the character who helps BOZO do everyday activities like brushing teeth, choosing the attire to be worn, tying shoe laces etc.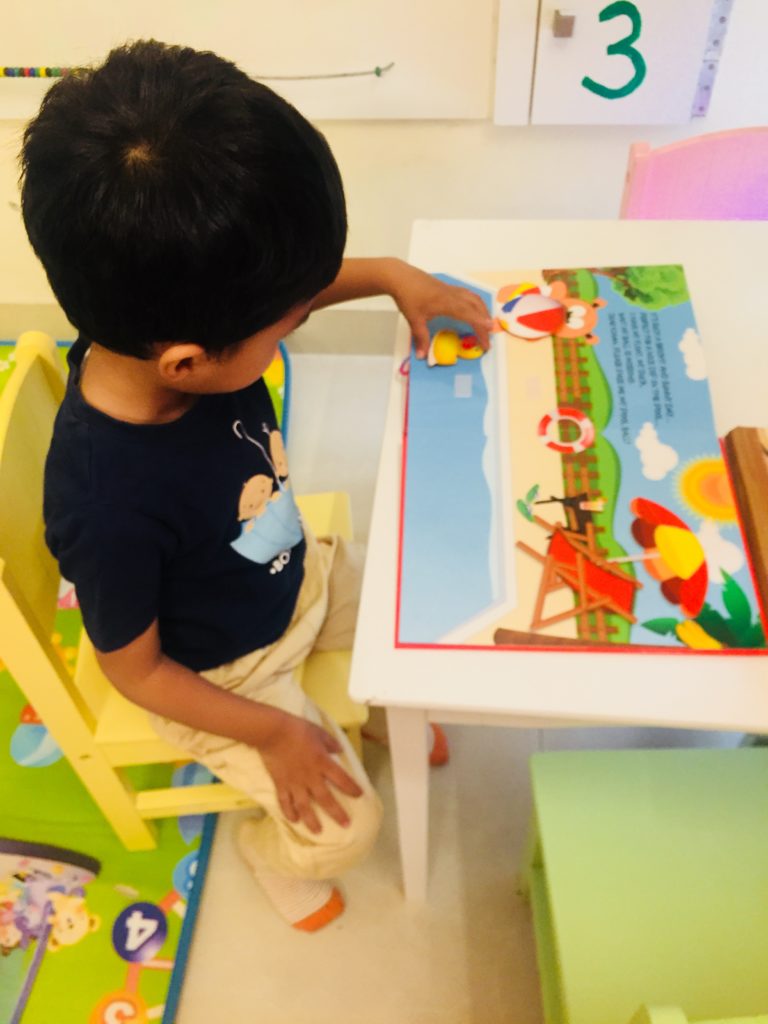 Beyond reading
It's not unknown that personalised products are a rage these days. From birthday party gifts to return favours, you would see a thrill around personalisation nowadays. And if you come to think of it, then why not! Seeing your name spelled out gives the youngest children not only a sense of words but also the delight of being the owner of the object. That's such a booster to self-esteem for any child. Seeing self as the hero of the story helps build a child's confidence, while familiarity with the story from repeat reading almost certainly results in an improvement in reading skills.
With 8 pages coming up with Little K's name 8 times, the book's uniqueness doesn't lie in the 'personalisation' aspect only. What sets it apart is the fact that it's much beyond a simple story book for preschoolers. The book engages the child in several activities that enhance the child's life skills.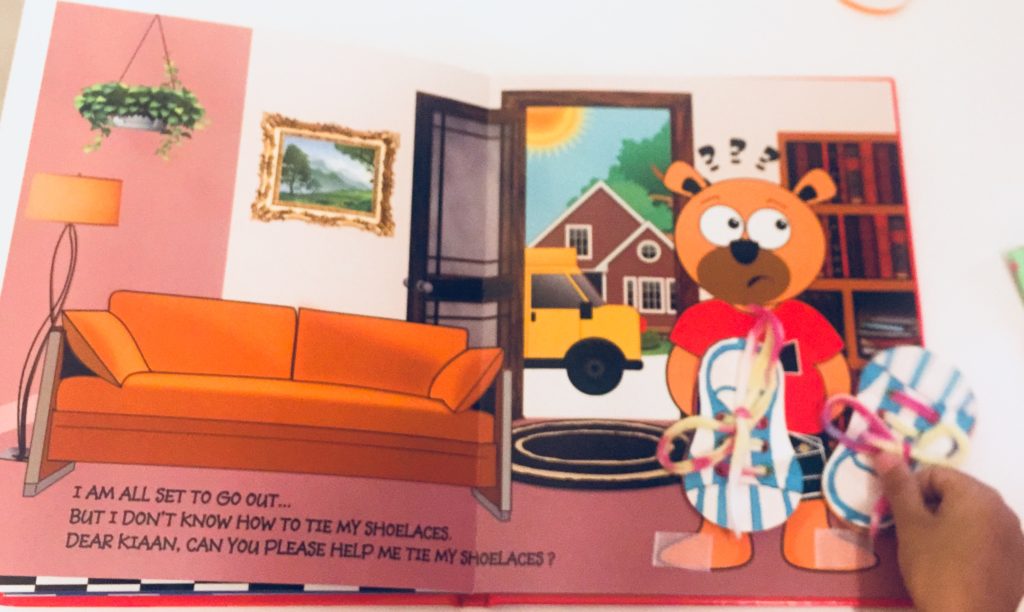 Making a choice of what to wear, deciding what to eat, tying the shoes laces and through the story helping somebody- these are all essential age-appropriate skills that have been captured very aptly in this book.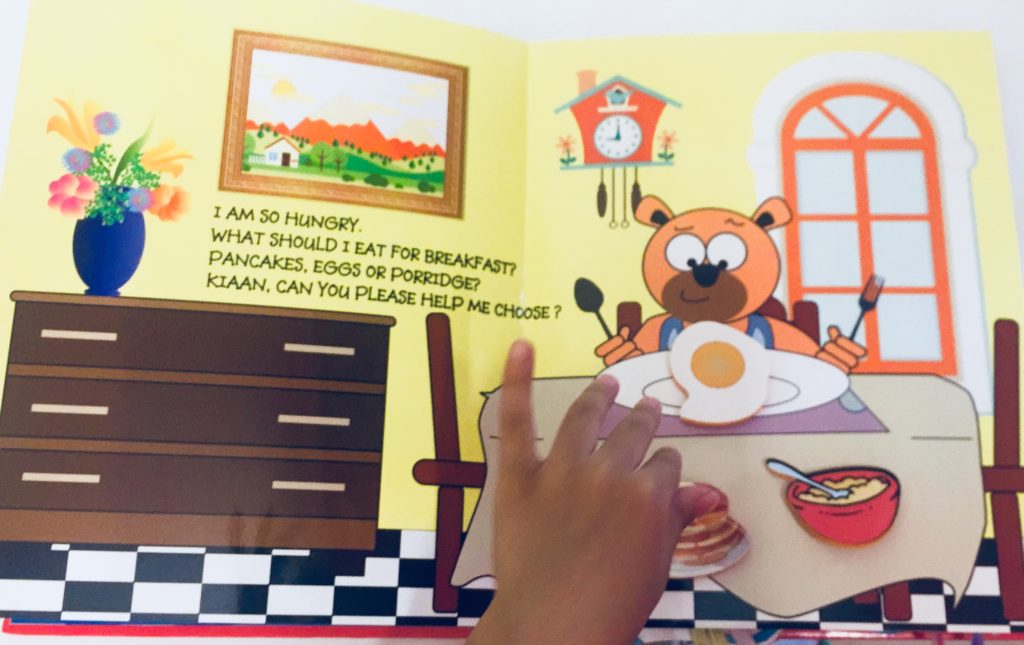 Our experience
On reading the book to Little K for the first time, he reacted with joy & excitement on nearly every page. This was amazing to see as he doesn't usually stay engaged for such span of time. Though he's normally very interested, tries to grab the book and will flip through the pages, but something about this book made him very happy indeed.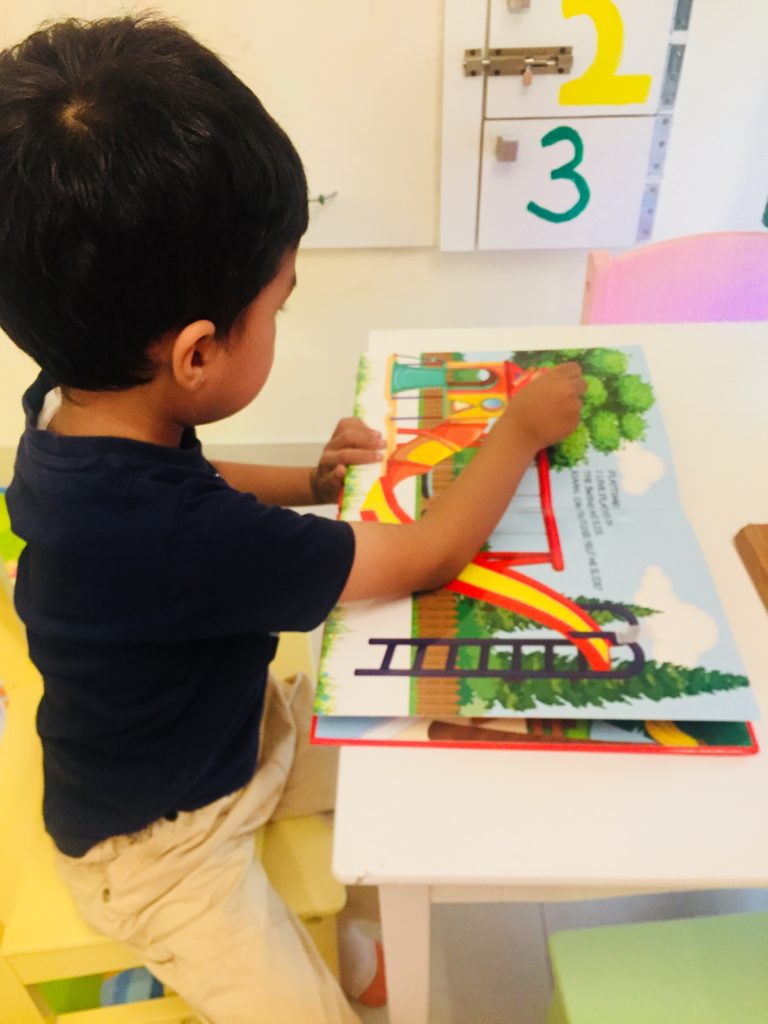 At this age he has started recognising letters and can read upper case letters from A-Z. And guess what….the entire story in this book is in upper case! So it's become even more easier for me to keep him engaged with the story. Plus the activities, including the cut-outs, are perfect fit for his little fingers.
In short-
The concept is a brilliant one. It's not simply a "quiet" activity or "busy" book but has a story around it with your child being the central character.
The book is laminated hardback and comprises 8 full colour pages.
The level of personalisation in the book is great. Little K's name is mentioned eight times, meaning that there is plenty of opportunity for your sprog to spot their name. Even the front cover of the book features his name.
The activities covered are very relatable and routine-based which the child can easily connect with. Brushing teeth, tying shoe laces and making decisions- these tasks reinforce the development of essential social & life skills for preschoolers.
Summary
The personalised BOZO book from Megan's World by Aarati exceeded my expectations.
Being able to input your kid's name in a storybook is nothing new, but connecting the story with life skill based activities is something I've not seen before and is actually pretty cool.
The whole process of sticking the velcro-stickers for cut-outs is smooth, the price is reasonable, delivery was quicker than expected and the book has everything you want from a kiddies book (decent length, coloured pages, simple story, engaging activities etc). I'd not hesitate to buy another one for Little A  or recommend to others.
The BOZO Activity Book is great for developing basic problem solving skills and entertaining your child. It's a very interesting way for pre-schoolers to learn basic stuff like hand-eye coordination activities, recognising words, building vocabulary etc. Since they are personalized, they become excellent keepsakes, and unique gifts for birthdays.
In short, the book is sure to be cherished forever by your child!
Learn more about BOZO here.
Go Mommy!
Please note I was sent BOZO book with no charge, but all words and opinions are honest and are my own as always.