With Mother's Day right around the corner, it wouldn't have been fair on my part to forget the special woman who started it all – Grandma! Our Kids are so fortunate that they have one set of grandparents around them in their lives. And these DIY Mother's Day crafts are such a fun and heartfelt way for the grandkids to show Grandma some well-deserved love and what she means to them.
Little K & A made this finger-painted card for their nani and I am sure she is going to get floored by this gesture of theirs. Our Faber Castle Art Care kit came handy for this activity.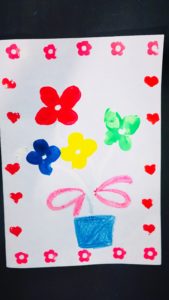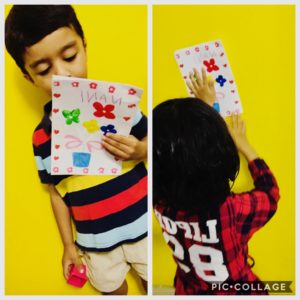 Before we get started, let me clarify why this Mother's Day post is specially dedicated to grandmothers. Well, first of all, besides being their partner in crime, grandmothers are the best buddy to act goofy with for kids. So a handmade gift from a grandchild would be an absolutely adored gift.
The second is that…well, moms, do we really want to make our own Mother's Day gifts?!?  I mean…unless Dad is going to pitch in and help…. it's pretty much like making yourself a present. And after all the tantrums and fighting and effort and clean-up, by the time you are sweating and your nerves are shot, it might not really feel like a gift for you anymore. At least if it's for grandma, it's a worthy sacrifice.
So, I thought this was a great opportunity to honor the grandmas.  And moms, I really do hope it's a little bit fun in the process. If so, that's their gift to you. 
7 Mother's Day Crafts for Grandmothers
1. Mother's Day Bouquet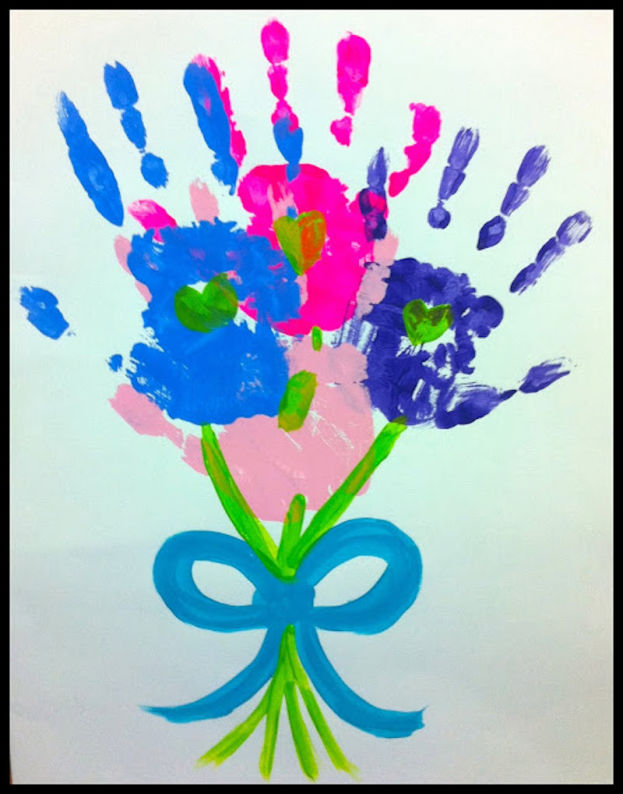 Simple, quick and any-age-appropriate! This craft can be done in minutes and looks super cute (via The Trendy Treehouse).
Things you need- A-4 sheet/greeting card paper & Poster colours
You can help your child make it like a greeting card with a few lines for grandmom, like – "I am like a flower, That's raised with love by you, You help me grow up big and strong. Grandma, Thanks for all you do !!"
 2. Handprint Pot Holders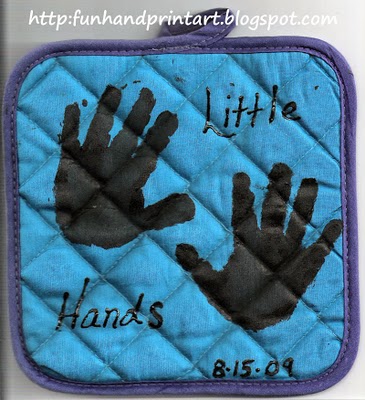 Surprise your little one's grandma with a new set of pot holders made with love. (via Fun Handprint Art).
Things you need- Plain Pot holders & Fabric Colours
You can make one with footprints as well. These can be used as pot holders or keepsake gifts.
3. Sea Shell/Key Wind Chime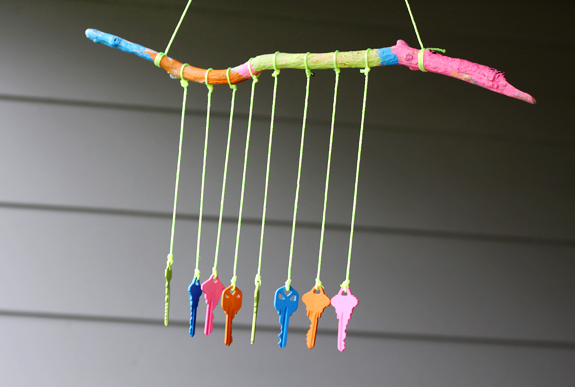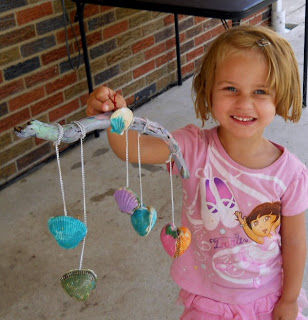 With little more than a handful of old keys or sea shells, a piece of drift wood, string, and paint, create this DIY wind chime.  It would make a lovely gift for Mother's Day for grandma. (via Classified Mom)
4. Colourful Photo Display Board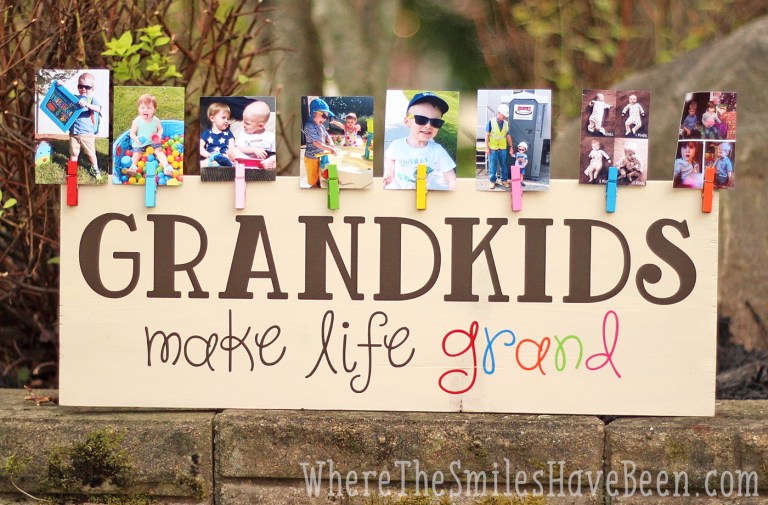 One thing grandparents love the most is showing-off their cute grandkids. What better gift this Mother's Day than a little colourful corner to adorn kids' pictures! (via WhereTheSmilesHaveBeen).
All you need-
5. Sharpie Mugs
With no less than this being accepted as a universal fact, most grandmoms are tea/coffee lovers. And this cute little mug with a message or scribble from little one would add a bit of sunshine to her morning everyday! (via Oh Honestly)
Things you need-
6. Pillow Hug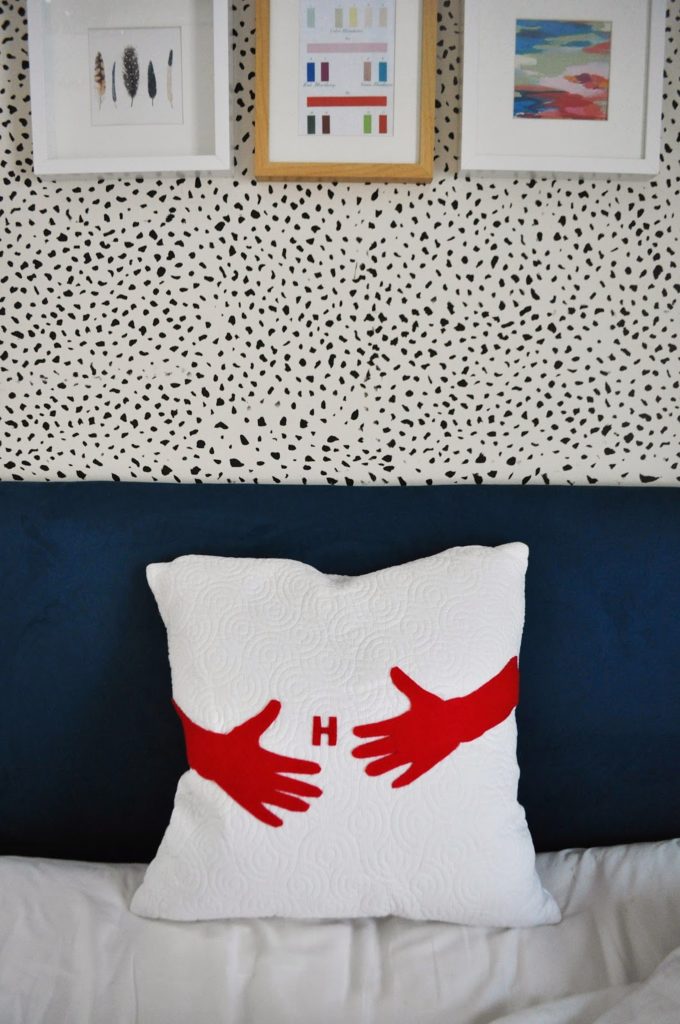 Hugs & cuddles are just synonymous to grandparents! So what better way to say 'I Love You' than by sending a two-sided hugging pillow from her grandkids that is so true-to-life. (via Ducklings In a Row)
All you need-
-a throw pillow
– scrap paper for tracing your hand templates
– one piece of felt per pair of arms
– a pen that writes well on felt
– scissors and/or a rotary cutter
– hot glue gun
7. Flower Pot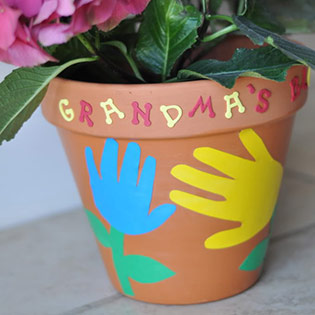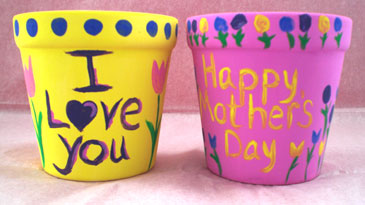 Well, for that garden-loving grandma, what better than telling her everyday that her grandkids are her little bloomers! (via What To Expect)
Things you need-
This could be one of the best Mother's Day gifts if you're looking for something quick, inexpensive and handmade. Happy Mother's Day to all the wonderful mommies & grand mommies out there!
Do you prefer homemade Mother's Day gifts, too? 
Go Mommy!