Our little ones are constantly growing, learning and evolving, every single day of their lives. But children don't need to be sitting behind a desk or computer screen to learn new skills. As parents, we need to nurture and inspire our child's innate intelligence by empowering them to be self motivated through social connection, positive communication, critical thinking, creative expression and purposeful contribution- basically the 5 Cs that comprise the Consciousness Quotient of Life Skill.
With all the talk I've been doing on importance of life skills development in kids, givings wings to our children by nurturing essential skills like creativity, critical thinking etc, I felt I absolutely had to share my experience at one such place (I should say Asia's first 21st Century Life Skills Centre) that offers a completely new dimension to the concept of learning.
Dolphin POD uses the medium of arts, play, meditation, wellness and several fun, non academic tools to engage and develop critical life skills. It's like an Innovation Lab where new approaches to Life Skills are introduced, demonstrated and nurtured with a vision to making kids lead a happy, content & successful life.
Here's a Sneak-peek…..
Location
Strategically located on conveniently accessible main road, yet tucked around the residential area, makes this place noise-free, safe and comfortable…just the perfect ambience one would need for a wholesome enrichment.
Infrastructure
The design of the Campus is inspired by 'a dolphin' which utilises the environment as the "third teacher" and puts the child at the centre of his or her own learning journey.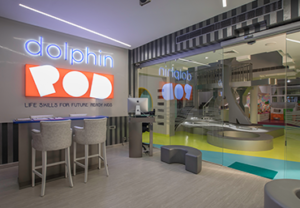 The 12,000 sq ft campus has been designed with key inputs from psychologists & neuro-scientific research to elevate learning to a new level during the vital learning years of a child. Every architectural detail has been considered with childrens' enjoyment, education & safety in mind: one good example is the provision of colourful furniture that's non-wood and non-plastic.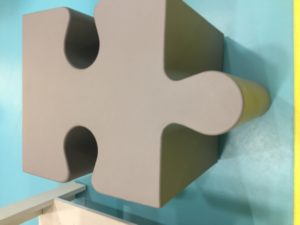 Also you wouldn't see any edgy stuff… everything is curved and smoothened to ensure an all-round enrichment of young minds without any strain. (if you are a mum like me, these little things would surely make a lot of difference to you!)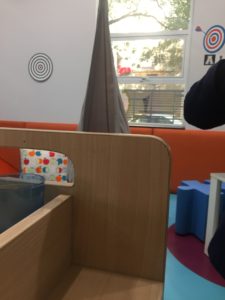 When I first stepped into the premises, at first glance, the visible area seemed complex but as I found out, it was anything but that.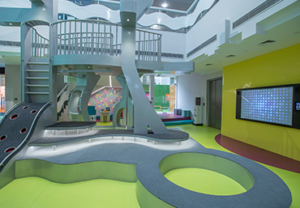 Continuing with the "dolphin" theme, the mid-part of the centre has been designed to resemble the spine of a dolphin, as visible from the top-view.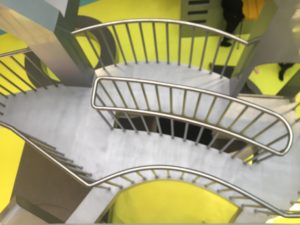 Every corner that I turned brought me face to face with a different activity and in fact, the little ones quite simply didn't know where to begin!
Click here to take a look yourself!
Faclities
The interactive and engaging activities are designed to provide kids with hands-on experience and demonstrate the possibilities of learning life-changing skills that will help them become confident, motivated, happy & effective leaders.
The Centre is mainly carved into 3 areas:  Play (P), Others (O) and Downtime (D). Spread over 2 levels, each & every corner of the space has been utilised effectively, with an objective of providing enough opportunity to young minds to explore & learn.
Play Zone
This was the first point of stop for the monkies as it was located nearest to the entrance. The 'Play' environment has been designed with lots of colours. The idea is to encourage play such that it encourages curiousity, critical thinking and creativity. Emphasis has been laid on not just any one form like books or art but also music, pretend play and body movement.
And as soon as the play area caught both K & A's & my eyes, Mommy knew there was no turning back. Blocks, colours, puzzles, sensory games – all these round up the wonderful set-up. The colourful soothing arrangement is a delight to one's eyes.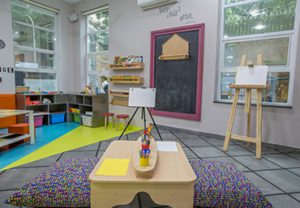 Of great interest to K was this soft padded rumbling ramp where he loved climbing up and racing down…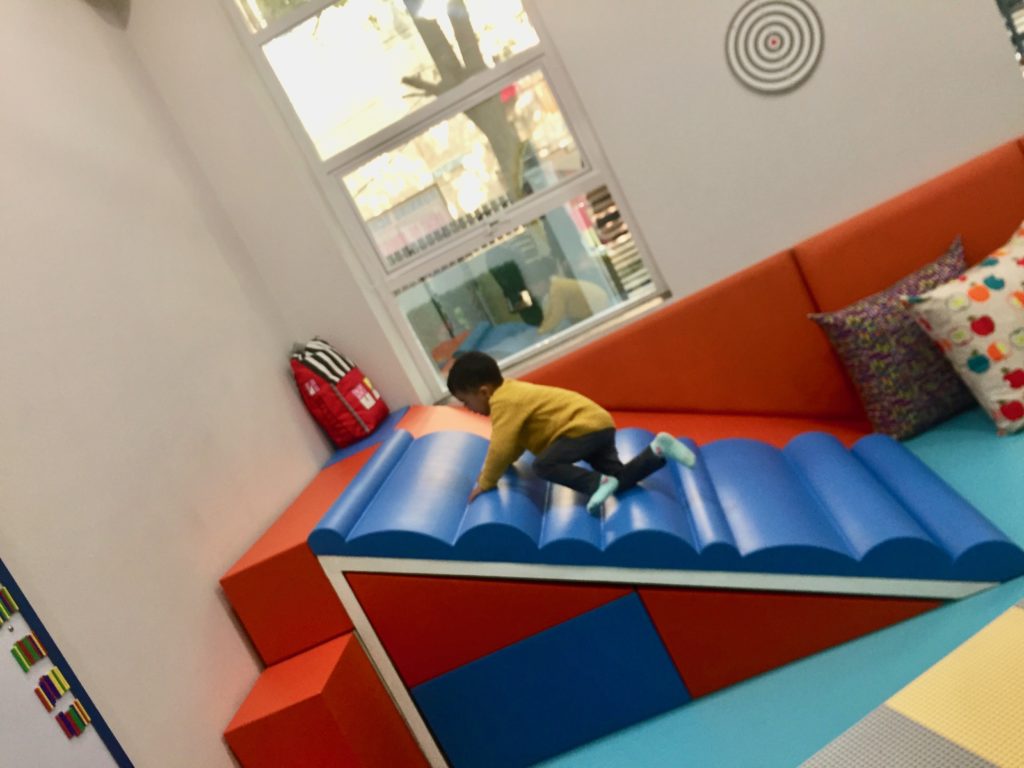 ….and now you know why I call him my little monkey!
There was also a wall which allowed kids to use small magnetic stickers to create…just anything!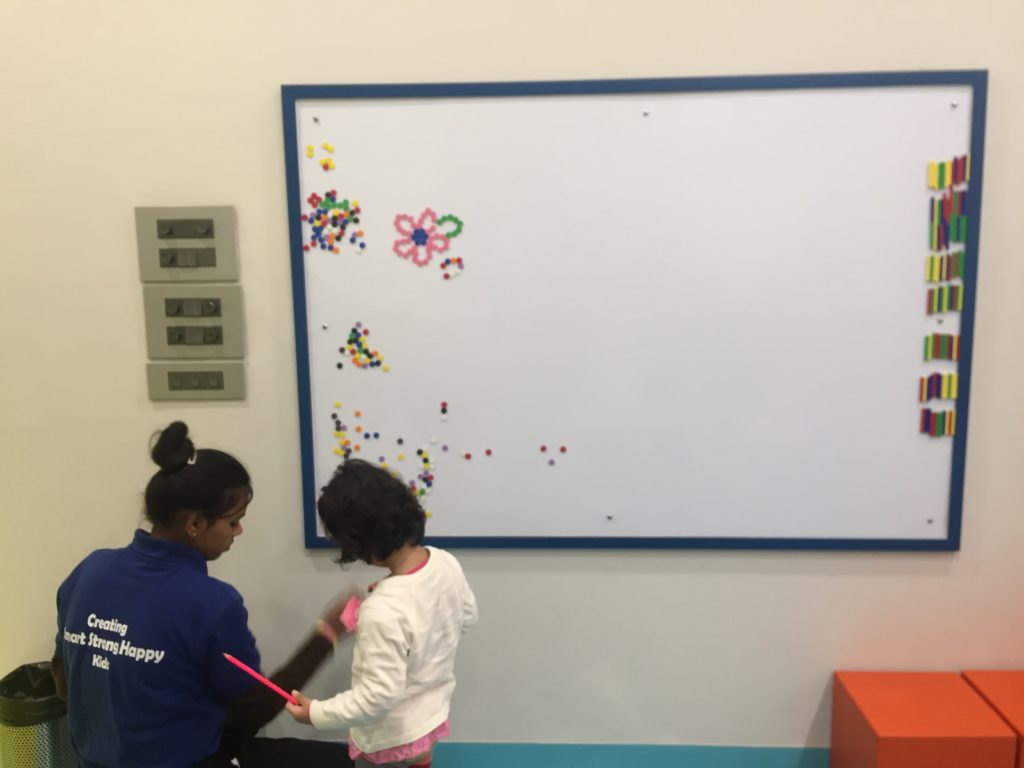 The ultimate goal- to play & explore. Because that ultimately enhances creativity & critical thinking. Here A was trying to make a face.
Both K & A are sensitive to messy play experiences. They are also hesitant to try new things in general, specially something related to sensory skills.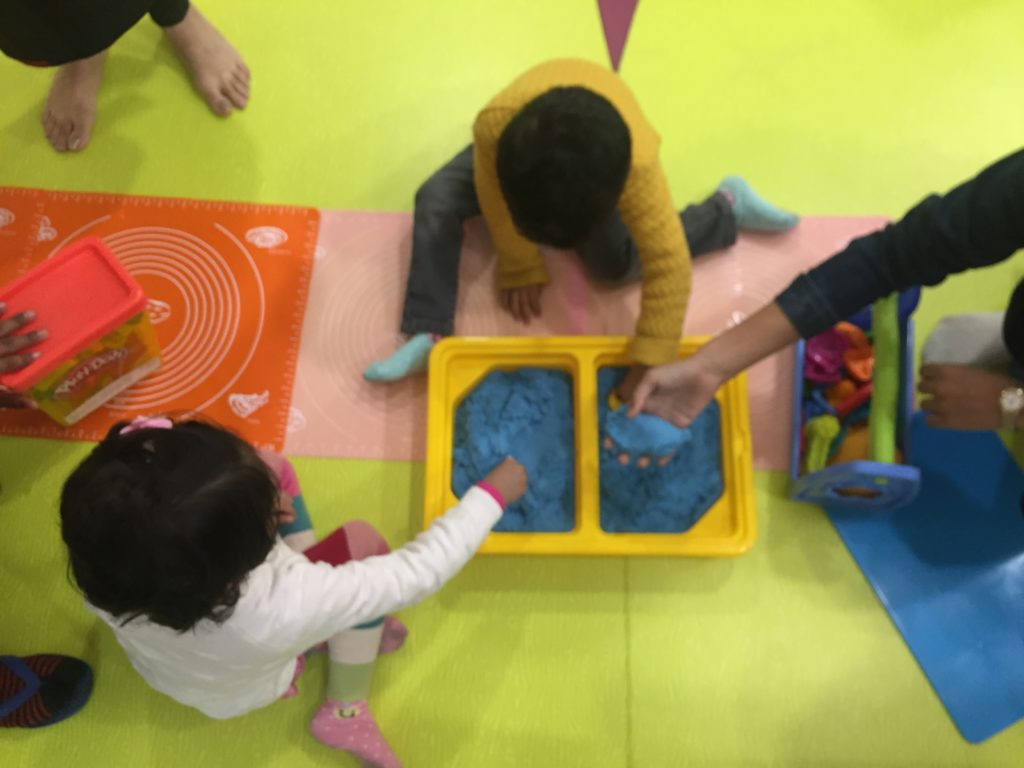 But I could see how with a few minutes of facilitated play they were so engrossed in the Kinetic sand activity where they were trying to create different shapes.
Play helps children develop social skills like problem solving, sharing, and communicating.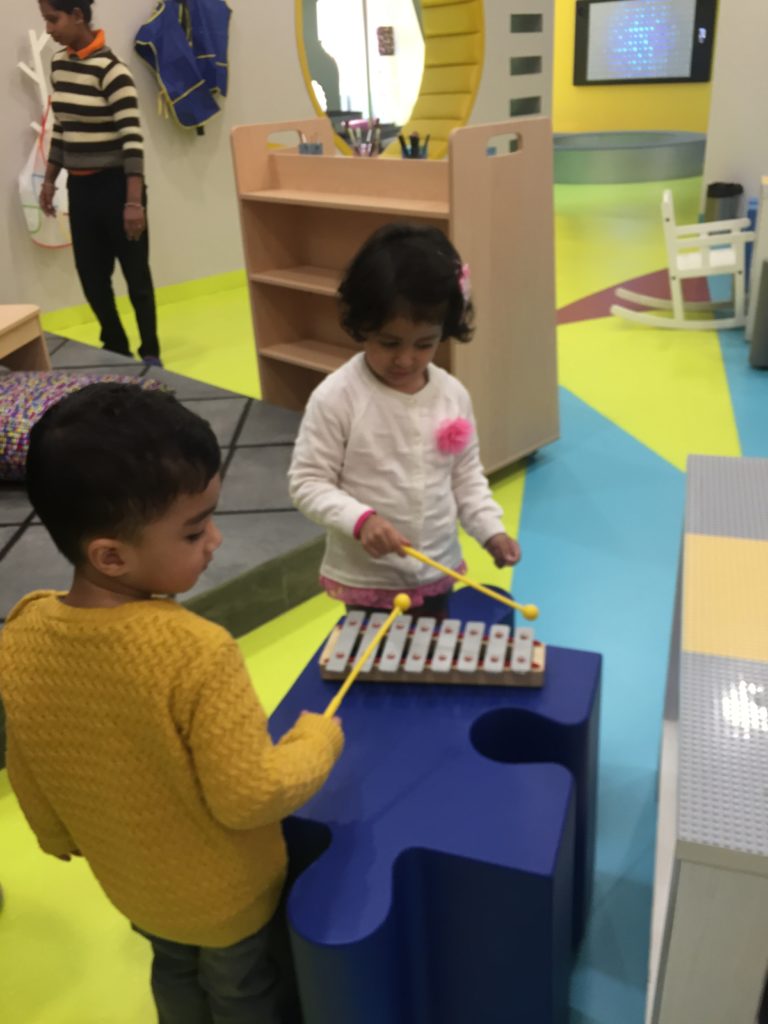 There is also the Art area, which has black boards, blank papers, color pencils, paints, chalks… Imagination is the key word here, because anything goes.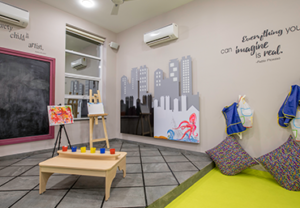 There are so many skills kids learn through Art- creativity, focus, non verbal communication, collaboration, perseverance.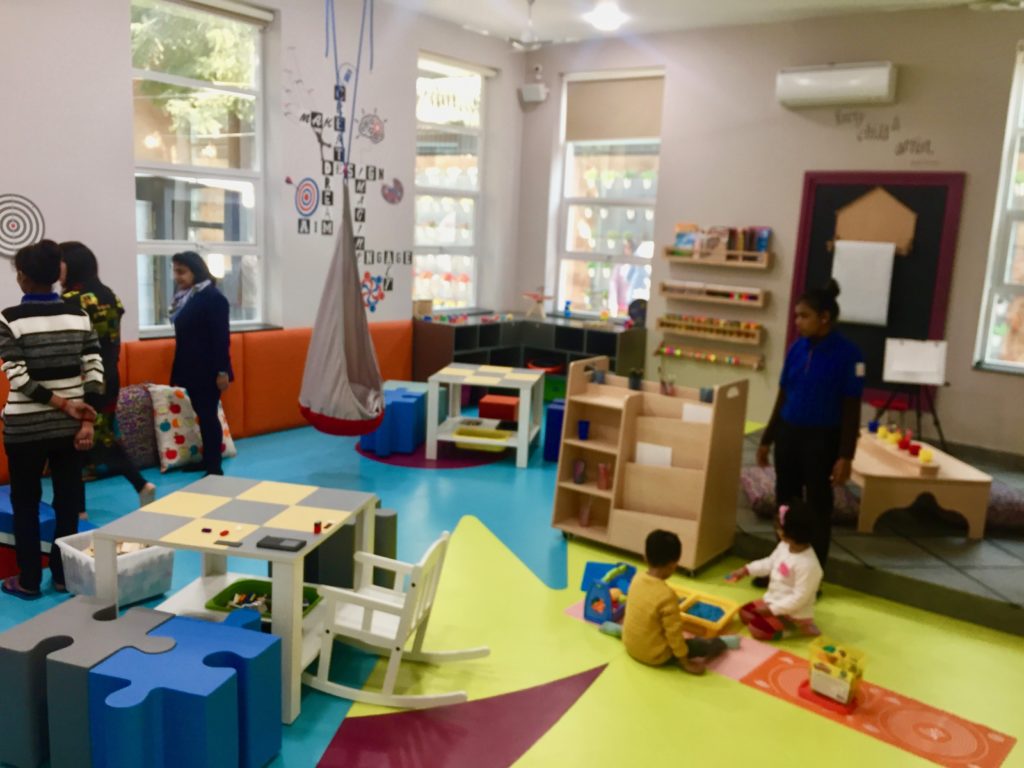 K & A's favourite though was the second level of Play zone which was full of Montessori – learning toys.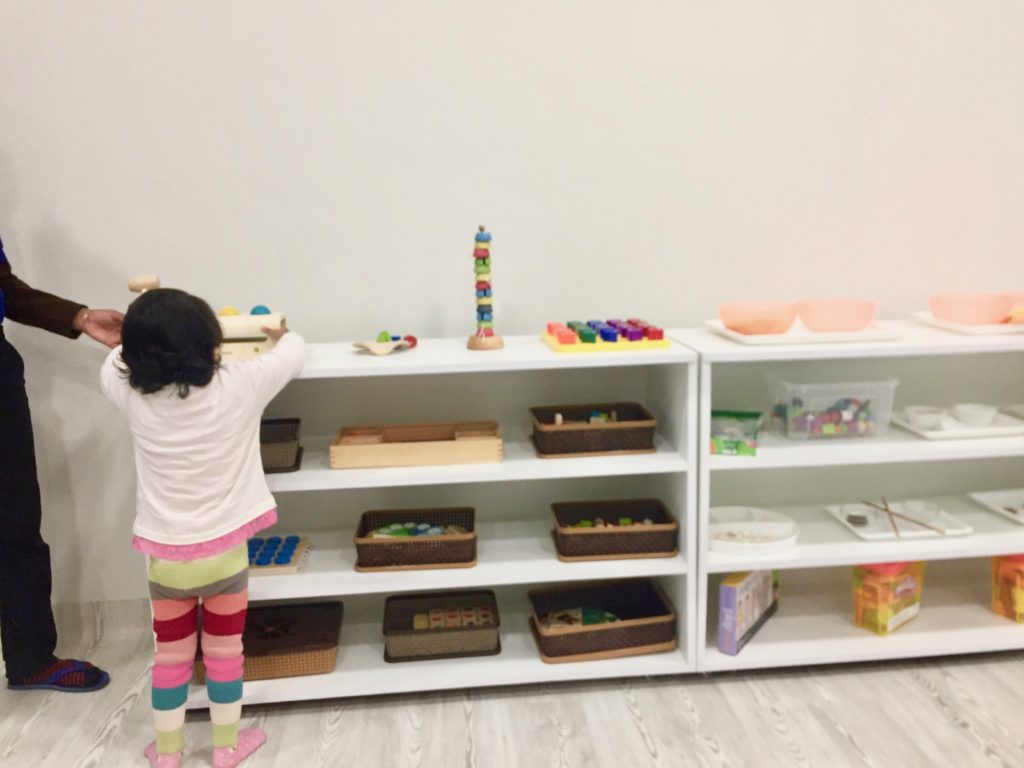 They loved hammering the balls and the pretend play set up.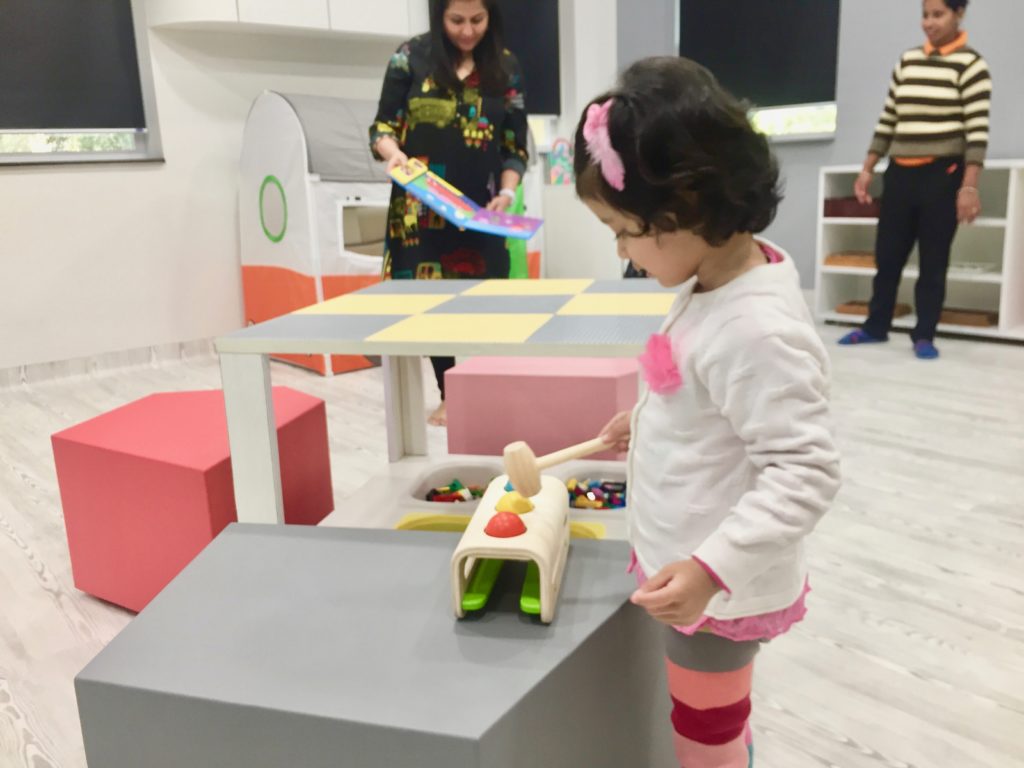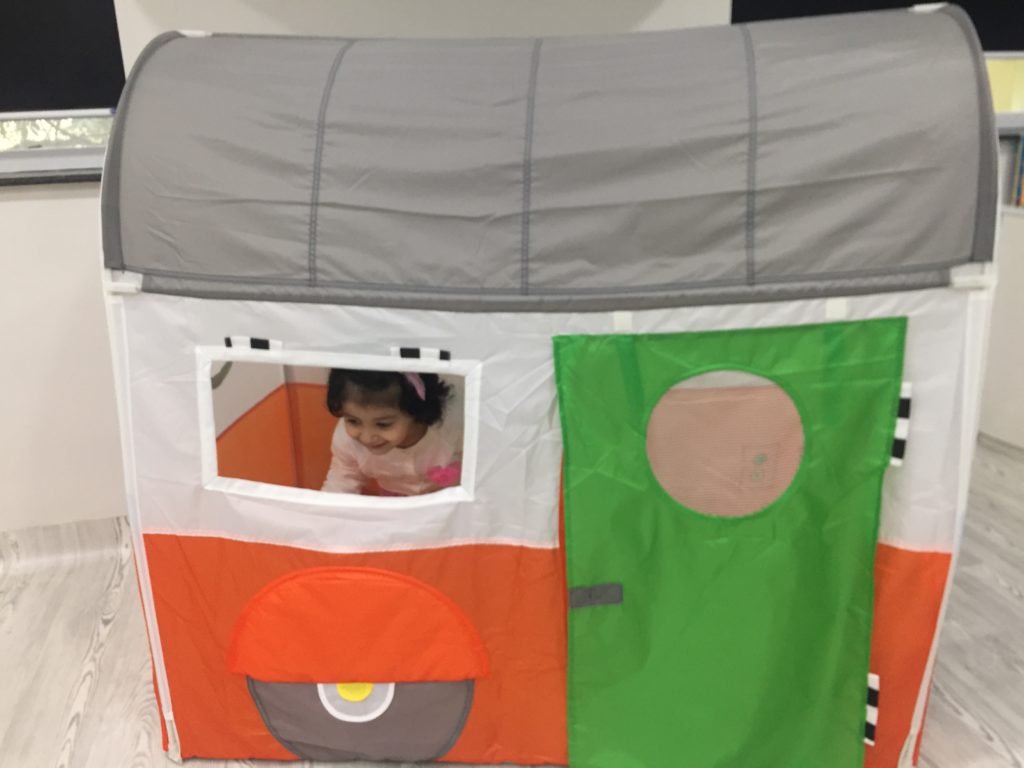 I thought that this area was by far the most informative and engaging for my kids.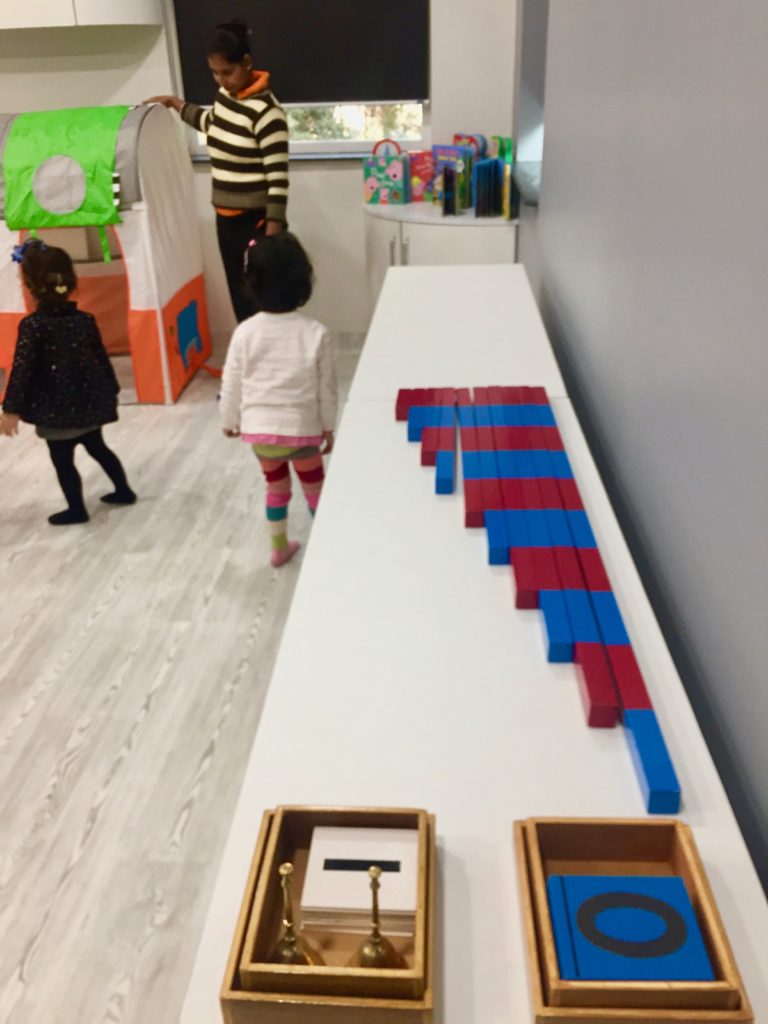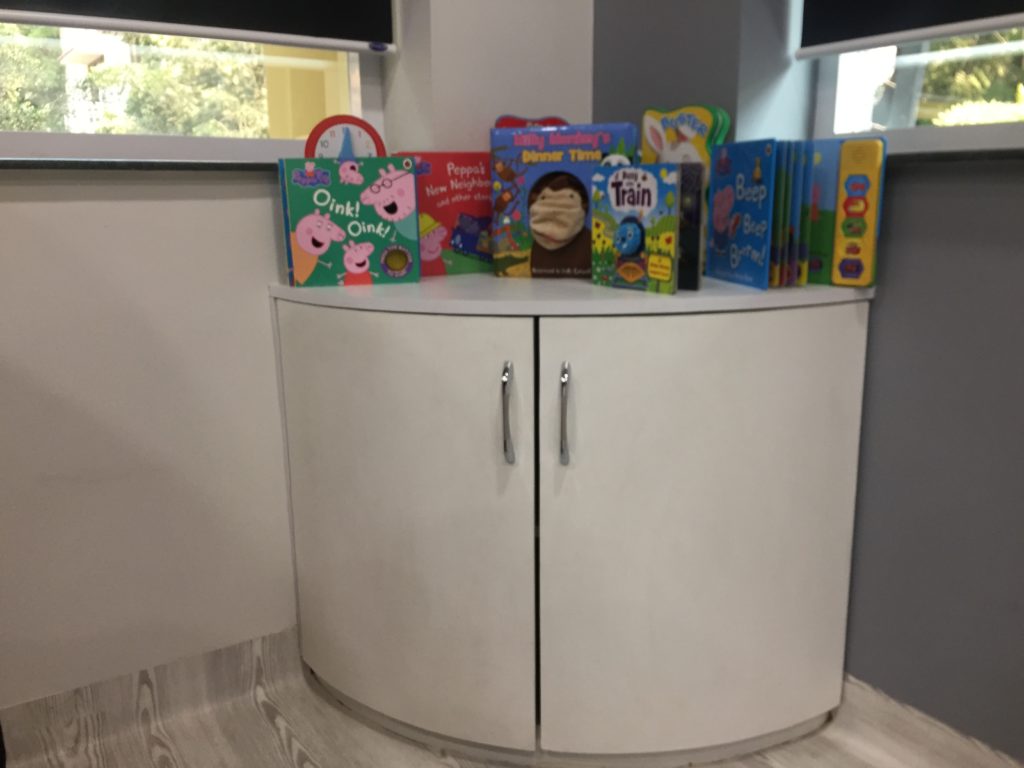 It's not just about the availability of various activities, toys and books but also it's been ensured that everything is placed at a height such that they are easily accessible for kids- and that's just what they like!
I had to peel the kids away from the Play area to explore other parts of the Centre….
Others Zone
The 'Others' part comprises activities that help develop child's communication & collaboration skills. There are break-out sessions, role plays, public speaking exercises that are uniquely designed to nurture empathy, identity & social skills in children.
While K & A were still in the play room's 'hangover' and did not want to participate in any other activity, A still enjoyed popping the bubbles!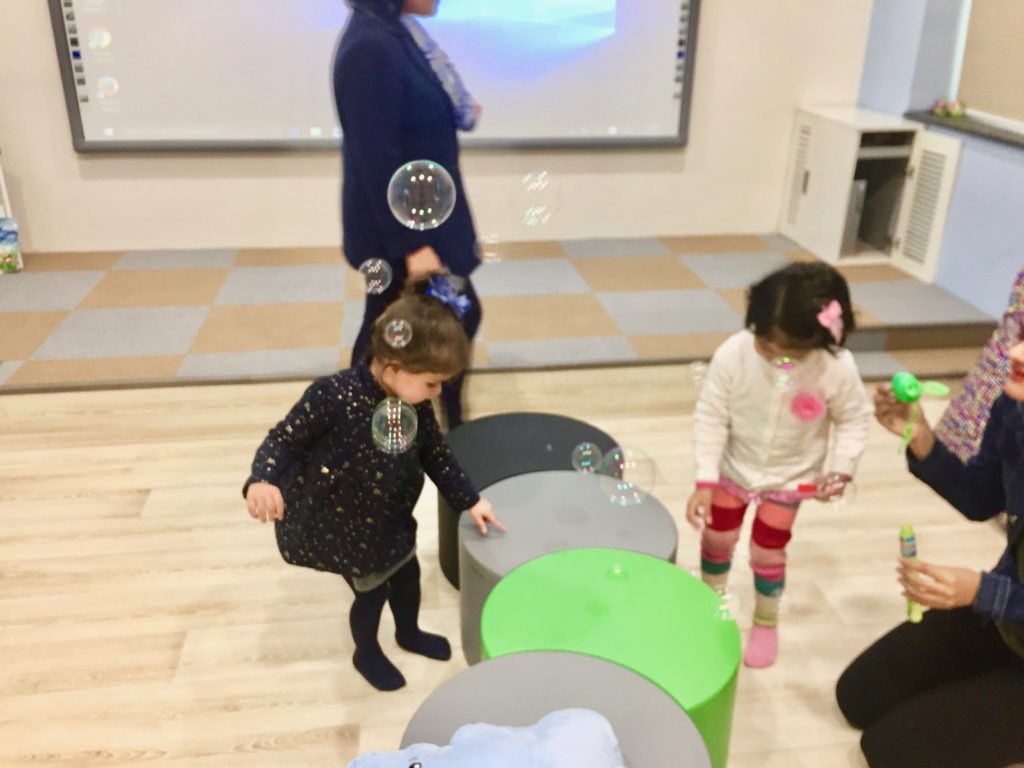 Downtime Zone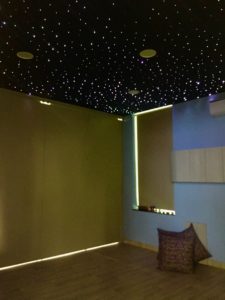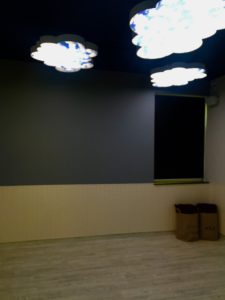 The beautifully lit up ceiling and the overall ambience is aimed at providing a stress-free zone for kids. Activities that are aimed at attention/focus training, mindfulness & positive mental habits (like grit, gratitude & optimism) are conducted here. Well, I guess this area was as mesmerising for me as for the kids!
It has been found that emotional wellness of children plays an important role in ensuring a positive & happy attitude amongst them.
I have to say I was extremely impressed with the way every little detail has been taken care of in terms of facilities & infrastructure provided.
Simple exercises for children to meditate & experience downtime are conducted here. This facilitates relaxation & downtime which is believed to be a key to survive in the 21st century ( and I am sure we all totally agree to this!)
For example, varying mandala art designs are played on the ceiling while children lay down on the mats and concentrate on the soothing music & art. The calming effects enhance concentration as well as positivity.
Before stepping out to experience the beautiful outdoors, one cute little corner, just below the stairs, caught our attention.
Designed with catchy pop-colours, it beautifully captures the critical thinking aspect of life skills. With books, board games and mazes, the corner is perfect to spend hours there.
(Don't miss the maze created on the wall; with erasable markers, it's perfect to get your grey cells active!)
But my little monkeys were busy with what they love the most….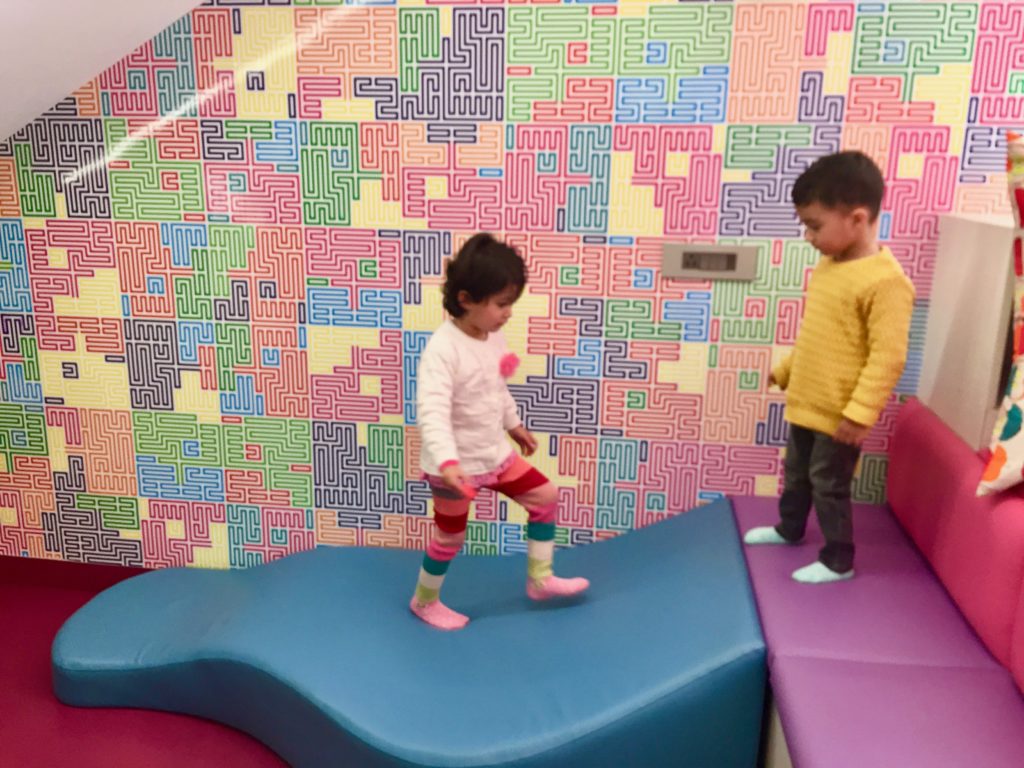 …..climbing up & down!
Stepping out from the backdoor, we were welcomed to a beautiful lush green setup with some really cool activities…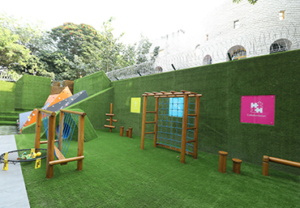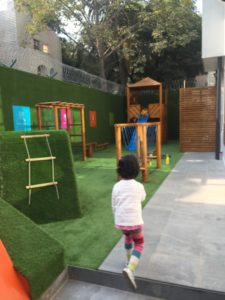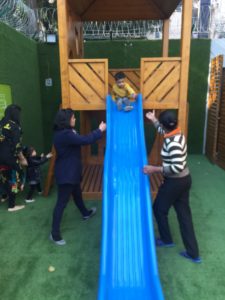 Being outside is the perfect place for kids to be kids with the freedom to shout, jump, run, hop or skip. In fact, by taking your children outdoors and supporting their play, you can help their development.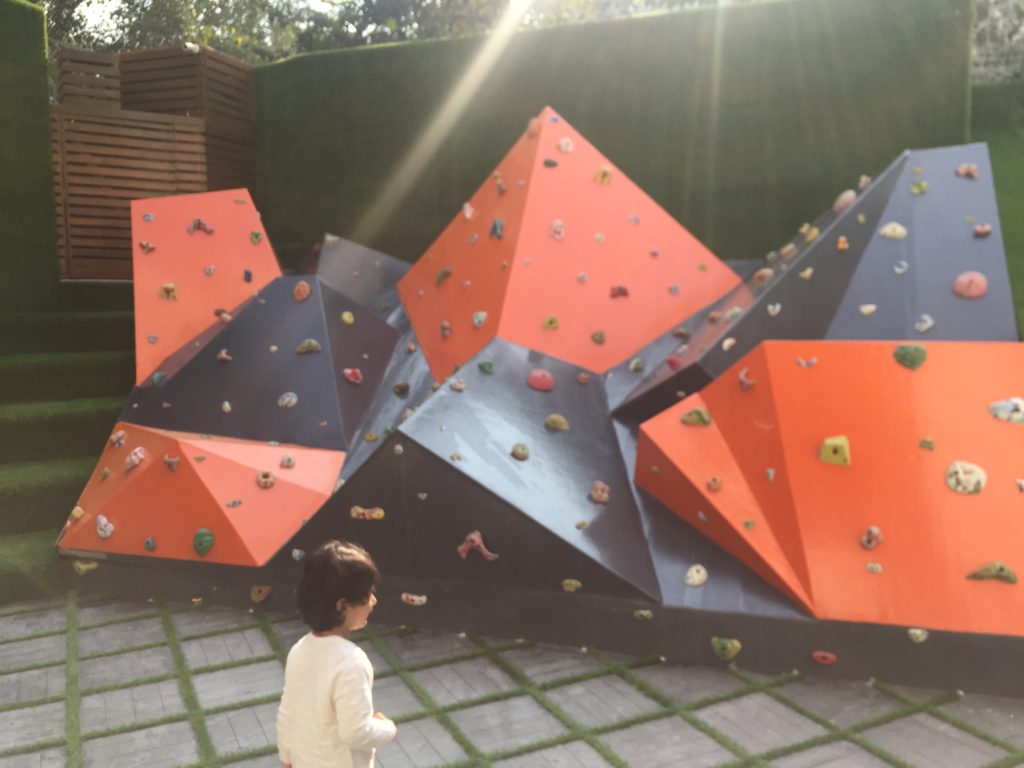 And somewhere I understand this is the crux of Dolphin Parenting, to provide an opportunity to kids to use their whole body and develop their gross motor skills. It's only when they have mastered these that they will be able to control their fine motor skills.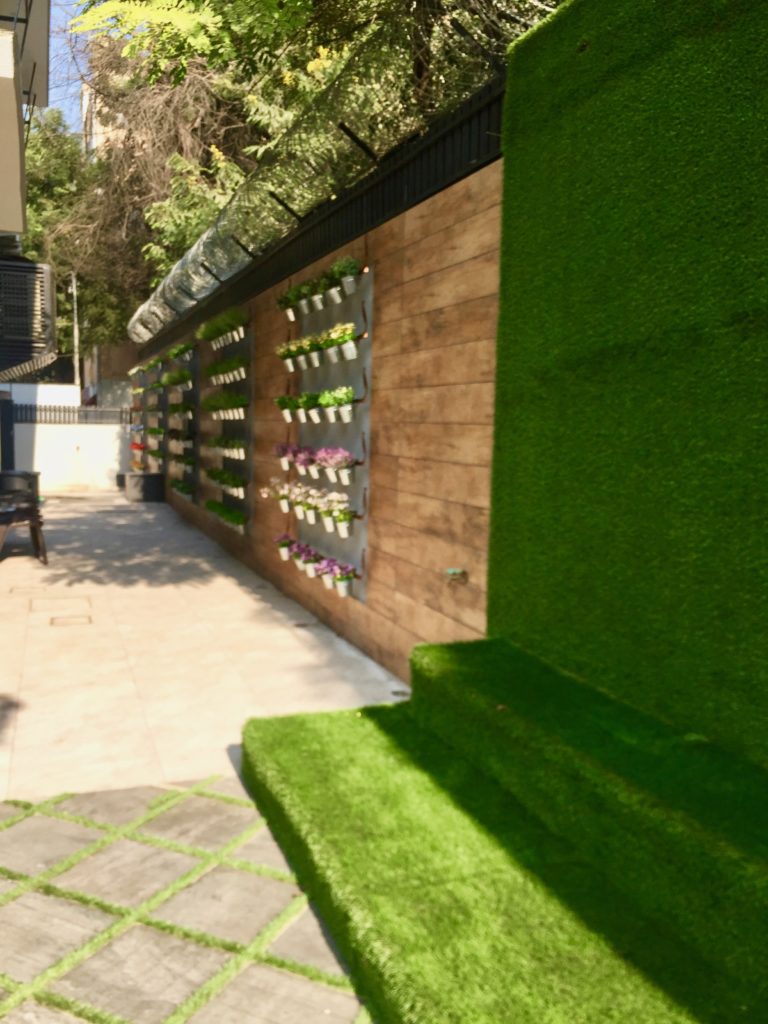 The changing nature of the outdoors makes it an incredibly stimulating and multi-sensory place to play. And this also helps children grow up as adults with a greater sense of environmental awareness.
Encouraging your kids to get their hands dirty in the garden also helps them develop valuable new life skills. After all, what could be more enjoyable than getting dirty, creating their own flowerbeds, and watching things grow?
Kids loved getting messy in the sand pit too!
When it comes to play – especially outdoors – I think there is no right or wrong way. The best thing is to just get out there and see what they explore.
Playing in the sand can be a great opportunity for children to have unstructured play time. Whether shaped into castles, dug, dripped, sifted, or buried, sand can take many different forms, thus offering endless opportunities for fun and learning!
Allowing your child to play in the sand by themselves and with others helps them to develop fine motor skills like those necessary to use a small shovel and build a castle. By burying themselves in sand, and feeling their body position within the sand, children loved engaging their proprioceptive sense, or the sense of their body relative to space.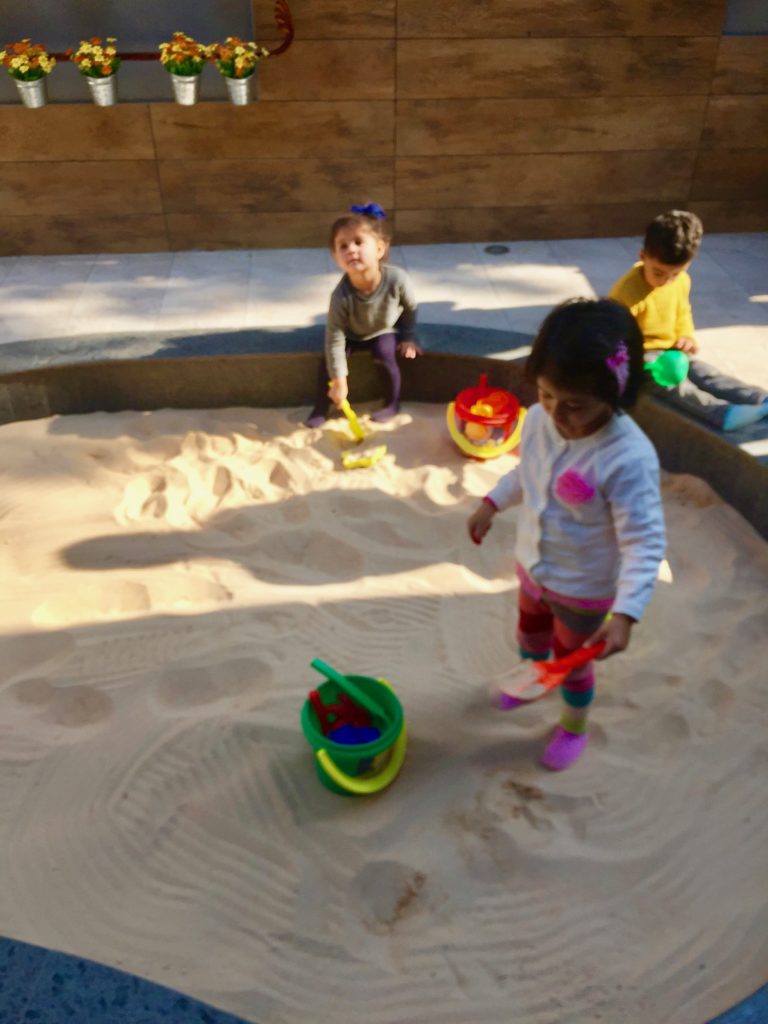 Sand play is particularly beneficial for developing a sense of textures. Not only is sand a new and different texture for children to feel on their skin, but the contrast it creates with concrete, grass, dirt, and wood will emphasize the sensation of each surface.
Our 2 hours at the centre whizzed away quite quickly. And the last 2 things that I noticed left a strong impact on my mind about the underlying vision of Dolphin POD.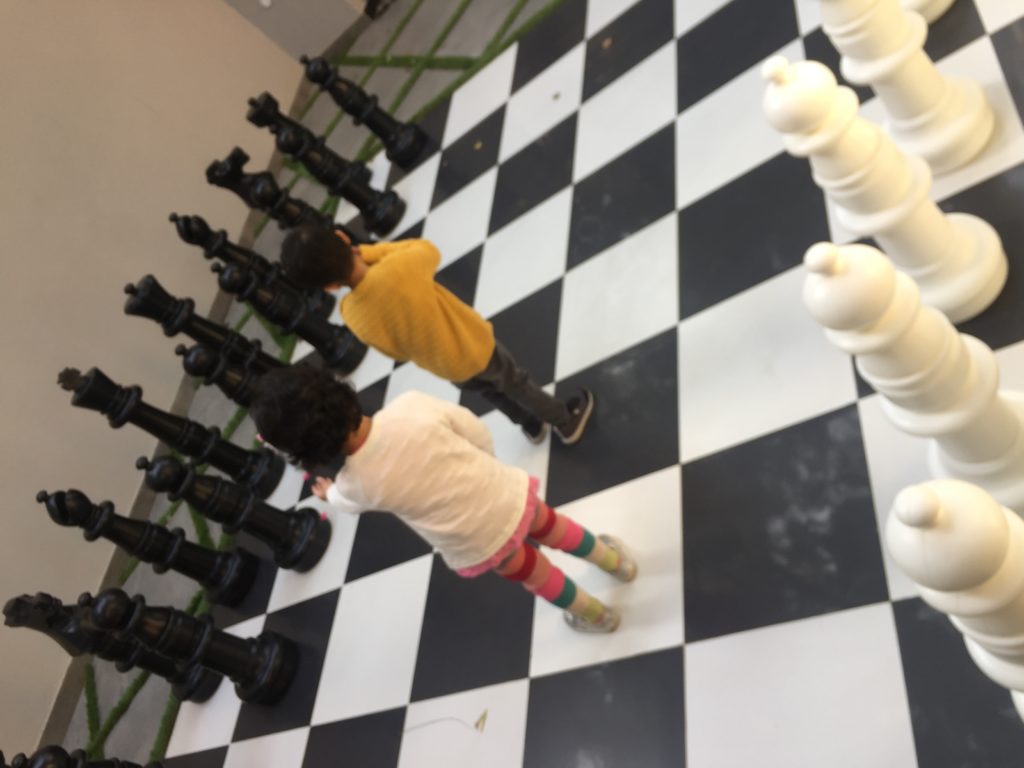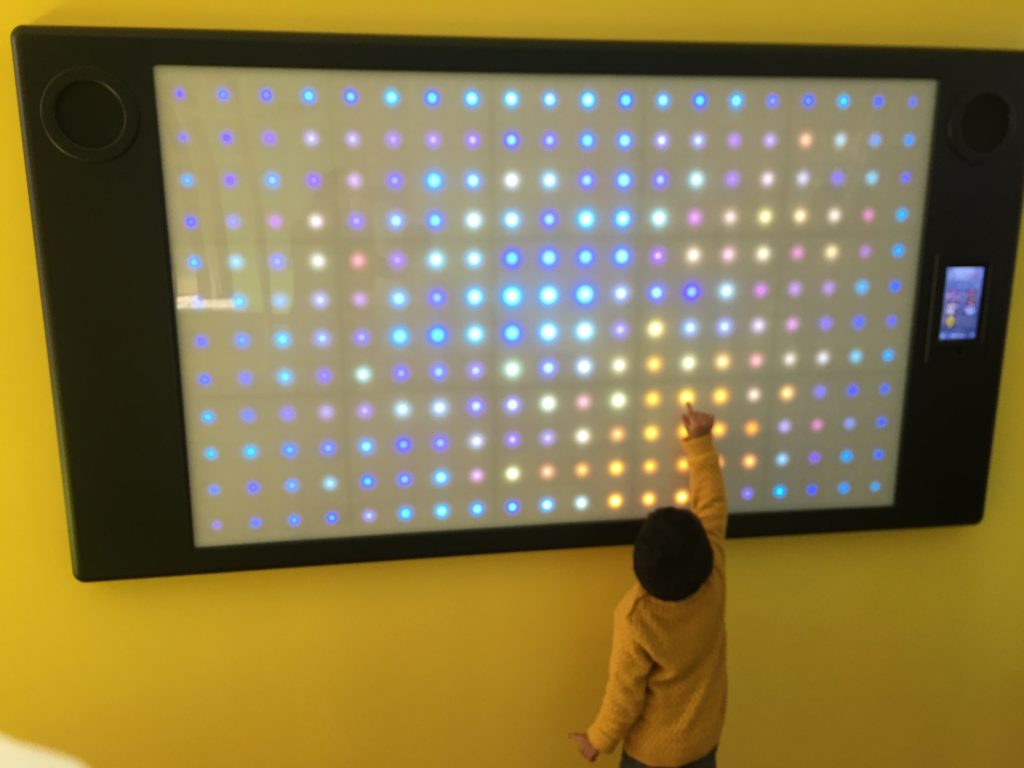 I think the interactive screen that seeks to educate children about cause & effect was a great tool.
Every corner, every wall of this place reemphasised that Dolphin POD is aimed at making learning fun for children. They envision the 21st century kids to grow up as happy & effective leaders.
My short interaction with the co-founder Ms Shobhana Mahansaria and the Centre head Ms Shivani Sahni was a great way to understand their way ahead.
With workshops and several activities lined up for the coming month, don't miss checking out their activity calendar by clicking here.
Go Mommy!