Like any other new parent, we knew that babies cry. It's normal, real and to a large extent
uncontrollable. Period! But it was only after those bouts of unconsolable crying of our son, that we came across the next big Parenting challenge- Colic! And that's why here I am sharing the Best Ways to Soothe a Baby Who has Colic.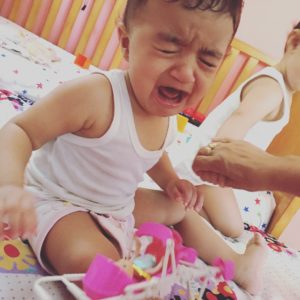 Colic is described as a condition whereby babies have unusually long episodes of crying lasting for more time as compared to otherwise usual well-fed & healthy babies. Colic is experienced mostly in babies in the age of 2 weeks to16 weeks. The most common symptom of Colic are-
Bouts of crying that may last for three or more hours
Unusual crankiness mostly in the afternoons or evenings
Trapped gas, sluggish digestive tract, and acid reflux commonly lead to colic symptoms
While scientifically, the underlying cause of this phase is still not very clear, trust me, handling a colic baby can be extremely frustrating for new & sleep-deprived parents.
A few things that helped us during this time-
1.Hold up the baby & get going!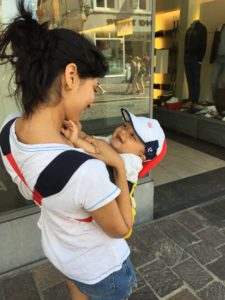 As simple as it may sound, as a new parent, these basics get missed out quite easily. A colicky baby might sometimes just need to feel you around. So simply holding the baby and walking around helps soothe a crying baby. We soon started using baby carrier for this and found how easily that would calm our son. The logic behind is the fact that babies in the womb get used to lot of motion. So a simple snug and movement around is an easy way to soothe a baby with colic.
Go Mommy recommends-
2. Carry baby in the 'hold' or 'colic carry' position
Lying on the back might make the baby uncomfortable. Try out to new positions like holding the baby upright, kangaroo position or the colic carry position. My husband swears by this! He kinda discovered it by accident.
Fold arms across the chest-Secure arms gently with one hand- Grasp diaper area with your
dominant hand- Rock baby at a 45 degree angle.
3. Make some noise!
Music, beats or simply white noise- this is a wonderful way to soothe not only the baby with colic but also a tired mommy. Try it!
4. Swaddling
Creating a womb like atmosphere helps soothe a baby with colic. The warm feeling of
being safe & secure would remind your little one of his home for nine long months (your tummy!!!).
Go Mommy recommends-
5. Give massage
Certain baby exercises can do wonders to soothe a baby who has colic. It's an instant way to release trapped gas and underlying discomfort for the little one. Bicycle legs, bent legs, back rub are a few of the exercises that help.
One of the most effective 'Grandma's tips' that help soothe a baby who has colic is massaging the baby's belly and this helped us the most! In earlier times, hing was used commonly for this. However, thanks to brands like Mother Sparsh, with an easy-to-apply Tummy Roll-on, the hassles of finding different ingredients like hing, saunf etc and heating them at an appropriate temperature are all taken care of!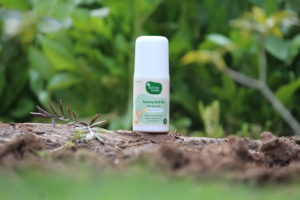 The 100% ayurvedic Tummy Roll On by Mother Sparsh is made up from the combination of
different natural oils such as hing oil (having antiseptic and antibacterial properties which help to reduce acid reflux and constipation) and saunf oil (with anti-colic properties which
help reduce bloating in the baby's stomach, gas and also eases the baby by helping it burp).
The magical combination provides relief from stomach discomforts caused due to
gas, acidity and indigestion in infants and children.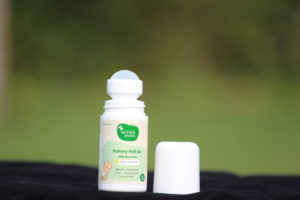 The fact that all the ingredients present in Mother Sparsh Tummy Roll-On are natural and toxin-free make it skin-friendly for babies sensitive skin. Also, the roll-on feature makes it mess-free while being applied around the baby's naval area.
Buy it here 
There are several ways you can soothe a baby who has colic. Trust me, a few might work for you some day while other times you would need to change your strategy.  But the key is to be patient. Don't hesitate in asking for help. Take some time out for yourself. Feel confident about yourself as a mommy. Just because the baby is crying, don't judge your motherly- capabilities. A colic baby indeed can make parents feel frustrated & at times helpless. But remember, you are not the only one with a fussy baby. And this phase shall pass too!
Go Mommy!