If there is one inevitable thing about a baby's skin, it's bound to be a rash-free first year! And as a new mum, I know how quickly we tend to freak out at every rash or bump on the little one's body. Babies have the most sensitive skin which makes them susceptible to all kinds of skin irritations and infections. Dust, Chemicals, fragrances and detergents can cause newborns to experience skin irritation, dryness, chafing, and rashes. Knowing what those bumps or spots on your baby's skin are will help you to know how to proceed. So here I am listing 5 Common Skin Problems in Babies and their treatment.
5 Common Skin Problems in Babies and their treatment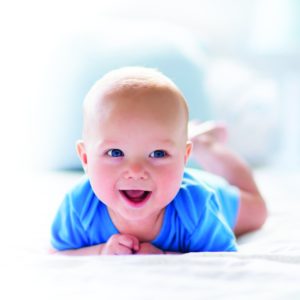 1. Diaper Rash
Oh well, welcome to motherhood! From now begins the time when diapers are going to be permanent item in your grocery list for a few years…and what comes along is the most common skin problem- Diaper Rash!
As little babies will be in diapers most of the time, they tend to develop diaper rashes. Think about it- skin under the diaper is assaulted dozens of times a day with urine and baby poops, specially in first 6 months. Due to the thin nature of baby's skin, coupled with the occlusive moist nature of life under the diaper, it's easy to understand why this area can rash up literally in minutes. These inevitable rashes in the diaper area can cause a lot of discomfort to your baby. The skin in that area tends to turn red, sore, fiery and irritates the baby specially while cleaning.
What you can do-
Let's start with the most basic actionable- Getting into the good habit of whisking off poopy diapers immediately is the foremost thing I encourage new parents to do. Wiping off the poop with a moist soft cloth/ cotton/ wet wipe followed by drying the area, and replacing with a clean diaper is usually the best strategy.
Keep your child off diaper for some time when they are awake. Stock a few cloth nappies for those times. This helps skin to get fresh air. Also make sure the diaper is not too tight. Pick the right weight-appropriate diapers.
Apply natural diaper rash cream as a protective barrier. Diaper Rash cream by The Moms Co. is an ideal pick when looking for a fast-acting solution. It has 15% Zinc Oxide that prevents a diaper rash by forming a protective barrier between the skin & the diaper.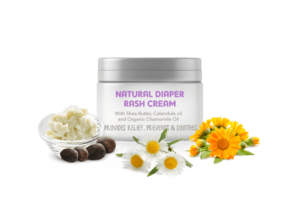 Coupled with the anti-inflammatory properties of organic Chamomile oil, this mild, gentle and hypoallergenic cream not only provides relief to a diaper rash but also acts as a preventive measure.
2. Cradle cap
This condition is most prevalent between the ages of three and nine months. Cradle cap can be recognised by patches of yellow scales over your baby's scalp. Flaky, dry skin that looks like dandruff can also be an indicator of cradle cap.
What you can do-
As such exact reason or cause of cradle ca is still unknown, but poor hygiene could be one of the major contributors to this skin condition in babies. It's advisable to use a mild shampoo to wash baby's hair. Natural Tear-Free Baby Shampoo by The Moms Co. is a wonderful option to pick here. Its toxin-free combination of Coconut based mild cleansers, Organic Moringa & Organic Argan oils help clean the scalp and nourish baby's soft hair.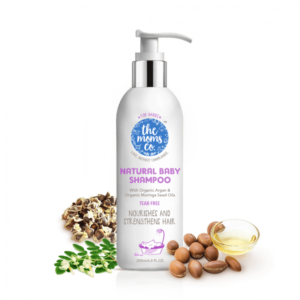 Along with this, apply a bit of baby hair oil to soften the scales. Massaging the scalp with a Natural Hair Oil strengthens the baby's hair and keeps them soft & silky. A unique combination of miraculous Amla & Bhringraj along with remarkable rejuvenating benefits of Avocado, Natural Baby Hair Oil by The Moms Co. is a must-have in your baby care range at any time!
One must also ensure to regularly use a soft baby comb and combing out the thickened scale on the scalp. Most new parents miss out on this basic step because of scanty hair on babies!
3. Eczema
Eczema is quite a common skin condition and it can appear anywhere on a baby's body starting around 3 or 4 months. Leaving behind dry, scaly, rash-like itchy patch, Eczema can be very uncomfortable for the baby. And scratching makes it worse. It is usually visible on the face of your baby but can also appear on the elbows, chest or arms.
Anything can be a trigger for babies prone to eczema (those with a genetic predisposition or a family history of allergies). Hot weather can cause sweating, which irritates the skin; cold weather can dry it out. Harsh soaps and clothing, especially wool, can also spark an outbreak.
What you can do-
Eczema in babies cannot be totally cured but it can definitely be controlled with right treatment. Gentle skin care with mild soap, short daily baths and lots of moisturizer is the best way to prevent. It is very important that you moisturize your little one's skin in order to prevent flare-ups. Use a baby lotion liberally several times a day as this prevents skin from drying out too much and making the condition better.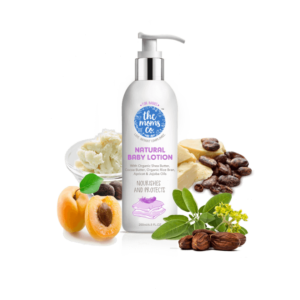 My experience with Natural Baby Lotion by The Moms Co. has been phenomenal. It's a toxin-free combination of Organic Shea Butter, Cocoa Butter and oils like Organic Apricot, Organic Jojoba & Organic Rice Bran that deeply nourish, keeping baby's delicate skin soft, silky and moisturised.
4. Dry skin
Many babies are born with extremely dry skin which starts to peel after a few days. There is nothing to worry as this stops after a few days. But a regular skin care regime is essential to ensure dry skin doesn't become itchy and causes discomfort to the baby.
What you can do-
Giving your baby regular oil massage will help take care of this condition. A perfect blend of organic Almond & Avocado oil in The Moms Co.'s Natural Baby Massage Oil goes a long way to nourish and moisturize Baby's Skin.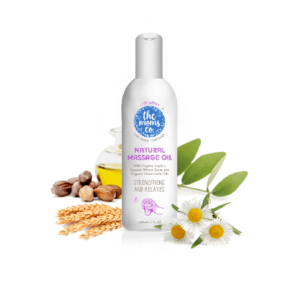 Also, Organic Jojoba Oil is known to replenish and restore skin's natural pH which helps control dryness in skin. The best part- all this comes without any use  of harmful Chemicals, Parabens, Synthetic fragrances and Sulphates!
5. Prickly heat rash
Heat rash can be uncomfortable and unsightly on anyone, but especially for children. In reality, heat rash is caused by nothing more than closed off sweat ducts, preventing the body from effectively cooling itself and allowing the heat to escape. Heat rash appears as small pink-red pimply eruptions all over the skin, and happens when a baby or child gets too hot. Caused due to sweating & overheating, Prickly Heat rash mostly appear on upper chest or in the folds of the skin like on the neck, diaper area and armpits.
What you can do-
In order to treat a prickly heat rash try and keep your baby as cool and dry as possible. Dress up the baby in loose cotton clothes.You can also try placing baby on a cotton towel to help absorb excessive sweat. Apply cool, wet washcloths to the areas affected by the rash. Frequent lukewarm baths with a gentle body wash is also advisable.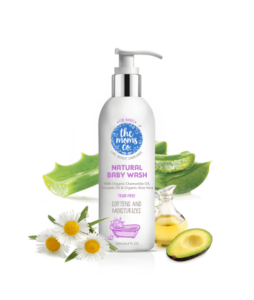 I would recommend The Moms Co. Natural Baby Wash here because it not only nourishes baby's delicate skin but also has Organic Chamomile Oil and Calendula Oil that have soothing properties. With antibacterial and anti-inflammatory properties, Calendula promotes fast healing and regeneration of the skin.
Remember any issue related to your baby's skin will take time to cure. So, be patient and persistent with the treatment you are giving to your child. If you do not see any signs of improvement, please do consult your doctor.
Did your baby face any of these skin conditions? What did you do to treat it? Please share your experience in the comments section below.
Go Mommy!