With summers underway, the one thing that puts me off (of course besides the fact that long summer holidays are there to sail through) is the menace caused by these pesky blood sucking mosquitos. Trust me, it's a painful sight when I see my kids come up with big red scratchy bites all over their legs!
Seeing an ugly red bug bite on your little one's skin might make you want to douse an insect repellent against anything with wings, but remember that these chemicals can be toxic not only to little buggers but to little babies as well.
While I am serious about avoiding bug bites, I don't want to use nasty chemicals to do it. Many of the bug repellent sprays, lotions or liquids that are used on children to repel ticks, mosquitos or other insects contain the chemicals Permethrin and/or DEET.  DEET is a pesticide that is partially absorbed into the bloodstream and associated with skin and neurological reactions. Seizures and several cases of toxic encephalopathy (brain damage) have been associated with the use of DEET in children.
The good news is that these chemicals are not necessary since fortunately, there are many natural, safe products that repel bugs that are totally safe for babies and kids.
The following list is by no means exhaustive but is a combination of mosquito repellents that we have used and are the best on the market.
1. 
Avon SKIN-SO-SOFT Bug Guard 
PLUS Insect Repellent Moisturizing Lotion
This non greasy moisturising lotion is filled with goodness of Aloe & Vitamin E. It's an effective repellent against mosquitoes, ticks, black flies, gnats and biting midges. No PABA, no DEET, no parabens, no problem! The special SPF 30 formula is an ideal sunscreen for kids and is water resistant too (upto 80 minutes).
As an added bonus, it also helps keep baby's skin soft, as it's aloe-based. Mom-approved, and it does double duty!
2. Mother Sparsh Natural Insect Repellent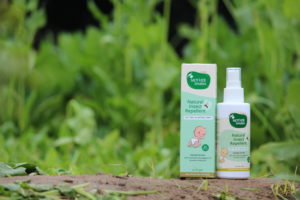 Filled with goodness of natural Citronella, Eucalyptus oil and Lemon Grass Oil, Mother Sparsh Natural Insect Repellent is the latest offering in their all-natural baby care range. With the guarantee of 100% natural & safe products, Mother Sparsh Natural Insect Repellent uses a formula comprising eucalyptus oil which creates a herbal armour (protective shield) that protects one from insects such as mosquitoes, fleas, ants, etc. Presence of essential
natural oils such as lemongrass, citronella and camphor soothe the skin and leave behind a light, pleasant lemon-y fragrance. This DEET-free natural insect repellent keeps the baby safe while indoors or outdoors.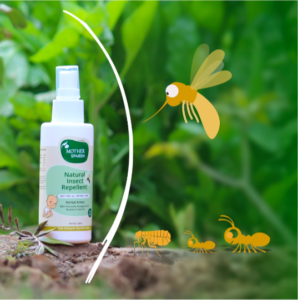 This insect repellent contains no synthetic chemicals which are harmful for skin making it ideal for usage for anyone, including infants (3 months+), kids or adults. I love the peppy spray-bottle packaging that makes the application of repellent very convenient, especially with little toddlers who are always on the go.
3. California Baby 
Natural Bug Repellent
California Baby's repellent spray is another favourite of ours and has been a winner even in the worst of mosquito-dominant places. It is made from essential oils that keep mosquitos and bugs at a distance because these mini monsters don't like landing on oily surfaces. In short, it ditches DEET for oil—specifically cedar pure essential oil mixed with Citronella and lemongrass. It smells nice, too!
4. 
Khadi Natural Mosquito Repellant Lotion
We've used this Indian brand, Khadi, a few times now and found it to be really effective. It is a natural insect repellent that keeps pesky insects away basis its herbal formula comprising lemongrass and aloe vera. The fact that it's an Indian earth friendly brand and the texture is non-greasy makes it a hit in our family!
5. 
BabyGanics Shoo Fly Bye Deet Free Natural Insect Repellent
Babyganics' Natural is a trusted name in baby skin care industry. It promises to repel even the hungriest of insects, including flies, gnats, houseflies as well as disease-carrying mosquitos and ticks. This DEET-free spray comes in a light, pleasant scent that shoos away insects using a blend of essential oils which is pungent to insects, especially mosquitoes. With No DEET, parabens, sulfates, phthalates, artificial fragrances or dyes, this insect repellent is made using plant-based ingredients assuring me of natural and safe product for our kids.
Apart from using Natural Insect Repellents for Babies and Kids, one must ensure that children wear full clothes in mosquito-season. Use of mesh on windows, mosquito nets and keeping the surrounds clean also help in keeping bugs away.
What's your fool-proof way of keeping kids safe from mosquitos? Do share with us here below.
Go Mommy!