"The problem is in your head, not on your head!!" …….this is what I have been always told when my husband sees me in tears standing in front of the mirror crooning over my thinning hair. While I could see my crowning glory losing its charm over the years, other factors like postpartum, age, stress etc just added to my fears!
As per experts, weight loss, low iron levels, postpartum, poor diet and stress, along with thyroid and hormonal imbalances, can all cause hair to fall. Hair needs a healthy diet and a well-functioning endocrine system to flourish. But besides all this, a healthy hair regime is equally important.
I have grown up hearing & reading benefits of Bhringraj, Amla, Vitamin B5, Biotin, cocoa butter, Jojoba, Almond oil etc but trust me, I cannot think of applying any of these. There's simply no time! Moreover keeping a track & stock of so many hair care products thronging shelves in market today, I end up being totally clueless & overwhelmed!
Also, with so many roles that we juggle with especially with work & kids, taking care of oneself also becomes a task at times. The rushed routine of the modern woman's daily life, hair care often doesn't get the priority it deserves. Panicking over hair fall, worried about premature greying, we buy packaged products that promise wonders, or just settle for cosmetic salon treatments. But since hair matters – most women's self-confidence is tied to the state of their hair – it's wise to devote some time to its health.
And for that, over the past 2 months I have followed these 4 Steps to healthy & happy hair! Hope it helps you too!
Step 1. Pick up the right Oil for head massage
Oiling hair has a multi-dimensional effect. It helps increase the tensile strength of the hair, reduces the frizziness, promotes healthy scalp, strengthens the hair roots and prevents breakage. It deeply nourishes hair from the root to the tip. A perfect blend of essential oils stimulate the scalp and hair follicles, increasing blood circulation.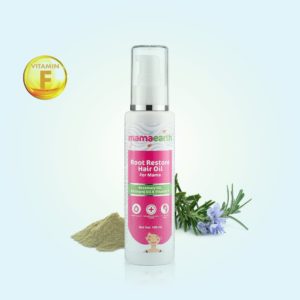 I would recommend the Mamaearth Root Restore Hair Oil. With Bhringraj, Jojoba, Almond, Olive, Rosemary Oil and Vitamin E as the core components, it is a therapeutic blend of 8 herbal oils which promote healthy scalp and strengthen the hair roots. Rosemary oil prevents premature hair greying and treats dry scalp, Bhringraj oil strengthens the roots while Vitamin F gives your hair a natural shine and reduces dryness. In short, it is a combination of the most efficacious natural ingredients that will nourish your scalp and hair from root to tip.
What more, It does not contain harmful chemicals like Parables, Mineral Oil, Silicons.
You can buy it here.
Step 2. Opt for a natural nourishing Shampoo
Well, if you have been losing a lot of hair, re-considering the shampoo you have been using is  one of the most important and basic steps. To treat your hair right, pick up a shampoo that moisturises & nourishes your scalp. Also, in the last few years, there has been a lot of focus on sulfate in shampoos.
What are sulfates? They're the reason your shampoo lathers the way it does. They clean your scalp and hair, departing the dirt from it. But some researchers also suggest that they strip your hair of essential oils. They're also why your eye stings when shampoo runs down the side of your face. 
And make sure you pick one product with as many good ingredients as possible and not many with one ingredient each!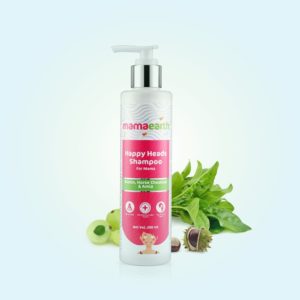 Here I would recommend Happy Heads Shampoo from Mamaearth. This was an easy pick for me as its mild formulation and gentle properties suit all hair types. With Bhringraj & Amla for hair nourishment and Biotin which makes hair thick, it gently cleanses and promotes healthy scalp & hair by removing the built up residue from scalp. Its herbal formula includes potent and natural hair friendly ingredients like Biotin, Horse chestnut, Bhringraj, Amla, Olive Leaf and other clinically proven natural ingredients. It is specially formulated to effectively treat thinning and damaged hair.
And and and… the best thing is It is free from the many harsh chemicals like parabens, phthalates, dyes and sulfates that are one of the leading causes of many chronic hair conditions.
You can buy it here.
Step 3. Spare some time on Conditioning
If you think you don't need a conditioner, think again! Using the right type for your hair can do so much for improving your hair's softness and smoothness. Conditioner is like a moisturizer for your hair, so it needs a little bit of time to work its magic. Aim to leave it in for a minute or two before rinsing.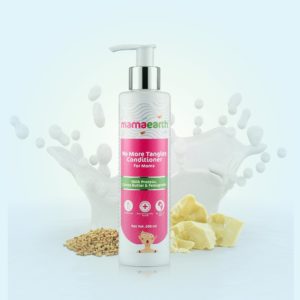 Checkout the No More Tangles Conditioner from Mamaearth range. It is a combination of the most efficacious natural ingredients that will nourish your hair from root to tip. Milk Protein & fenugreek give naturally soft and silky hair making them tangle-free & manageable, Vitamin B5 strengthens hair follicles and helps the scalp get rid of dead skin, Amla & Shea Butter smoothens the cuticle and improve elasticity for strong, shiny hair that resists frizz, Cocoa butter moisturizes the hair making them soft and shiny, Argan Oil detangles unruly knots reducing breakage, split ends and hair loss. It naturally stimulate hair growth while calming the nerves of the head and scalp to reduce inflammation and hair loss. It smoothes out rough cuticles and tames unruly hair. See, so much in just one little bottle!
You can buy it here.
Step 4. Give an extra dose to your Hair
I have generally stayed away from hair styling products, gels etc. Firstly, I found these things to be mostly for men and secondly, I have experienced sticky jelly-kind of hair after using one famous product in the market. That was the first & last time I used any such product. But over the years I have realised like we need an extra dose of multi-vitamins or revitalisers for our body, similarly, a good hair tonic is essential for adding an extra zing of life to our hair.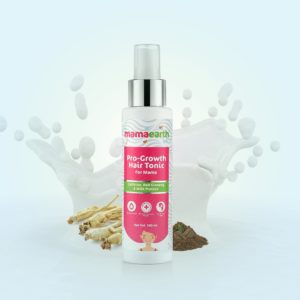 I am currently using Hair Re-growth Tonic which is another product by Mamaearth and have found some benefits of using it. First of all, choose a hair tonic product which are made of natural ingredients. Most hair tonics use essential oils as their main ingredients and Mamaearth Hair Tonic is no different. Using oils from Korean Red Ginseng, Milk Protein, Caffeine and a combination of several other natural oil, the benefits of hair tonics include :
Stimulates roots to promote new hair growth and prevent hair fall with no side effects
Strengthens the roots of the hair and nourishes the hair-shafts.
Boosts the development of healthy hair follicles, lessen thinning of hair, reduce breakage, and thicken existing hair strands.
Hydrates and increases elasticity of hair.
Using Mamaearth's tonic regularly I have witnessed reduced hair loss and fuller & stronger hair.
You can buy it here.
And I think it couldn't have got any better….with Mamaearth Anti Hair Fall Kit, it's like having a one-stop solution to all hair fall related concerns.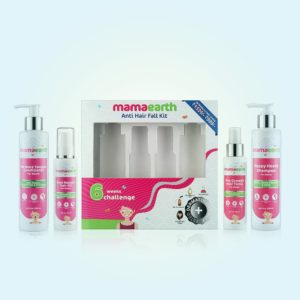 It's full of natural and organic bioactives which help promote hair fall control & hair regrowth. With a 4-step process from root to tip it would fix all your hair issues. You can buy the kit here.
And most of all, it goes unsaid that adequate sleep, hydrated body and a stress-free active life are essential for a healthy skin, hair & body.
Go Mommy!