With kids in the house, needless to say you have toys (read: more than enough toys!) to manage. The world of toys is quite fascinating, at times for parents too. While you know there's more than what your child needs, you still get lured in getting hold of more of them.
The reality starts dawning only when you enter the house and land into a sea of toys all over the place, because simply saying, there's never enough space!
If you have felt the pain (literally!…when you stepped on that tiny LEGO block in the night)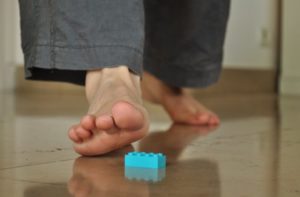 and are tired of fighting (read: losing) the battle of keeping toys in an organised way, have a look at our favourite Toy organisation ideas for kids room.
Toy Storage Ideas for kids room
1. Storage buckets/ boxes/ jars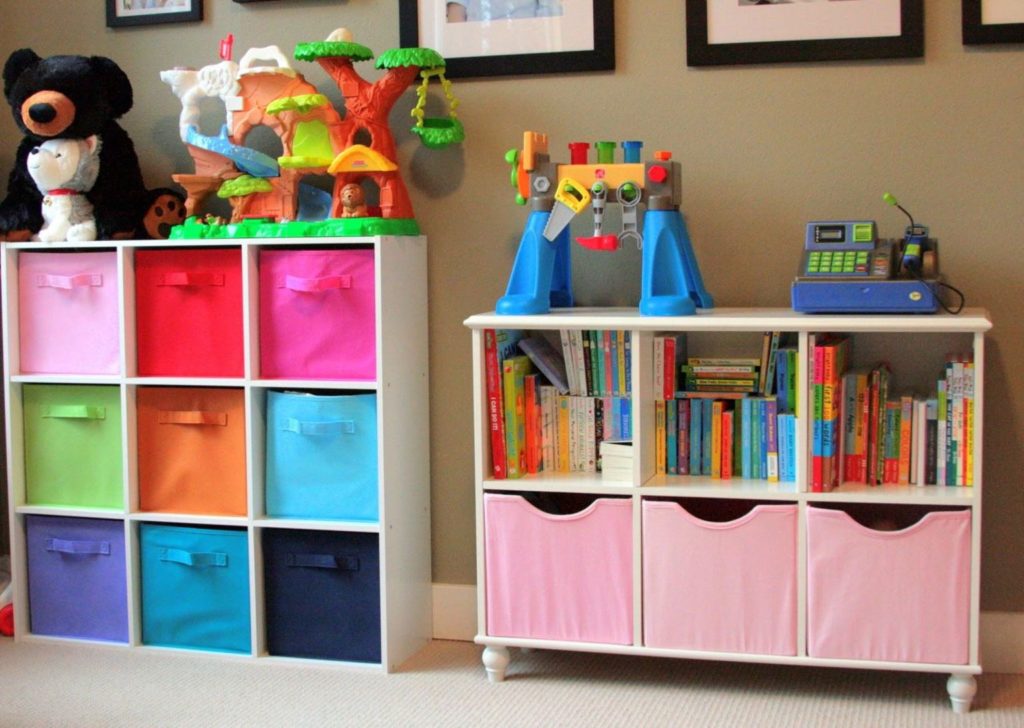 This is a classic no-fuss and easy-on-pocket option for toy storage. You can get hold of wicker baskets or plastic boxes and stack them with labels like blocks, balls, stuffed toys, colouring kits etc.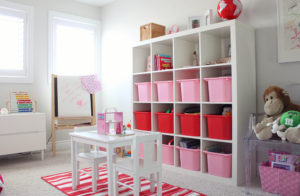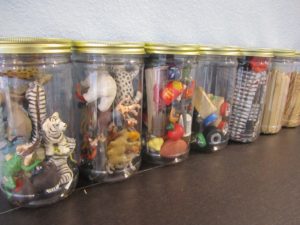 If you want to give a unique touch to this classic, use pails or storage crates.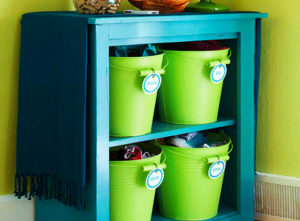 Large buckets are cheap, and they can be labeled with what's in them. They can also be painted over to create a more playful look for toy storage.
You can create quirky patterns and designs and give a fresh definition to storage ideas!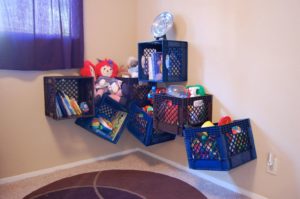 Our favourites-
2. Under the bed storage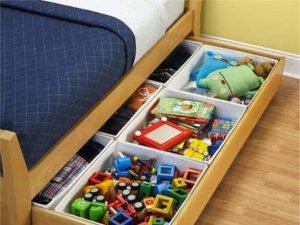 See that 7-10″ space under the bed which is serving no purpose? Get hold of a local carpenter and get a customised storage drawer like this.
Rolling containers and storage units, that can be slid under the bed, serve as easy options to utilise that precious space in your bedroom. Adding drawer organisers would further allow you to better sort the toys and easily take them out when your child wants to play.
Don't forget, when it comes to space, every inch matters!
Our favourites-
3. Wall mounted toy storage baskets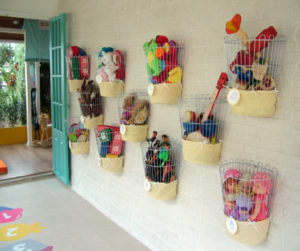 If you are like me who likes to claim all the floor-space, wall mounted organiser baskets are a thing for you! These baskets, easily available as paper-bins, can be re-purposed brilliantly for toy storage. Use colourful sheets to cover the base ( to keep toys from falling off) and hang them on hooks. You can sort things as per your child's needs and place them at appropriate height.
If your little one's toy collection is huge and varied and mostly smaller knock knacks like hot wheels or Legos, a peg board installation is yet another quirky yet hassle free idea.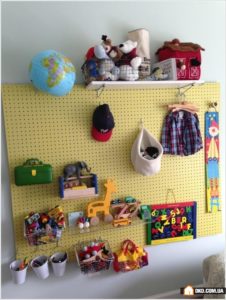 With hundreds of holes available, peg board installation makes storage very smooth and easy. Hooks can go into any of those holes, so it's easy to move things around to accommodate things of different sizes.
Our favourites-
4. Hammock storage
A colourful hammock/toy net manages to utilise those corners which mostly are left unused. Since you can purchase these in a variety of styles and colors, it's easy to personalize them for any room for toy storage.
5. Bungee cage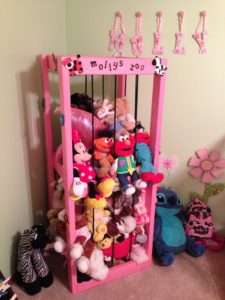 Looking for space for those dozens of balls that your junior sporty loves collecting? Or a place for those stuffed animals that are your little one's best buddies? Checkout this really cool and stylish bungee cage.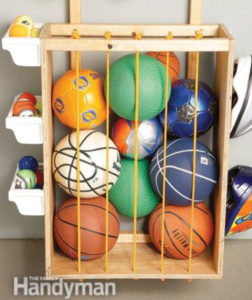 In this box, the stretchy ropes hold the balls in, but allow kids to take out whichever ball they want without digging through all the others. When it comes time to clean up, they can easily toss them in from the top. It's also nice because it makes use of the side space as storage for smaller balls and bike helmets.
Our favourites-
6. Over the door organisers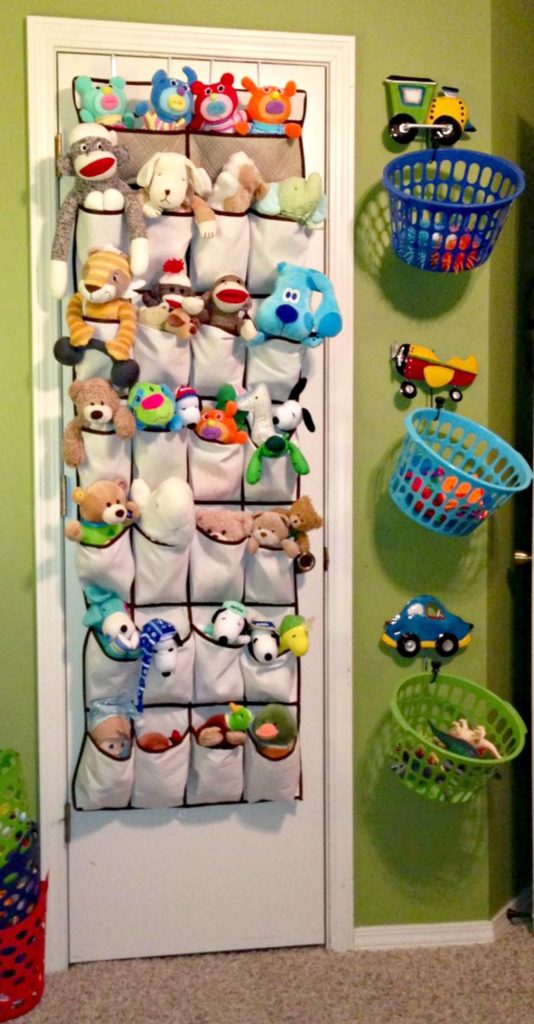 Another simple easy-on-pocket idea to store toys is over the door organiser. With plenty of  options available like shoes organisers, this can be a perfect home for small stuffed toys or dolls.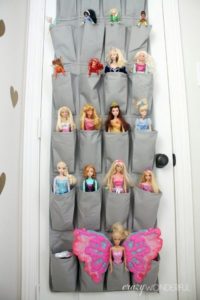 Each section is the perfect size for holding a single doll and each one is easily visible. This would be great way to inculcate the habit in your child of putting the toys back to their "home" after play.
Complement the space with inexpensive laundry baskets for storage which can be easily taken down when your child wants to play with the toys.
Our favourites-
7. Mesh hangers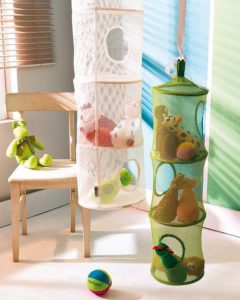 These hanging containers are easy to use and will keep things off the ground. It's the perfect toy organizer for lighter toys like stuffed animals or dolls. When not in use, thing hanger will fold down flat so it won't take up a lot of space.
Our favourites-
Whichever toy storage method you choose, keep in mind the easy accessibility of toys for your child.
So, how do you store your child's toys? Please share with us in comments below.
Go Mommy!
This post has originally been written for helloparent.in