The thought of organising a birthday bash for your little one is not only exciting & thrilling but can also turn out to be a bit overwhelming at times. With a long list of to-do tasks, you might feel it to be a herculean task to organise and plan a birthday party. So we thought of compiling a quick guide on planning birthday party for kids to help you ease it out and be stress-free; after all birthdays are more fun that way!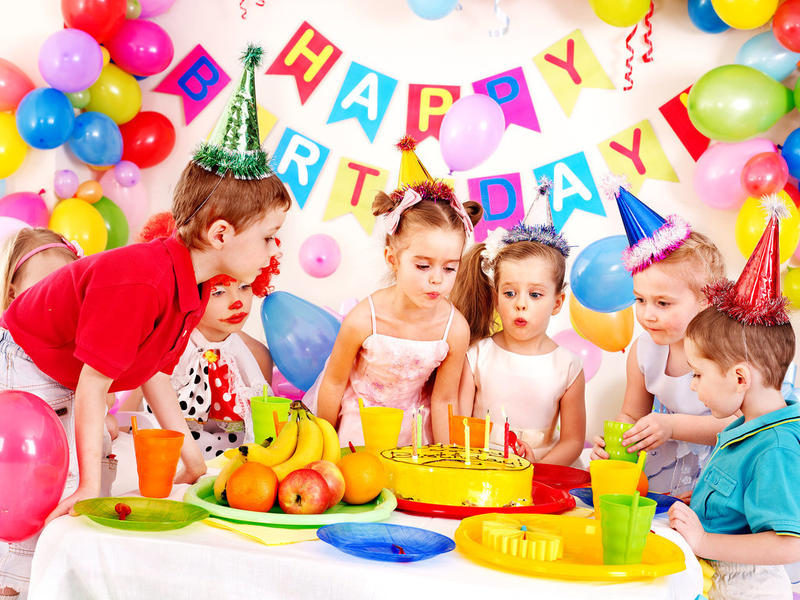 Quick Guide On Planning Your Child's Birthday Party
1.Block the calendar
Weekend parties are better for younger children and family can attend too, while older children will enjoy an after school party, if you can manage it. Also, ensure your partner's availability on the day of party- there's no fun if any parent is missing, right?
Looking for ideal birthday gift for 1 year old? Click here.
2. Pick a venue
A house party is better for younger kids but kids 10-years & up might demand a more open space like backyard or an organised party venue. Keeping in mind the weather is advisable while shortlisting the venue of the party; it's no fun to see little ones eating cake standing in the rain!
Looking for best venue in Gurgaon for Kids Birthday Party? Click here.
3. Guest galore
The idea of throwing a party is quite exciting and one tends to go overboard while preparing the guest list. However, don't forget, the highlight of the party is your child; prepare the guest list keeping in mind your child's comfort. Ideally, the number of guests should be one plus the age of the child.
Looking for an ideal gift for 2 year old? Check this out!
4. Theme
This has to get a consent from your child for whom you are planning the birthday party. Talk to your child and understand what they like – cartoon character, topics, interests etc. Make a note of all the ideas and plan a theme around it. You can involve your child in buying theme related props and decorations.
You may also like to read "10 Best Learning Toys for Toddlers"
5. Invitations
Once the theme, venue and date of the party have been decided, sending invitations is real fun. You can get crafty along with your child and prepare the invites yourself. Use glitters, stickers etc and prepare the invite around the party theme. In case there is lack of time, readily printable invites are easily available online. Party invites should be sent out at least 2 weeks prior to the party. All relevant and important information should be specified in the invite- party start & finish time, RSVP etc.
Go Mommy Tip: Go the green-way when it comes to sending out invites. Make a catchy picture with relevant details (using websites like Canva) and shoot out an online invite to the guests!
Also read "Top 5 Subscription Boxes for Kids"
6. Decide Birthday Boy/Girl's outfit
What's better than arranging a special dress for your child for the party! The little one should know that there is nothing more important or special than him on his big day! You can decide the outfit basis the party theme chosen.
Still confused for a toddler's birthday gift? Check these engaging Activity Books.
7. Decorations
Let's face it, there is no end to the decorations you can add to the party venue. But that shouldn't actually take up all of your budget and time. So instead of spending your time and energy profusely on decorations, it's advisable to keep it simple and sober. Stick to the theme while decorating to avoid getting too elaborate.
8. Game Plan
Keeping the guests busy is of utmost importance. Children look forward to winning goodies & prizes. Think of age-appropirtae games so that nobody gets bored. Activities decided shouldn't be too time consuming. Pair the games with the theme of your party. Planning a Ninja theme? Think of games like breaking boards, Ninja Treasure Hunt etc.
9.  Food Fiesta
No party is a party without good food. Birthday Cake cutting time is the most awaited segment of any birthday party. Planning on food supplies, cake, cutlery etc well in advance is essential. Shop for meals, treats, juices at least one week prior to the party. Prepare the menu keeping in mind the taste and age of guests invited. Choose foods that are simpler to prepare, easier to serve and hassle-free to eat.
10. Return favours
Return gifts add a lovely charm to a birthday party closure. Party bags should be packed the same way and stacked in a separate area, preferably around the point of exit. Be creative with your goodie bags by using items that correspond with your theme. Keep a few extras for any last minute unplanned situations.
Oh, did we just forget to mention the most important thing while planning a birthday party?  Take it easy and have fun! Birthdays are supposed to be a celebration for all. A frazzled mommy will add anxiousness to the child. Birthdays are meant to be fun and special, so don't worry about how things go, and if you run into problems, keep your cool and don't worry about it. Keep your expectations realistic, and keep your plans simple to have a surprisingly easy birthday party experience!
Go Mommy!
This article has originally appeared on http://www.helloparent.in