As we take up the role of a mommy, we tend to become a part of a new clan- a different specie; agree or not, the mommy hormone does bring a lot of change in our mind, heart and of course body. Isn't it strange that while there are several skin & body care products out there for babies, women,teenagers & so on, why has anyone not come out with something for only moms!
So here's a new offering from Mama Earth- a complete range of toxin free products for mommies. Click here to see the range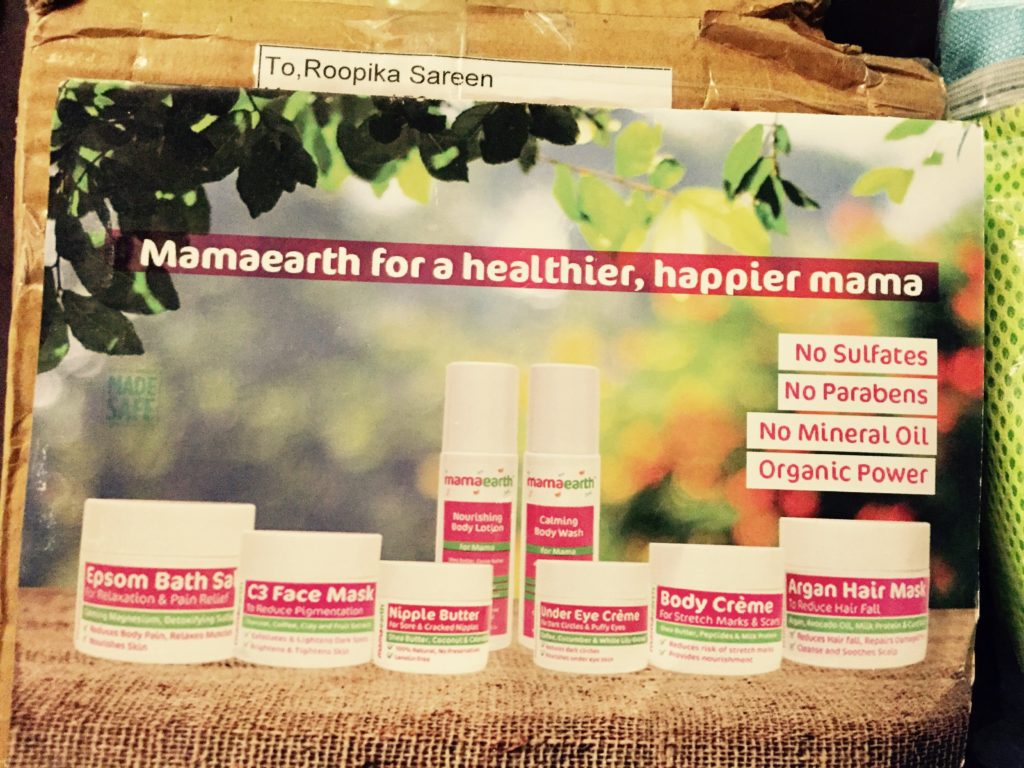 Mama Earth had been making quite a buzz in the market of late in baby care range and I have read rave reviews about their products. But guess what, they know that only a happy mom can ensure a happy baby. And that's what they have got- a unique Mother's Day gift to all lovely beautiful super moms!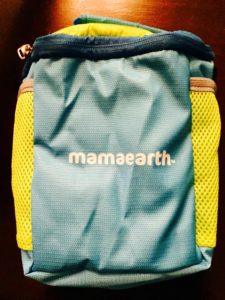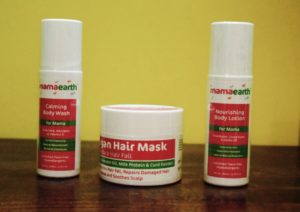 I got an opportunity to use and review a few of their new offerings. So here I am sharing my first-hand experience on Mama Earth Calming Body Wash & Nourishing Body Lotion and Argan Hair Mask.
Mama Earth Calming Body Wash & Nourishing body Lotion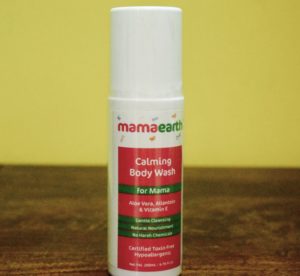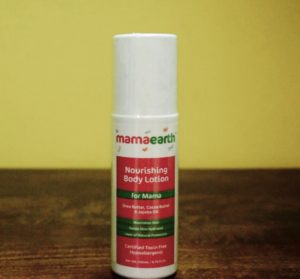 I would be first to admit that I have a serious addiction to bath products. And it does get a bit overwhelming to see so many products in the market. So how's Mama Earth Calming Body Wash any different? Well, read on!
Basic Features
The product claims to be toxin free, completely harmless and chemical free. With no Phthalates, mineral oil, Parabens and SLS, the product promises to give your body a gentle, soft and beautiful feel and if you are an expecting mommy, it ensures the umbilical cord to be free from chemicals. How? Well, the product is free from penetration enhancers that can infiltrate your skin membrane. In short, a safe and gentle cleanser.
Additionally, Nourishing Body Lotion has Shea butter, Cocoa butter, Olive oil & Jojoba oil that leave your skin super soft baby-like.
I love the way they have mentioned " Secret Mama's Love Oil" as one of the key ingredients on the label besides Aloe Vera, Vitamin E,Geranium Essential oil amongst others. Read more here
Is it meant for you? 
The name of the product has that one word that gets me in that spa-kind-of-mood- "CALMING". So if you are on way to becoming a mommy, a new mommy or amongst the "wiser experienced mums" groups, this product is for you.
Trust me, be it those 9 months of pregnancy or life there after, stress is going be hovering over your head like a ghost all the time. From breastfeeding, to sleepless nights to running around chasing toddlers – One needs to be extremely calm and relaxed at any point of time. What better way to pamper yourself in those 5 minutes of shower with a Calming Body wash well supplemented with smooth soft Nourishing Body Lotion.
Ease of use
The pump-bottle is full to the brim and has an extra transparent cap making it spill proof.
Other details
Priced at ₹349 for a 200 ml bottle, the product has a shelf life of 2 years.
Main benefits
A product that is toxin-free is surely a winner for me. Absence of Parabens means there are no hormone disrupters, isn't that what we all need?
Made with wonderful ingredients, like aloe vera, geranium essential oil, I felt the stress of the day melt off of my body post using this product.
It is hydrating and presence of Vitamin E ensures that the body is well moisturised after the Shower.
The body wash doesn't make too much lather which is good because when there's no foam, more of your natural oils are left behind, so your skin won't be as quick to dry out.
Less is more- the squeezy pump gives out only as much quantity as is ideal for one use m. As it is too much of any such product leaves a sticky & greasy feel.
The scent
Mild Rose water kinds
What not to expect from this product
Well, if you are amongst those who like lots of foam, lather and get satisfaction only with colourful shower gels, then this product might not win your heart. With a translucent mild smelling liquid, the wash doesn't make a lot of soapy lather.
My Take/Do I recommend it?
I have been a big fan of The Body Shop & Forest Essetials products till now. But this sophisticated smelling organic product with a calming effect on body has surely made me take notice of this newbie. It has helped me wind down after long stressful exhausting days. And the Body Lotion- let's just say- it adds a bit of sunshine to my day.
Why it's a winner
The delicate fragrance lingers on your skin all day long
It's free of potentially irritating sulfates and parabens
It's just so awesomely priced!
Argan Hair Mask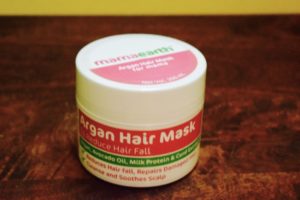 The moment your baby is 3 months old and while your body is recovering from the initial body troubles, it's time for massive terrible hair fall- One of the most dreaded phases for any woman. Even though this phase is temporary, Argan Hair Mask would just makes it a little easier for you.
Basic features
Product claims to reduce post partum hair fall by promoting new hair growth. Presence of curd extracts, Argan oil and Rosemary oil ensures deep conditioning and repair of damaged hair. This mask is meant to be rinsed out of your hair, so give yourself time to let it soak in (they recommend 5-15 minutes) before rinsing it out. In addition to the Argan oil, this mask has Tea Tree oil which is soothing, helps to reduce dandruff and other scalp issues like itching and psoriasis. Read more here
Is It meant for you?
Although hair fall is often linked to post partum effects, I have been facing tough times because of extremely hard water that we use. And I am sure there are many moms who are in the same boat. So be it post partum hair fall, general dullness in hair or died out low-on-shine and volume hair, this product is for you.
Ease of Use
It comes in a handy cylindrical packing – something similar to facial bleach packs. The texture is also similar – thick & creamy.
Other Details
200 ml box prices at ₹599 with a shelf life if 2 years.
Main Benefits
The product is extremely hydrating
Helps reduce hair fall by promoting new hair growth
Deep conditions the scalp and nourishes the roots
Gives a new life – revitalises dull damaged hair
Being an organic product, it's free from Sulfates and Parabens- and that for me is the most important benefit!
The Scent
Smells like – predominantly Tea Tree oil and Rosemary oil smell with a pungent tinge
My Take/Do I recommend it?
Post having babies I don't even get time to oil my hair, forget about the home remedies of nourishing hair like applying curd etc. With my experience of using this product for almost 2 weeks, I can see a new life in my dull dry hair. You may find several products in market that claim to have Argan Oil, but most usually have a very little proportion of this oil and rest all is chemicals. But Mama Earth's Argan Oil is completely Organic and comes straight from the Argan tree, so you don't have to worry about an inferior product.
Why it's a winner
It has has a profound effect on my hair
It's free of potentially irritating sulfates and parabens
You will only need a small amount of this product thanks to its thickness, and with the size of the pot it comes in, it will see you through weeks of washes
Being a mom isn't easy, but Mama Earth Calming Body Wash & Lotion and Hair Mask will surely help you take it easy! I would recommend it to all you mommies!
Go Mommy!