Till a few years back I had almost forgotten the fun & excitement which used to be associated with Children's Day while we were in school. It used to be the day of Special Assembly, performances by our teachers, pen-down strike (Yes, that's what we used to call it! ) and a little gift from Mom & Dad coupled with lots of hugs & kisses!
Now with K & A around I feel like reliving that fun with them so as to make the day a little more special. As such for past 2 years I have literally felt it's Children's Day everyday but still… something special is a must on November 14th.
While we started planning on how the day would be full of activities to make our kids feel special, we have decided to gift them our undivided attention first & foremost. So Children's Day is going to be a day of no-mobile-phones-around-us-day. I am sure you would agree that our children would feel the most special with this!
So here's how we have thought of making the Children's Day (or may be the whole week) special for our kids- read on for some great ideas!
1. Decorate their room
Kids love balloons and streamers and very quickly sense it to be associated with some celebrations! And that's exactly what we plan to do a night before. Don't forget to keep your camera handy to capture your little one's first reaction when they get up in the morning to a colourful decorated room!
2. Gifts!
Oh this one shouldn't be missed at any cost! Even if you are busy and forget about everything else, a gift is a must to make your little one feel special ! We have already bought a set of books, a Melissa & Doug Stamp set and a box of chocolates for K & A. When it comes to gifts, I try & prepare much in advance! And nothing beats a little treat for kids with Cadbury Dairy Milk!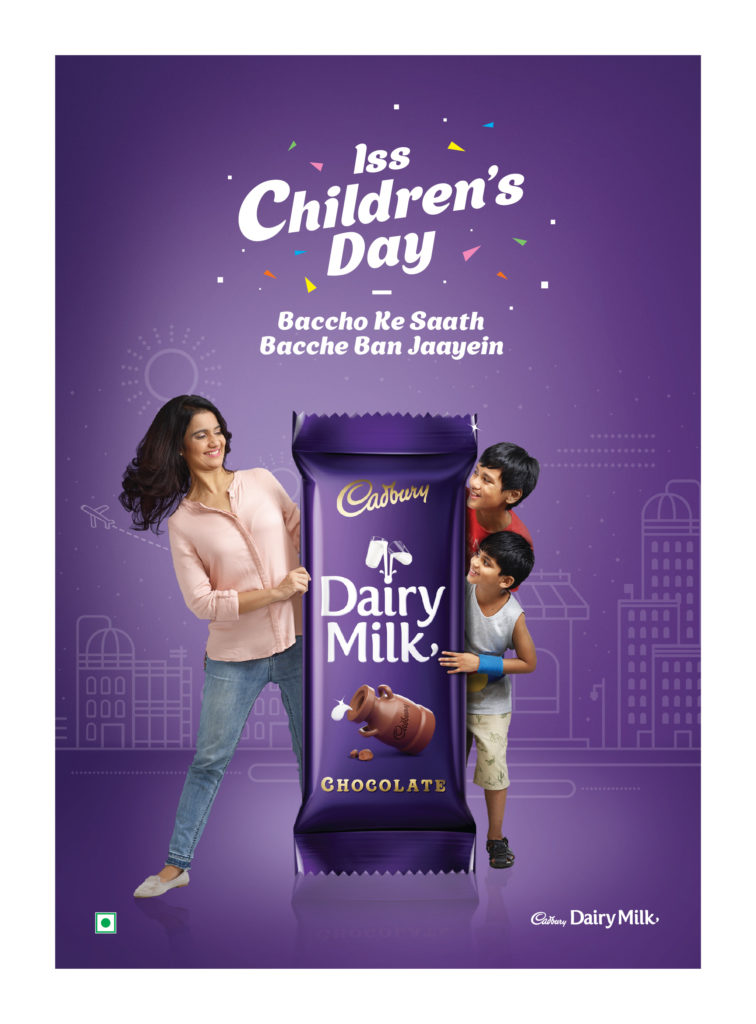 3. Surprise Picnic with Grandparents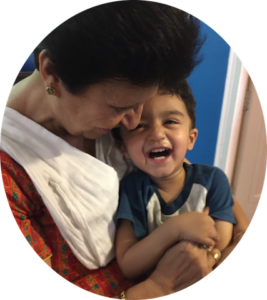 Okay, so I have grown up hearing this saying  "buzurg, bachcha ek samaan" and I totally agree! I see my parents acting goofy with K & A and it's so nice to see them re-living their childhood. So I have planned a picnic for K & A with their nanu-nani. Nothing elaborate- just a little visit to the park with some toys and munchies.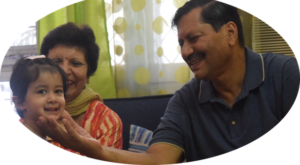 The idea is to let children enjoy with their best buddies (I.e grandparents!). Try it, you are sure to see lots of smiles, giggles and laughter around you!
4. Dance Party
For the evening I have invited our kids' play date friends for a small party. These little ones are fast catching up on new dance moves. So it's going to be lots of fun with some music and lights! You can give the room a little retro feel, put some fun dance music and teach them some funky moves and get them to teach you some new moves too! Let's see how they like it!
5. Getting Crafty-rafty!
One thing that makes kids feel the most special is by our undivided attention and time! So take out those paints, pull out a few brushes and wear your creative hat! You can gather leaves and flowers from your garden and stick them to paper to create a colourful work of art or Greeting cards; use fabric colours and make handprints on kids' t-shirts etc. It is all about the process of having fun together, not the end product.
6. Pretend Play Camping
Children love to see their parents act like them- curious, adventurous and daring! So add a bit of drama by using some pretend play toys and preparing a camp site in the garden or balcony, dim the lights of your home and pretend you are camping in the middle of the jungle, create stories and maybe even eat a meal sitting in your tents.
7. Plan a visit to Nehru Planetarium
Children above 6 years would be mesmerised here. Those curious minds would love to see the celestial projections. And what better day of visiting this place than on November 14th!
8. Gift a Personalised Tree!
With everything being personalised today- from lunch boxes to water bottles to towels- kids would love to have a tree with their name on it. You can gift a sapling to your child, plant it and put a little tag around it with your child's name. Planting and nurturing a sapling is probably one of the simplest and most effective things an individual can do to combat climate change. Plus, caring for another life can allow a child to experience a sense of inclusiveness.
9. Carnival time!
With numerous events and carnivals happening around the city for Children's Day, this is a must-do. Children would love to sit on rides, play around, eat out and that's the best way to make them feel special. Don't forget to let-go of all the rules for this day!
10. How about a Cake?
Remember that sparkle in your child's eyes when they cut their birthday cake? Such a joyous and special feeling it is! So, since little A is so so so fond of chocolates (which she gets to eat only on Sundays), I have ordered a Cake in the shape of her favourite Cadbury's Dairy Milk bar.
We plan to include a little cake-cutting ceremony in the evening when their friends are around. If you are baker mom, nothing like it!
So how do you plan to celebrate this Children's Day? Please share your plans and ideas in comments below!
Go Mommy!