The milestone of starting with a preschool is an exciting phase for children but turns out to be overwhelming for parents at most times. With the number of pre-schools mushrooming around offering the best of facilities, it becomes even tougher to pick the one that suits your child the best. So how to choose a preschool without getting stressed out?
Early education is considered critical today, but it wasn't such a big deal in our days, when big posters adorning the walls and a few toys made-up for a pretty comfortable and warm preschool. The idea was to simply step out of the comfort of own house and 'play' with other children.

You may also like "How to get your Toddler ready for a Preschool"
Over time however, with research showing the positive impact of early education on a child's social and academic life, choosing the right preschool has become as life-altering as selecting a business school!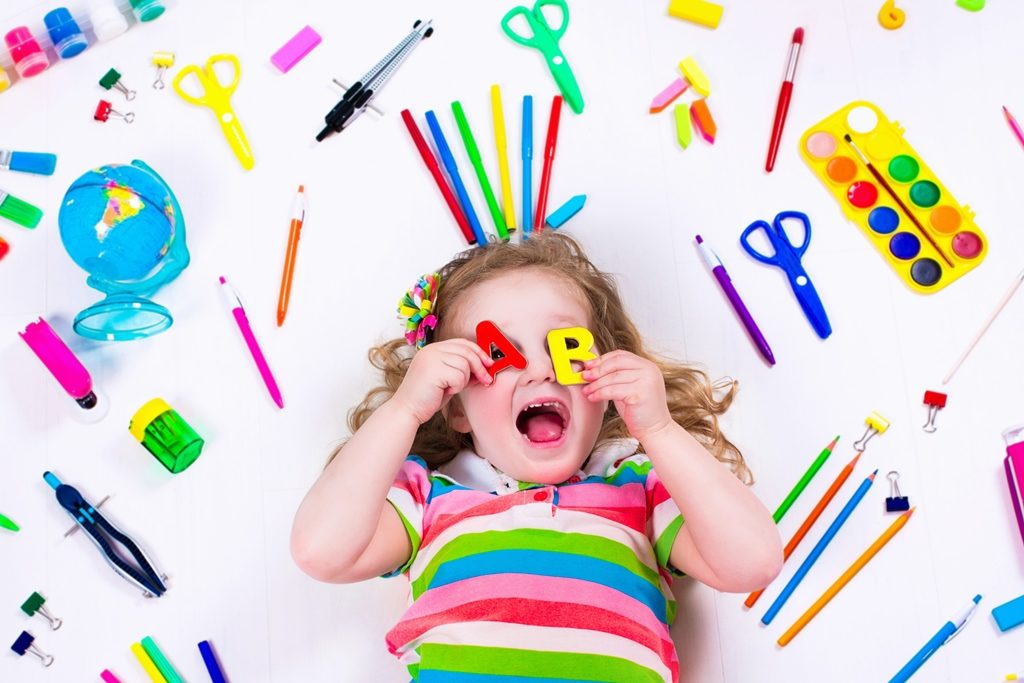 You may also like "Top 7 Storybooks for 2 year old"
Making the right choice – but how?

Since this is probably the first major 'life-impacting' decision we make for our kids, it is bound to be a bit daunting. In our case, with the basics being sorted, like our financial budget & distance of the preschool from our place of work/home, we chalked out a few more points for our checklist before getting started with our preschool research.
Pedagogy followed- So broadly there are four curriculum formats followed by most schools- Montessori, Waldorf, Reggio-Emilia & Play-way. Each comes with its own set of philosophies and structures. See what suits your child's interests. Whatever its learnings, it's important that the preschool has a plan in mind for how to teach and care for its students, and that you agree with the general drift of its philosophy.
Infrastructure & Facilities offered- It is critical to gauge if the environment, people and activities seem pleasing to you, and will they suit your child's personality. Even if you don't care for snazzy play areas and expensive gizmos, it is a good idea to get a feel of the teaching aids and play equipment that the school employs. Does the school offer after-school activities? What kind of events the school conducts? A nice green park, covered & open play areas, basic sports & music equipments, a reading corner- we knew we were looking for these facilities in the preschool. After all, physical activity is critical for the development of a child's gross motor skills and promotes health and well-being.
Teacher-to-Child ratio- This may seem too basic a factor to be considered but I am adding it here so that it doesn't get missed in your checklist. Availability of enough staff to handle kids is extremely important. With your child being in a habit of getting  your attention all through, he shouldn't feel lost once he enters the classroom full of a dozen other kids and just one teacher! So keep this in mind and don't hesitate to ASK!
Staff turnover rate- This may sound being too nosy about the school dynamics but trust me, it's an important indicator of happiness (and satisfaction) quotient of the staff. If the staff is happy and content, they can deliver the best (means the best care for your child). If staff turnover rate is high (change in staff every couple of months) avoid them.
Qualification of teachers- Of course, you want to be sure that your child's preschool teacher is experienced and qualified. Basic Early Learning certification, in-house training, past work experience- these are a few indicators of the preparedness of teachers in helping develop the young minds. The classroom teacher and staff should also be certified in CPR and first aid.
Hygiene/Cleanliness- We have always been particular about hygiene as our kids were pre-term and low on immunity at birth. Even at this age when they join Preschool, young children are more prone to infections than older ones and entering an environment completely different from the safe and protected one at home exposes them to a host of germs. While it can't be avoided completely and is even recommended to build their natural immunity, the preschool should follow basic cleanliness. A look at the bathrooms and kitchen will give a good idea of the school's standards.
Safety/Child proofing- Isn't this an understood point again? Adding it here just as a reminder for all parents to have a ready checklist to refer to. Availability of fire exits, updated fire extinguishers, first aid facility, availability of a nurse in the premises, tie-up with nearby hospital & essential child-proofing are a few must-check points. The quality of play equipments & overall layout of the preschool will also give an indication of how the school ensures student safety.
Security- This goes unsaid that strict security system is one of the most critical aspects while choosing a preschool for your little one. From the alertness of the security guard to the height of the boundary wall around the campus- every minute detail must be checked. How the school keeps track of students at drop and dispersal time? How are the CCTVs placed? How's the entry to the premises managed? Is anyone free to enter the campus as they wish? How do they handle the comings and goings of delivery boys, trash collectors etc.? What are the credentials of the ancillary staff? Ask Ask Ask!
Open door policy- Well, don't get confused by the heading! It simply means how open the school is in letting parents get involved with their processes. For preschoolers, it's paramount that the school involves parents at every step of the way. Does the school allow your voice & views or not? How actively does the school seek out parents' ideas as well as their help? But most importantly, find out how the school plans to keep you updated about your child's progress and what their policy for interaction with teachers is. What mediums do they have for this? For example, a 2-way interactive mobile app, weekly newsletters, open-house days, monthly meetings, facility to take a school tour, availability of Centre head/Principal at the school etc.
Gut feeling! Yes, you read it right. Simply saying, if you get a bad feeling about a place, trust this instinct and don't bring your child there. You are probably right. A preschool may boast new books and toys, have a gleaming new building, and be affordable to boot, but if it doesn't feel right then it isn't. It's essential that you feel comfortable with the school's ambience & vision. You should also feel secure and pleased with the teachers, who will be spending many hours with your child day in and day out.
That's it, more or less.
When you have your short list, schedule visits to the schools that made the cut. Meet the preschool head in person and observe the teachers in action (during school hours, if that's allowed). Next, bring your child along for a visit. See how she responds to the school and the teachers. Do they seem interested in getting to know her? Are the activities ones she'll enjoy? By watching how she reacts you'll have a better idea whether the preschool is a good fit.
I had read it somewhere that when you walk in the door of a preschool, check out the walls — they should be festooned with children's projects, and not, as is too often the case, plastered with posters that are calculated to please adults and mounted too high for 3-year-olds to see. Look around. There should be lots of different things for children to do.
And something similar I experienced lately.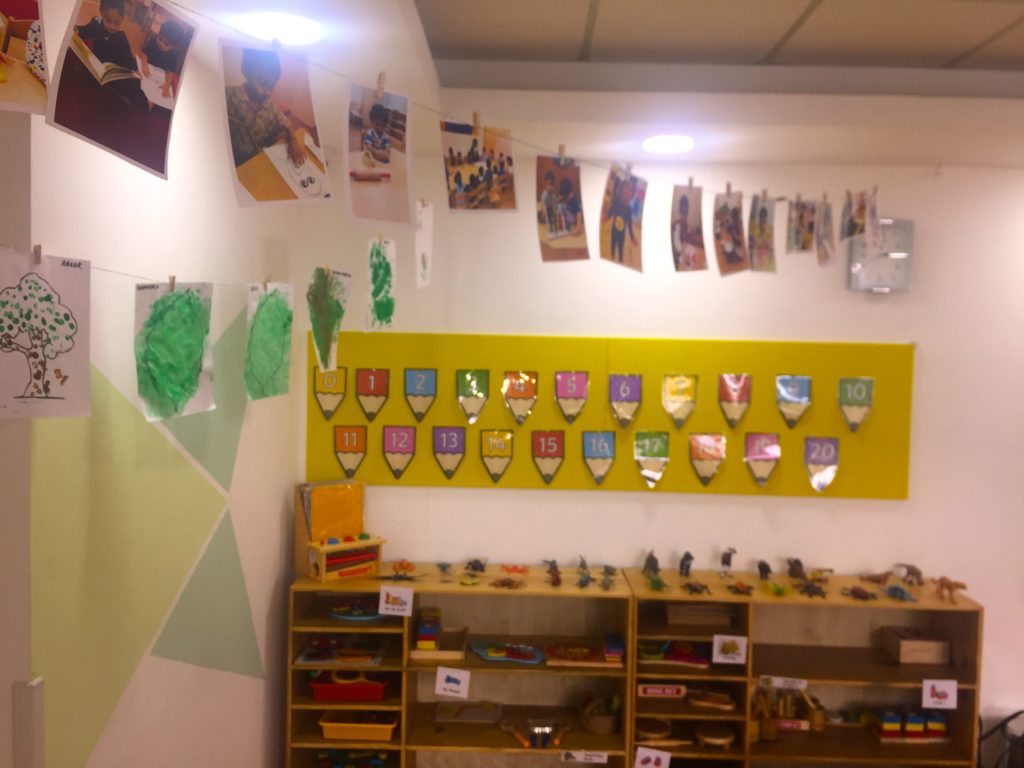 As soon as I walked into the premises of the preschool- Safari Kid in Gurugram, I was sucked in by the hum of activity. Simple yet thoughtfully done interiors, well-lit setup with every nook offering something to seize a child's imagination- the first step into the school was a delight to my eyes.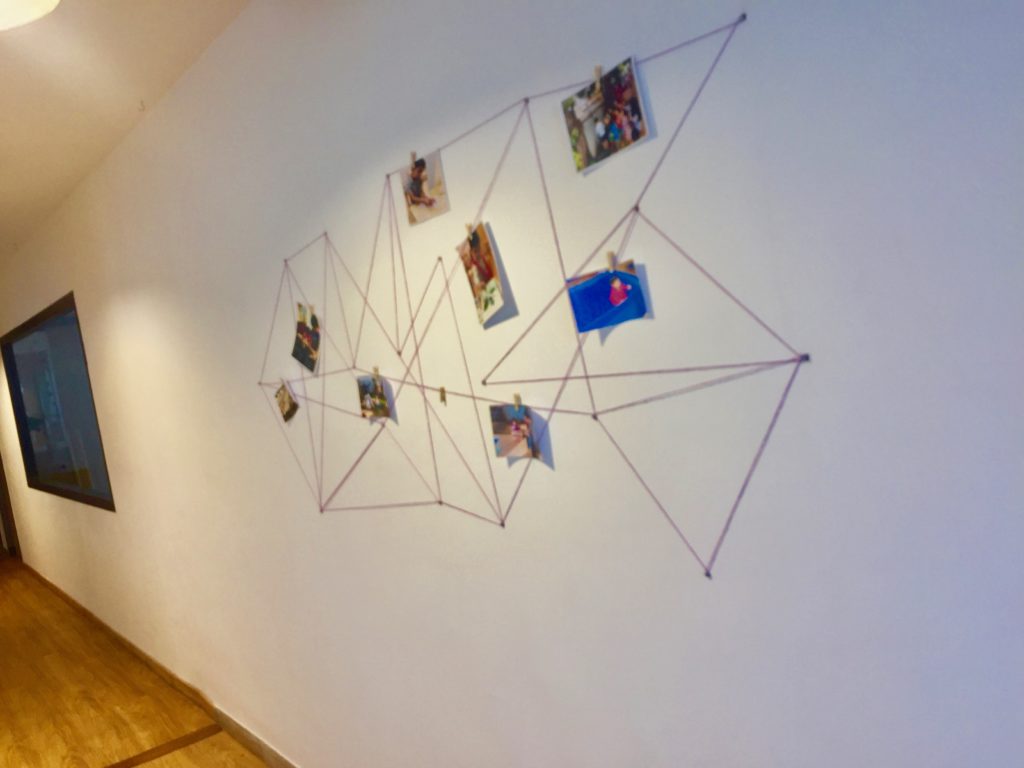 In a jiffy I took out my checklist and in no time started ticking off points. Some of the USPs I found in this Preschool, as a Parent, have been-
The school follows no-male policy which I haven't come across in any other preschool till now
Presence of bio-metric security system at the entrance
Plastic-free environment – From toys to furniture, everything is either wooden or made out of recycled material
Provision of After-school Enrichment Program
In-house facilities like swimming pool, sand pit for essential playtime of kids
Provision of foreign language (Spanish) as part of the main curriculum
Mandatory 120-hours of training for every teaching staff that needs to be completed before the commencement of session
Tech-friendly communication base (mobile app for parent-teacher interaction)
World-class child proofing in the premises
Importance given to cleanliness and hygiene by guidelines of daily sanitisation of all toys, equipments etc
And a healthy mix of kids from different backgrounds/races/cultures. Indeed, children learn a lot from their classmates, and kids with different experiences have much to contribute to one another.
You may book a tour to experience what Safari Kid is all about by clicking here.
Well, I think our preschool hunt has come to a positive end here. But for all you Parents, the bottom line is simple: Watch closely what's happening in the classroom/school, pick a preschool that you wish you had gone to, and your child will do just fine.
Go Mommy!