When I look back at my childhood, the first thing that I mostly think about is my long time companionship with "unwanted" worries! Yes, I have always been a "Worrisome" person who would worry about the slightest of things…even when there was nothing to really worry about!
I believe I have inherited this from my paternal side. My grandma was just like this and so has been the case with my dad. Now, I see this trait slowly creeping in my kids as well and that's been bothering me for a while now.
You know, it's said that a problem shared is a problem solved. And that's exactly the kind of environment I had in my growing years with mom dad quickly reading my face & then drilling out my worries so that I could share the same with them. I even started writing my diary at a very early age mostly to offload my worries.
We do likewise with our kids now- talk to them, show them the other perspective, discuss options available, share our experiences etc. Motivating kids to draw or illustrate their thoughts is also a great way to help them express their thoughts.
But when I came across this Guatemalan tradition called Worry Dolls, I was quite thrilled to know more.
Worry dolls are small handmade "dolls" that were used traditionally by children to tell about their sorrows, fears & worries. They then put the dolls under their pillow at night and when they wake up, their worries or concerns were gone!
Interestingly, the doll worries about the problem, not the person, allowing the child to sleep peacefully.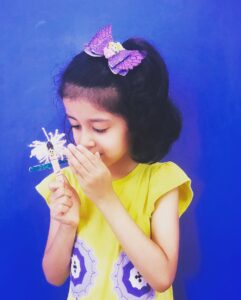 I love the idea that craft can be used to help children with anxiety about sleeping so we decided to make our own (not so traditional) worry doll using wooden pop sticks, yarn and colour pens.
Specially in today's times when mental health of children is something that's been taken seriously, this new learning has been a reminder to me as a parent in so many ways.
Have you heard of this tradition before? How do you help your child get over their worries or fears ?
Go Mommy!