[et_pb_section admin_label="section"]
[et_pb_row admin_label="row"]
[et_pb_column type="4_4″]
[et_pb_text admin_label="Text"]
Ashwin is a 10 year old smart & bright boy.His father drops him everyday to school on scooter. One day, while his father was riding the scooter at "only 40km/hr speed", the scooter lost control and swerved around and hit the footpath. Ashwin flew up in the air before dashing on the road. Ashwin lost his life that moment because he was not wearing helmet. How much of this is his fault, and how much of it his parents? Pause and think.
Remember the first time you touched your newborn, the plethora of emotions that whirled in your heart, those mixed feelings of exhilaration and anxiousness; the first promise that we make to our little bundle of joy- a promise of safety, of security, of unconditional love. But somewhere in the process of rearing our children, we lose a hold on basics. While safety of your child in four walls of your home holds paramount importance, safety on road is often neglected , be it in terms of not installing car set for infants, not wearing seat belts or not ensuring helmets as a pillion.
There's an epidemic going on roads that most people don't know about. Over 13 children below the age of 14 years lose their lives on Indian roads every day.
The Event – 'Ride to Safety', a CSR initiative by ICICI Lombard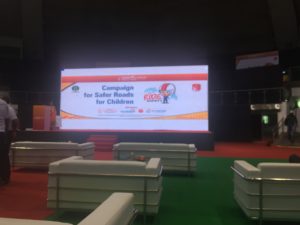 One such attempt aimed at safety for children on roads has been made by ICICI Lombard's CSR initiative " Ride to Safety'. With an aim to make roads safer for children riding as pillion riders on two-wheels, the initiative was celebrated in its second year since conception with a 'Drive Thru' rally for children on May 8th,2017 in support of the Global Road Safety Week.
The event was graced by dignitaries like Shri Indresh Kumar (Senior RSS leader), Mr Ajay Kashyap (Special Commissioner of Police), Mr Bhargav Dasgupta (MD & CEO, ICICI Lombard) with the Chief Guest being Shri Nitin Gadkari, (Honourable Union MInister for Road Transport, Highways & Shipping).
How did ICICI Lombard reach out to the right audience?
While there are several initiatives being run for spreading awareness on road safety among adults, what sets this initiative apart is the focus on young children- children riding as pillion riders on two-wheels.ICICI Lombard is working towards creating socially responsible citizens by not only imparting education on road safety to patients & children, but taking it a step further by distributing child specific ISI marked helmets (over 24000) to the participating children.
The company reached identified schools and obtained necessary information along with NGOs. Over 1200 children along with their parents participated in the rally. 35000 parents and children have been directly contacted through workshops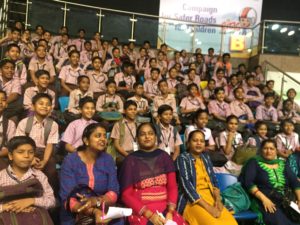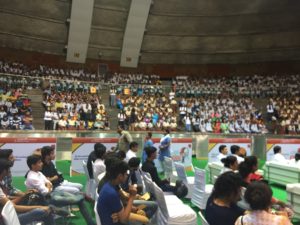 Through the 3 hour event the auditorium was bustling with enthusiastic cheerful faces of young kids adorning their school uniforms, clutching on to bright orange coloured helmets and participating actively in various fun activities conducted there.
Key Take-aways on Child Safety
In a humorously staged puppet show and nukkad natak by school kids, some very deep thoughtful messages were conveyed on road safety.
Children should start giving importance to their own lives. Parents should not think about just their safety but also the impact of any mishap while riding on the pillion
To evolve out of the common mentality of using helmets only for evading challans
Message of harmful effects of drunk driving to be instilled in children from young age
Be a responsible citizen by saying 'No to Corruption', in terms of bribing traffic police or getting involved in road rage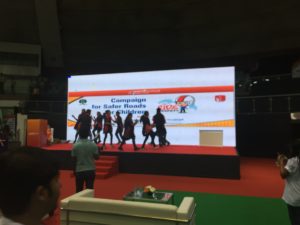 It was a delight to see young children being well aware of basic knowledge on road safety. The guests were impressed with the confidence with which children participated in Q&A session conducted by Emcee of the event Mrs Lalima Aneja Dang.
Before flagging off the rally, an important message was highlighted by Shri Nitin Gadkari :
You are never too young to learn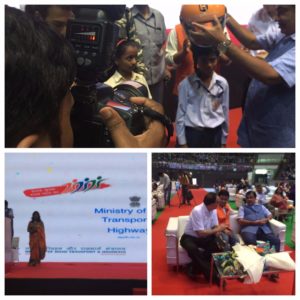 Role of Parents – It is the responsibility of parents to teach importance of road safety to kids from the very beginning. Undoubtedly a compliant and aware child would grow uo as a civilised law-abiding human being
Every person should take an onus of bringing about a change in the road safety culture. It is not just the responsibility of parents to educate children, at times children also should correct their parents in case of lapses seen with respect to safety
As a responsible citizen, go one step further and educate people around also. If you see a pillion- be it a child or an adult- without helmet, do not hesitate in educating and correcting them
I got an opportunity to take views of happy parents and children on this intiative.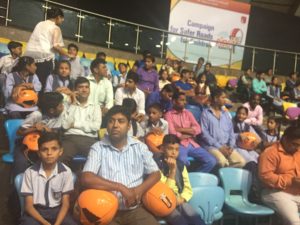 As per one such father " We are happy to be a part of this drive. Targeting children as pillion riders is a new thought and we will support ICICI Lombard in their vision".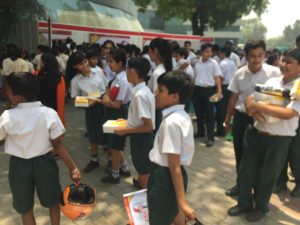 A bunch of happy children also had this to say " RIDE TO SAFETY!! We are so excited to have got our own helmet. We will use it and spread the message."
I have seen and been a part of several CSR initiatives by corporates, but this campaign by ICICI Lombard is aimed at contributing to the community at large. Its objective is to save precious lives of our children- our bright future. Let's get together and bring about a change in our society by spreading awareness on importance of helmets for pillion riding two-wheelers.
Go Mommy!
[/et_pb_text]
[/et_pb_column]
[/et_pb_row]
[/et_pb_section]