As a new mom, I think the most awaited part of the day for me was the time when I used to sit down massaging our babies. The mood, set up, vibe and overall ambience of those 30 minutes of massage (that includes 2 babies by the way!) were so warm, cuddly and precious to me. The overall exhausted and stressed out mommy in me would all of as sudden become gentle, calm and relaxed- and all this when I was only massaging the babies accompanied with some songs, rhymes and usual cooing with the newborns. Perhaps words can't do justice to the level of satisfaction and joy a mom gets from massaging a baby.
We all know the benefits of massaging babies. Massage has long term health benefits and plays a pivotal role in the growth and development of the baby's body. A good massage makes the baby's bones strong, induces sound sleep and can improve baby's digestion and overall growth in the long run.
And I am so glad that even millennials like me are carrying forward this traditional practice of massaging the babies.
However, one of the most common questions from new mothers is about the best oil for baby massage. With the number of players in the baby care market these days, anybody is bound to get perplexed.
While there are several factors to consider while picking the right baby massage oil, some things to not be missed are-
Consult your paediatrician: Trust me, there's no harm asking even the most basic questions to your doctor. They know the baby well and also suggest appropriate things to use specially if the baby has eczema prone skin or any other condition.
Do not use oils meant for adults: The baby's skin is far too sensitive. Therefore, why take a chance! Stick to things meant specifically for babies.
Do not mix different oils : Avoid mixing of different oils especially with newborns. In case there is something that doesn't suit the baby's skin, you will never be able to make it out if you use different products together.
Stay consistent : Avoid switching oils very frequently. Stick with one specific oil for at least 1 week. This is also one way to know if the massage oil suits the baby's skin or not.
So, if these points have been taken into consideration and the question arises which is the best oil for baby massage, fret not! To make things simpler for you, I have listed my top picks from the best oil for baby massage. These are the brands I have experienced and have worked well for my babies.
Best Oil for Baby Massage- My Top 5 Picks
1. Himalaya Baby Massage Oil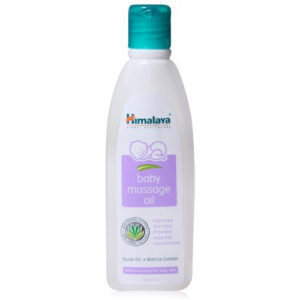 This is the first brand in the baby care range I had picked up for our babies back then. This mild massage oil is infused with the goodness of olive oil, Vitamin E, winter cherry extracts and herbs. The clinically tested formula of this massage oil helps calming & relaxing the baby and strengthens the bones that helps in development in the long run. It's non greasy and gets easily absorbed in skin as well.
2. Mother Sparsh Ayurvedic Baby Massage Oil
If Ayurveda is the way to go for you as a Parent, then there is no looking beyond Mother Sparsh Ayurvedic Baby Massage oil. This 100% natural nourishing oil is a blend of herbs and essential oils which helps nourish, relax and strengthen the baby's bones and muscles. Mother Sparsh has always been a brand that resonates with everything natural. All their products are free from toxins thereby making them completely safe for your baby. Know more about Mother Sparsh here.
The concoction comprises goodness of 18 natural extract oils like Jojoba, sesame, Lavender, coconut etc thereby ensuring that with every massage, the baby is getting the right amount of minerals, vitamins, and essential antioxidants that assists in repairing dryness and enhancing the skin texture. The authentic Ayurvedic formulation of this baby massage oil helps the baby in gaining' mobility at a faster rate.
Presence of Almond oil with antifungal properties, Coconut oil with natural moisturising properties, Sesame oil with detoxifying properties and Avocado oil with Vitamin E's nourishing properties make this pure Ayurvedic massage oil the best choice for the baby.
The light non-greasy texture of this oil gets absorbed in the baby's skin easily without blocking the skin pores. It's gentle on the baby's delicate skin while keeping it soft, supple , healthy and radiant. And guess what, you can use the oil from head to toe for the baby. It's well suited for all skin types too.
But, besides the ingredients and benefits of Mother Sparsh Ayurvedic baby massage oil, there's one striking feature of this brand's offerings. And that quality is their transparency. Complete list of ingredients, their quantity and even the process of making this Ayurvedic massage oil has been openly disclosed on their website. Read more here.
3. Mee Mee Baby Massage oil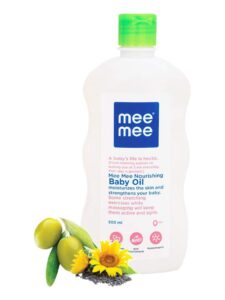 This Hypoallergenic and dermatologically tested baby oil provides natural nourishment to the baby's soft sensitive skin. The unique formula of olives and sunflower seed oil acts as an emollient that traps moisture and keeps the skin well-hydrated. It works great even during post bath massage when you feel the baby is tired and a little massage could soothe the baby.
4. Sebamed Soothing Massage Oil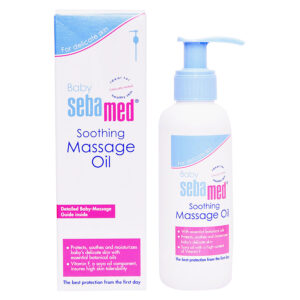 Sebamed is a paediatrician recommended brand for baby products.The Sebamed Baby Massage Oil is primarily based on the goodness of essential fatty acids of soy milk that gets easily absorbed by the baby's skin making it soft and supple. The oil doesn't leave an oily layer over the baby's soft skin. It sans any synthetic additives, added colors, parabens, preservatives, and scents. This oil is best in maintaining the baby's skin's pH balance & keeps skin moisturised and nourished. Just 2-3 drops of oil work great in soothing the baby and increasing blood circulation.
5. Cetaphil Baby massage Oil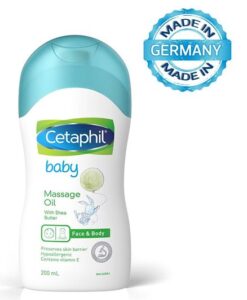 Cetaphil is another paediatrician recommended brand especially for newborns. Their Baby Massage oil is free from paraben and mineral oils. You can be used right from birth. The goodness of shea butter and vitamin E gently moisturises and protects the baby's delicate skin.
Hope my top 5 picks in the best oil for baby massage come handy for you while choosing the right oil for baby massage.
It is always advisable to test any baby product on yourself before applying on the baby. Same holds true for baby massage oil as well. At times even natural products can be allergic to some babies. So be careful with this.
Happy Parenting.
Go Mommy!