Becoming a mother has been the most wonderful experience for me so far. Of course it is one of the most beautiful stages of anyone's life. Even before my babies were out, I had started talking to them, thinking about them; there was just so much in me that I wanted to share with them.
In all those conversations that we had (which the the- would-be-dad wasn't aware of), I made a lot of promises as a #FirstTimeMom. Those promises were more of a reminder to myself to be a perfect mother.
I promised to say 'I Love You' to my babies each day, everyday! The impact of this phrase might not mean much in today's times, but I know somewhere in their minds they would know that they are my soul, that whatever they do – right or wrong- I would still love them.
I promised to bring them up as calm and patient individuals. I will not hold them back just because of own fears. I will let them take chances, trust their instinct and let them learn at each step.
I promised to let them be..to enjoy their childhood; to jump in puddles, play with water, scribble on the walls, create a mess in the house.. I know for one that childhood never comes back. I promised to act goofy with them and relive my childhood.
I promised to respect their opinions, tastes, decisions. From eating what they like to dressing up as per their taste to be social or not-so-social- I will never force my opinion. I promised to accept their uniqueness.
I promised to be a mother who wouldn't lose her identity even after becoming a mother. I promised I would never hold them responsible for any sacrifices or adjustments I would be making in life. I promised to continue being a responsible daughter, a caring wife and an efficient woman professionally.
I promised to stand behind them in any situation. Behind- not beside– because I want them to grow with self confidence, with an instinct to take risks, with the ability to fight back in case of any troubles.
I promised to see the world with them. To create memories from times spent together; to celebrate even the most minuscule achievements.
But most of all, I promised to raise them with care, love and tenderness. 
As a #FirstTimeMom, the apprehensions related to raising a newborn are countless. From the softest of diapers to the purest of baby care products- at every step decision needs to be taken. But thanks to a few organic brands in the market today, like Mother Sparsh, a #FirstTimeMom can trust their products even with closed eyes!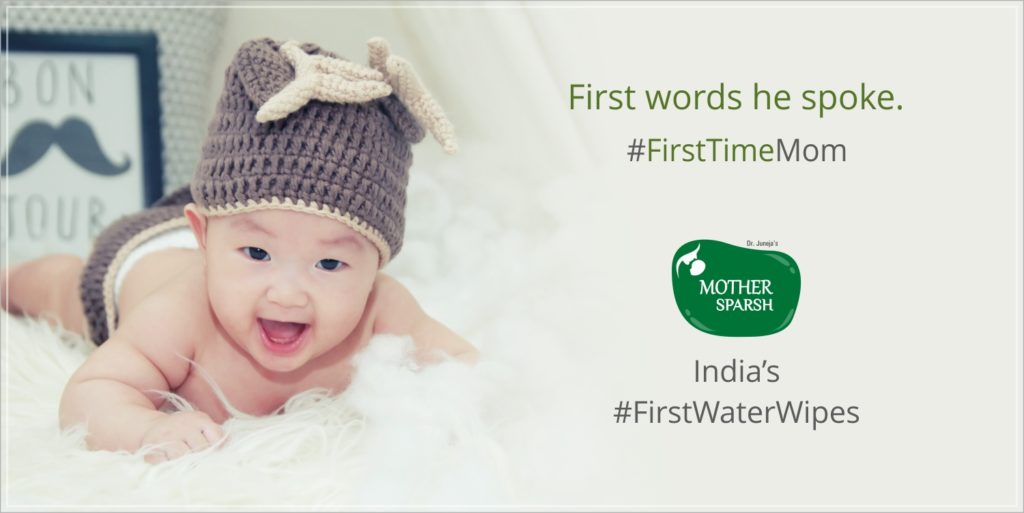 Dubbed India's #FirstWaterWipes Mother Sparsh wipes contain exactly one prominent ingredient: 98% purified water. Trust me, you can't get much purer than that!
Whilst most baby wipes claim to be pure, natural and suitable for sensitive skin they still contain a large list of chemicals that include preservatives and parabens. Mother Sparsh Wipes have been developed with utmost purity sans Parabens, synthetic preservatives and Alcohol. These clinically-proven Hypoallergenic and pH Balanced Water Wipes help maintain moisture and softness in baby's skin and specially suit the newborn babies' sensitive skin.
This young brand has come up with baby wet wipes that are polyester free and environment friendly. Mother Sparsh baby water wipes are made of plant-derived fabric that's 100% viscose (no polyester) and gentle on environment too as it is 100% biodegradable. Other interesting thing is that this fabric is extremely smooth (velvet like), breathable & highly absorbent unlike polyester which tends to irritate baby skin.With this fabric and water based formulation, cleaning with Mother Sparsh water wipes are as good as soft cotton and pure water.
The wipes have a mild gentle fragrance (thanks to the green tea extracts) and feel wetter than regular wipes. Most importantly Mother Sparsh water wipes do not leave a residue of unwanted chemicals on the baby's skin when used during a nappy change. This helps prevent diaper rashes that's one of the most common occurrences with babies.
Whilst you might come across cheaper alternatives to baby wipes in the market, Mother Sparsh baby wipes definitely are better than ordinary wipes. They are chemical-free, 98% water based and eco-friendly.
Go Mommy!
* Post sponsored by Mother Sparsh India's #FirstWaterWipes Brand however views expressed are personal.